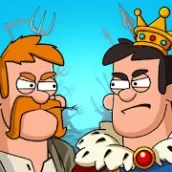 Hustle Castle'i GameLoop Emulator ile PC'ye indirin
PC'de Hustle Castle
My.com B.V geliştiricisinden gelen Hustle Castle, geçmişte Android systerm üzerinde çalışıyor.
Artık Hustle Castle'i PC'de GameLoop ile sorunsuz bir şekilde oynayabilirsiniz.
GameLoop kitaplığından veya arama sonuçlarından indirin. Artık yanlış zamanda pile bakmak veya sinir bozucu aramalar yapmak yok.
Hustle Castle bilgisayarın keyfini büyük ekranda ücretsiz olarak çıkarın!
Hustle Castle Tanıtım
Become the lord and master of a real medieval castle! Accept new subjects, assign them to their duties, train and protect your men and women! Defy your rivals and laws of physics as you build and upgrade your fortress! Your pudgy warriors look great in their shining armor! Nourish and train your troops, and they'll crush the armies of Grav the Mighty Brainpan, put the Abyss Lord back in his place, and also burn down a couple of enemies' castles! All day long your scribes scratch their heads with quills, treasurers spill coins on the floor and blacksmiths drop anvils on their feet for the sake of your prosperity! Prepare true specialists, become wealthy and influential! Build a dating room and watch your subjects have children who'll soon grow up and serve you too!
Daha fazla göster
Ön izleme
Bilgi
geliştirici

My.com B.V

En Son Sürüm

1.54.0

Son güncelleme

2022-06-30

Kategori

Online-game
Daha fazla göster
PC'de GameLoop ile Hustle Castle nasıl oynanır
1. Resmi web sitesinden GameLoop'u indirin, ardından GameLoop'u kurmak için exe dosyasını çalıştırın.
2. GameLoop'u açın ve "Hustle Castle"i arayın, arama sonuçlarında Hustle Castle'i bulun ve "Yükle"ye tıklayın.
3. GameLoop'ta Hustle Castle oynamanın keyfini çıkarın.
Minimum requirements
OS
Windows 8.1 64-bit or Windows 10 64-bit
Storage
1GB available space
Recommended requirements
OS
Windows 8.1 64-bit or Windows 10 64-bit
Storage
1GB available space
Hustle Castle: Medieval games
İndirmek