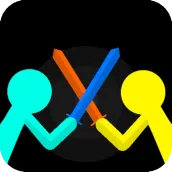 Supreme Duelist Stickman
Neron's Brother
Supreme Duelist Stickman'i GameLoop Emulator ile PC'ye indirin
PC'de Supreme Duelist Stickman
Neron's Brother geliştiricisinden gelen Supreme Duelist Stickman, geçmişte Android systerm üzerinde çalışıyor.
Artık Supreme Duelist Stickman'i PC'de GameLoop ile sorunsuz bir şekilde oynayabilirsiniz.
GameLoop kitaplığından veya arama sonuçlarından indirin. Artık yanlış zamanda pile bakmak veya sinir bozucu aramalar yapmak yok.
Supreme Duelist Stickman bilgisayarın keyfini büyük ekranda ücretsiz olarak çıkarın!
Supreme Duelist Stickman Tanıtım
Supreme Duelist Stickman is a funny and crazy Stickman mobile game
-A lot of map (NEW MAP EDITOR)
- With Simple control
-Play and unlock new skin
-1 player, 2 player and survival mode
-Realistic stickman ragdoll
-2d physic stick fight battle
-create your own stickman wariors
Different modes
-Gravity (ON/OFF)
-Instant KO (if disable, the water, lava, etc will deal damages on contact)
-Energy Shield (if disable, the stickman can bend down)
You can choose your character and play with a friend in the 2 Player Mode.
RHG stick fighting game
This game is totally free.
casual game and fun stickfight
This is an addictive game!!!
give me your feedback
Daha fazla göster
Ön izleme
Bilgi
geliştirici

Neron's Brother

En Son Sürüm

2.9.7

Son güncelleme

2022-07-01

Kategori

Online-game
Daha fazla göster
PC'de GameLoop ile Supreme Duelist Stickman nasıl oynanır
1. Resmi web sitesinden GameLoop'u indirin, ardından GameLoop'u kurmak için exe dosyasını çalıştırın.
2. GameLoop'u açın ve "Supreme Duelist Stickman"i arayın, arama sonuçlarında Supreme Duelist Stickman'i bulun ve "Yükle"ye tıklayın.
3. GameLoop'ta Supreme Duelist Stickman oynamanın keyfini çıkarın.
Minimum requirements
OS
Windows 8.1 64-bit or Windows 10 64-bit
Storage
1GB available space
Recommended requirements
OS
Windows 8.1 64-bit or Windows 10 64-bit
Storage
1GB available space
Parkour Race - FreeRun Game
Brain Test 2: Tricky Stories
Stickman Project : Rebirth
İndirmek