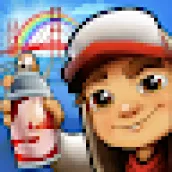 Subway Surfers
SYBO Games
Subway Surfers'i GameLoop Emulator ile PC'ye indirin
PC'de Subway Surfers
SYBO Games geliştiricisinden gelen Subway Surfers, geçmişte Android systerm üzerinde çalışıyor.
Artık Subway Surfers'i PC'de GameLoop ile sorunsuz bir şekilde oynayabilirsiniz.
GameLoop kitaplığından veya arama sonuçlarından indirin. Artık yanlış zamanda pile bakmak veya sinir bozucu aramalar yapmak yok.
Subway Surfers bilgisayarın keyfini büyük ekranda ücretsiz olarak çıkarın!
Subway Surfers Tanıtım
DASH as fast as you can! DODGE the oncoming trains! Help Jake, Tricky & Fresh escape from the grumpy Inspector and his dog. ★ Grind trains with your cool crew! ★ Colorful and vivid HD graphics! ★ Hoverboard Surfing! ★ Paint powered jetpack! ★ Lightning fast swipe acrobatics! ★ Challenge and help your friends! Join the most daring chase!
Daha fazla göster
Ön izleme
Bilgi
geliştirici

SYBO Games

En Son Sürüm

2.35.2

Son güncelleme

2022-06-21

Kategori

Online-game
Daha fazla göster
PC'de GameLoop ile Subway Surfers nasıl oynanır
1. Resmi web sitesinden GameLoop'u indirin, ardından GameLoop'u kurmak için exe dosyasını çalıştırın.
2. GameLoop'u açın ve "Subway Surfers"i arayın, arama sonuçlarında Subway Surfers'i bulun ve "Yükle"ye tıklayın.
3. GameLoop'ta Subway Surfers oynamanın keyfini çıkarın.
Minimum requirements
OS
Windows 8.1 64-bit or Windows 10 64-bit
Storage
1GB available space
Recommended requirements
OS
Windows 8.1 64-bit or Windows 10 64-bit
Storage
1GB available space
Who is? Brain Teaser & Riddles
Brain Test 2: Tricky Stories