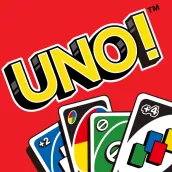 UNO!™'i GameLoop Emulator ile PC'ye indirin
PC'de UNO!™
Mattel163 Limited geliştiricisinden gelen UNO!™, geçmişte Android systerm üzerinde çalışıyor.
Artık UNO!™'i PC'de GameLoop ile sorunsuz bir şekilde oynayabilirsiniz.
GameLoop kitaplığından veya arama sonuçlarından indirin. Artık yanlış zamanda pile bakmak veya sinir bozucu aramalar yapmak yok.
UNO!™ bilgisayarın keyfini büyük ekranda ücretsiz olarak çıkarın!
UNO!™ Tanıtım
UNO!™ is now mobile! Take the classic card game from the kitchen table anywhere! Now with new rules, world series tournaments, modes of play, and much more. Whether you're at home, on the go, an UNO!™ veteran or completely new, UNO!™ has something for everyone in the family. UNO!™ is a fun and memorable family-friendly card game wherever and whenever.
Ready. Set. UNO!™
- Play the classic card game, UNO!™, or select from a variety of house rules to play in real-time matches
- Compete in tournaments and events to win free rewards and top the leaderboards
- Partner up with friends or family, play in 2v2 mode and collaborate to win
- Connect anytime, anywhere with family and friends from around the world.
FEATURES
The Classic Game at your Fingertips
New to UNO!™ or wanting to play your favorite card game? Tap Quick Play and start up a new game with classic UNO!™ rules. Get ready for new monthly rewards and events!
Play with Friends
Play with friends or family! Set up your own house rules and play your way. UNO!™ is a family-friendly party that makes it free and easy for anyone to join!
Buddy Up
Find a friend or family and partner up to battle in 2 player teams. Help each other reduce your hand (or your partner's) to zero as quickly as possible to beat the other team!
Connect, Chat, Shout UNO!™
Connect with your buddies in UNO!™ with clubs and send each other gifts. Make a strategy and remember to shout UNO before anyone else.
New Challenges at Every Level
Compete in world series tournaments and special events to win free rewards. Top the leaderboards and show-off to your friends and family! Then spin the wheel and try your fortune to get free rewards every day!
Go Wild – No, Really
This no-holds-barred mode is as wacky as UNO!™ gets. Forget the classic mode - house rules on, two deck play and free winnings up to 600 times what you put in to make you the coin master! But beware, in this wild game mode, you win big or go home empty-handed! Are you up for the challenge?
Visit our official site at www.letsplayuno.com
Follow us on Facebook for more updates: www.facebook.com/UNOnow
Daha fazla göster
Ön izleme
Bilgi
geliştirici

Mattel163 Limited

En Son Sürüm

1.9.5130

Son güncelleme

2022-07-01

Kategori

Online-game
Daha fazla göster
PC'de GameLoop ile UNO!™ nasıl oynanır
1. Resmi web sitesinden GameLoop'u indirin, ardından GameLoop'u kurmak için exe dosyasını çalıştırın.
2. GameLoop'u açın ve "UNO!™"i arayın, arama sonuçlarında UNO!™'i bulun ve "Yükle"ye tıklayın.
3. GameLoop'ta UNO!™ oynamanın keyfini çıkarın.
Minimum requirements
OS
Windows 8.1 64-bit or Windows 10 64-bit
Storage
1GB available space
Recommended requirements
OS
Windows 8.1 64-bit or Windows 10 64-bit
Storage
1GB available space