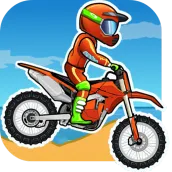 Moto X3M Bike Race Game
Aceviral
Moto X3M Bike Race Game'i GameLoop Emulator ile PC'ye indirin
PC'de Moto X3M Bike Race Game
Aceviral geliştiricisinden gelen Moto X3M Bike Race Game, geçmişte Android systerm üzerinde çalışıyor.
Artık Moto X3M Bike Race Game'i PC'de GameLoop ile sorunsuz bir şekilde oynayabilirsiniz.
GameLoop kitaplığından veya arama sonuçlarından indirin. Artık yanlış zamanda pile bakmak veya sinir bozucu aramalar yapmak yok.
Moto X3M Bike Race Game bilgisayarın keyfini büyük ekranda ücretsiz olarak çıkarın!
Moto X3M Bike Race Game Tanıtım
The thrilling much loved web game explodes onto mobile.
Moto X3M brings awesome bike racing with beautifully crafted levels straight to your mobile. So grab your motorbike, strap on your helmet and grab some airtime over obstacles to beat the clock on amazing off road circuits.
FEATURES;
- Over 170 challenging stunning levels
- More than 25 vehicles and bikes to unlock
- Sick stunts and insane tricks as you flip and wheelie through the fast levels
- More high octane levels coming soon
- Race against the clock and beat your best in timed Levels
- Checkpoints
- Additional Level packs
- Collect nitro boosts to turbo jump
Moto X3M combines fast pace flying by the seat of your pants arcade levels, with whacky fantastic contraptions such as the tank that can provide interesting puzzles. While most levels are easy, it can be very hard to master the level and beat the top time.
Show off your mad skills as you fly through loops, motor over the ocean, ride the constructed tank and rally across the desert while you chase 3 stars.
This moto extreme game brings mayhem to your mobile as you race down hill and rev your engine to hill climb to toughest challenges on your way to success. As you race to become the greatest bike racer ever and beat your friends will you be able to handle the explosions and unique obstacles each level provides or will you crash out?
Now with an additional 5 level packs with their own unique characters.
- Drive the super fast cyber world with the robot. Can you collect all the gears?
- Trick or treat with the pumpkin on the skeleton bike in the spooky Halloween pack.
- Collect the holiday bells with Santa rider on this snowmobile or the reindeer
- Take the crash test dummy's car for a spin this summer in the pool party pack, can you handle the endless speed?
- Crash through the construction site project with the forklift and steamroller
Can you beat the top times and get the best score? Collect stars on each level to unlock new motorcycles and the ATV with fun wheels.
Moto X3M is a free game but contains paid content. You can unlock all the characters and bikes with Google Play Pass.
We update the game regularly with your suggestions, so leave us a review and we'll do our best to improve the game.
Daha fazla göster
Ön izleme
Bilgi
geliştirici

Aceviral

En Son Sürüm

1.17.20

Son güncelleme

2022-04-01

Kategori

Online-game
Daha fazla göster
PC'de GameLoop ile Moto X3M Bike Race Game nasıl oynanır
1. Resmi web sitesinden GameLoop'u indirin, ardından GameLoop'u kurmak için exe dosyasını çalıştırın.
2. GameLoop'u açın ve "Moto X3M Bike Race Game"i arayın, arama sonuçlarında Moto X3M Bike Race Game'i bulun ve "Yükle"ye tıklayın.
3. GameLoop'ta Moto X3M Bike Race Game oynamanın keyfini çıkarın.
Minimum requirements
OS
Windows 8.1 64-bit or Windows 10 64-bit
Storage
1GB available space
Recommended requirements
OS
Windows 8.1 64-bit or Windows 10 64-bit
Storage
1GB available space
Brain Test: Tricky Puzzles
Brain Test 3: Tricky Quests
Angry Gran Run - Running Game
İndirmek