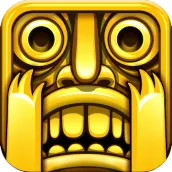 Temple Run
Imangi Studios
Temple Run'i GameLoop Emulator ile PC'ye indirin
PC'de Temple Run
Imangi Studios geliştiricisinden gelen Temple Run, geçmişte Android systerm üzerinde çalışıyor.
Artık Temple Run'i PC'de GameLoop ile sorunsuz bir şekilde oynayabilirsiniz.
GameLoop kitaplığından veya arama sonuçlarından indirin. Artık yanlış zamanda pile bakmak veya sinir bozucu aramalar yapmak yok.
Temple Run bilgisayarın keyfini büyük ekranda ücretsiz olarak çıkarın!
Temple Run Tanıtım
The addictive mega-hit Temple Run is now out for Android! All your friends are playing it - can you beat their high scores?! You've stolen the cursed idol from the temple, and now you have to run for your life to escape the Evil Demon Monkeys nipping at your heels. Test your reflexes as you race down ancient temple walls and along sheer cliffs. Swipe to turn, jump and slide to avoid obstacles, collect coins and buy power ups, unlock new characters, and see how far you can run! "In every treasure hunting adventure movie there's one scene in which the plucky hero finally gets his hands on the treasure but then has to navigate a maze of booby traps in order to get out alive. Temple Run is this scene and nothing else. And it's amazing." - SlideToPlay.com REVIEWS ★ "Most thrilling and fun running game in a while, possibly ever." - TheAppera.com ★ "A fast and frenzied experience." - IGN.com ★ "Very addicting… definitely a very different running game." - Appolicious.com ★ Voted by TouchArcade Forums as Game of the Week ★ One of TouchArcade's Best Games of the Month ★ Over 50 MILLION players worldwide!
Daha fazla göster
Ön izleme
Bilgi
geliştirici

Imangi Studios

En Son Sürüm

1.19.1

Son güncelleme

2021-11-25

Kategori

Online-game
Daha fazla göster
PC'de GameLoop ile Temple Run nasıl oynanır
1. Resmi web sitesinden GameLoop'u indirin, ardından GameLoop'u kurmak için exe dosyasını çalıştırın.
2. GameLoop'u açın ve "Temple Run"i arayın, arama sonuçlarında Temple Run'i bulun ve "Yükle"ye tıklayın.
3. GameLoop'ta Temple Run oynamanın keyfini çıkarın.
Minimum requirements
OS
Windows 8.1 64-bit or Windows 10 64-bit
Storage
1GB available space
Recommended requirements
OS
Windows 8.1 64-bit or Windows 10 64-bit
Storage
1GB available space
Parkour Race - FreeRun Game
Brain Test 3: Tricky Quests
Temple Run: Idle Explorers
İndirmek