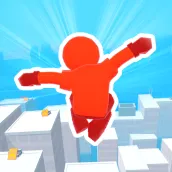 Parkour Race - FreeRun Game
Madbox
Parkour Race - FreeRun Game'i GameLoop Emulator ile PC'ye indirin
PC'de Parkour Race - FreeRun Game
Madbox geliştiricisinden gelen Parkour Race - FreeRun Game, geçmişte Android systerm üzerinde çalışıyor.
Artık Parkour Race - FreeRun Game'i PC'de GameLoop ile sorunsuz bir şekilde oynayabilirsiniz.
GameLoop kitaplığından veya arama sonuçlarından indirin. Artık yanlış zamanda pile bakmak veya sinir bozucu aramalar yapmak yok.
Parkour Race - FreeRun Game bilgisayarın keyfini büyük ekranda ücretsiz olarak çıkarın!
Parkour Race - FreeRun Game Tanıtım
"Take your running game to the next level as you race against the crowd in this clash to earn first place! Become the first to cross the finish line among all!
Dash from rooftop to rooftop. Flip, jump, fall and vault over obstacles to set all new records.
Join other guys and compete to win the daily race for special rewards!
Scale buildings around the city and land tricks to gain extra speed. Leave your opponents to rage as you take home the win!
🏃‍♂️Test your ultimate skills as your race in famous cities like New York, Paris, Tokyo and more! But don't Fall Guys!
🤸‍♀️Customize your guys by earning epic outfits, unique back bling and special effects by winning races!
🤾‍♀️Perform tricks to escape the crowd and set records. Become the best among us!"
We make casual moments turn into mad adventures!
We're a gaming studio composed of 'Casually Mad' game makers. We produce all of our games internally. We live to tell unique stories and express those in the games we create for players around the world. This passion is echoed by millions that enjoy playing our games like Stickman Hook, Parkour Race and Sausage Flip. Play with us and see what's next!
Let's hear from you! Join the official Madbox Discord server and share your thoughts. https://bit.ly/35Td03Y
Looking for the latest fun and more? Check us out on Instagram - https://bit.ly/3eHq3YF
Daha fazla göster
Ön izleme
Bilgi
geliştirici

Madbox

En Son Sürüm

1.9.6

Son güncelleme

2021-10-22

Kategori

Online-game
Daha fazla göster
PC'de GameLoop ile Parkour Race - FreeRun Game nasıl oynanır
1. Resmi web sitesinden GameLoop'u indirin, ardından GameLoop'u kurmak için exe dosyasını çalıştırın.
2. GameLoop'u açın ve "Parkour Race - FreeRun Game"i arayın, arama sonuçlarında Parkour Race - FreeRun Game'i bulun ve "Yükle"ye tıklayın.
3. GameLoop'ta Parkour Race - FreeRun Game oynamanın keyfini çıkarın.
Minimum requirements
OS
Windows 8.1 64-bit or Windows 10 64-bit
Storage
1GB available space
Recommended requirements
OS
Windows 8.1 64-bit or Windows 10 64-bit
Storage
1GB available space
Pocket Champs: 3 Boyutlu Yarış
İndirmek
Parkour Race - FreeRun Game
İndirmek
Idle Ants - Simulator Game
İndirmek