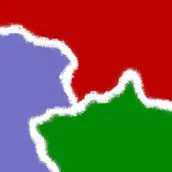 Territorial.io
David Tschacher
Territorial.io'i GameLoop Emulator ile PC'ye indirin
PC'de Territorial.io
David Tschacher geliştiricisinden gelen Territorial.io, geçmişte Android systerm üzerinde çalışıyor.
Artık Territorial.io'i PC'de GameLoop ile sorunsuz bir şekilde oynayabilirsiniz.
GameLoop kitaplığından veya arama sonuçlarından indirin. Artık yanlış zamanda pile bakmak veya sinir bozucu aramalar yapmak yok.
Territorial.io bilgisayarın keyfini büyük ekranda ücretsiz olarak çıkarın!
Territorial.io Tanıtım
This game is all about conquering territory. The ultimate goal of each round is to conquer the map. Play with more than 500 players at the same time. Forge alliances to gain an advantage.
Territorial.io is very fast-paced. Games can take less than 5 minutes.
The game presents a variety of maps. Europe is the most popular one. But there are also many auto-generated maps.
The gameplay of Territorial.io is simple. Find the correct balance between conquering territory and growing your economy.
While games with multiple players sometimes base on luck, one-vs-one games depend more on strategical skills.
One-vs-one games are a good way to compete with other players and to make a name for oneself.
You are invited to give us feedback about Territorial.io on Google Play.
Daha fazla göster
Ön izleme
Bilgi
geliştirici

David Tschacher

En Son Sürüm

22

Son güncelleme

2021-09-06

Kategori

Online-game
Daha fazla göster
PC'de GameLoop ile Territorial.io nasıl oynanır
1. Resmi web sitesinden GameLoop'u indirin, ardından GameLoop'u kurmak için exe dosyasını çalıştırın.
2. GameLoop'u açın ve "Territorial.io"i arayın, arama sonuçlarında Territorial.io'i bulun ve "Yükle"ye tıklayın.
3. GameLoop'ta Territorial.io oynamanın keyfini çıkarın.
Minimum requirements
OS
Windows 8.1 64-bit or Windows 10 64-bit
Storage
1GB available space
Recommended requirements
OS
Windows 8.1 64-bit or Windows 10 64-bit
Storage
1GB available space
Parkour Race - FreeRun Game
Brain Test 3: Tricky Quests