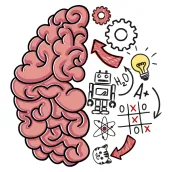 Brain Test: Tricky Puzzles
Unico Studio
Brain Test: Tricky Puzzles'i GameLoop Emulator ile PC'ye indirin
PC'de Brain Test: Tricky Puzzles
Unico Studio geliştiricisinden gelen Brain Test: Tricky Puzzles, geçmişte Android systerm üzerinde çalışıyor.
Artık Brain Test: Tricky Puzzles'i PC'de GameLoop ile sorunsuz bir şekilde oynayabilirsiniz.
GameLoop kitaplığından veya arama sonuçlarından indirin. Artık yanlış zamanda pile bakmak veya sinir bozucu aramalar yapmak yok.
Brain Test: Tricky Puzzles bilgisayarın keyfini büyük ekranda ücretsiz olarak çıkarın!
Brain Test: Tricky Puzzles Tanıtım
Brain Test is an addictive free tricky puzzle game with a series of tricky brain teasers. Different riddles and tricky tests will challenge your mind. This new puzzle game may break common sense and bring your new brain-pushing experience! You can enjoy yourself with your friends with this addictive and funny free IQ game. Think out of the box, crack the puzzles and get ready to take the quiz! You will enjoy this funny tricky test.
If you are a fan of word games, word search games, puzzles, sudoku puzzles, riddle games or any other quiz games, tricky test Brain Test is your best choice! Much funnier than classic test games.
Features:
• Tricky & Mind-blowing Brain Teasers and Brain Go: You will be tricked!
• Unexpected game answers to the great number of quizzes.
• Fun for All Ages: The best trivia game for family & friends' gatherings!
• Enjoy this impossible quiz.
• Download this funny game for free.
• Endless fun and brain-pushing games.
• Great exercise for the brain.
• Simple and highly addictive game play.
• Great time pass with riddle games.
• Play without the internet.
Have fun!
Daha fazla göster
Ön izleme
Bilgi
geliştirici

Unico Studio

En Son Sürüm

2.731.0

Son güncelleme

2022-07-17

Kategori

Online-game
Daha fazla göster
PC'de GameLoop ile Brain Test: Tricky Puzzles nasıl oynanır
1. Resmi web sitesinden GameLoop'u indirin, ardından GameLoop'u kurmak için exe dosyasını çalıştırın.
2. GameLoop'u açın ve "Brain Test: Tricky Puzzles"i arayın, arama sonuçlarında Brain Test: Tricky Puzzles'i bulun ve "Yükle"ye tıklayın.
3. GameLoop'ta Brain Test: Tricky Puzzles oynamanın keyfini çıkarın.
Minimum requirements
OS
Windows 8.1 64-bit or Windows 10 64-bit
Storage
1GB available space
Recommended requirements
OS
Windows 8.1 64-bit or Windows 10 64-bit
Storage
1GB available space
Brain Test: Tricky Puzzles
İndirmek
Brain Test 2: Tricky Stories
İndirmek
Brain Test 3: Tricky Quests
İndirmek
Who is? Brain Teaser & Riddles
İndirmek