How to Purchase UC in PUBG Mobile
2023-05-25

Download
Table Of Contents
Pre-requisites of Purchasing UC in PUBG Mobile
How to Purchase UC in PUBG Mobile using Midasbuy
How to Purchase UC in PUBG Mobile using In-Game Purchases
If you've ever played PUBG Mobile, you might have heard of UC or Unknown Cash. It is the game's currency, using which you can buy many items such as clothes, skins, accessories, emotes, and most importantly the Royale Pass. Although PUBG Mobile is free-to-play, having UC can drastically improve your gameplay. It can get you ahead of everyone else in less time and having that advantage can help you win games. But how do you get UC?
There are two methods of purchasing UC in Pubg Mobile: the first is through the official UC purchasing website and the second one is from the game itself using in-game purchases (Google Play). In this article, we will guide you step by step on how to purchase UC in PUBG Mobile using both methods. So if you want to get that advantage, keep reading and we will guide you through this simple process.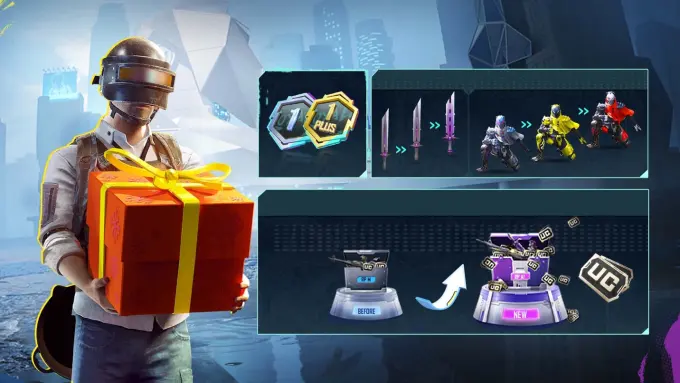 Pre-requisites of Purchasing UC in PUBG Mobile
Before we start, there are some things you need to adjust in GameLoop for a seamless experience while buying UC. This is to make sure that there are no problems with the UI during the transaction process. Here's how to make the required changes:
Open GameLoop and click on the hamburger menu which is at the top right side of the screen.

Click on 'Engine' and scroll to 'Resolution' and set it to '2560x1440'.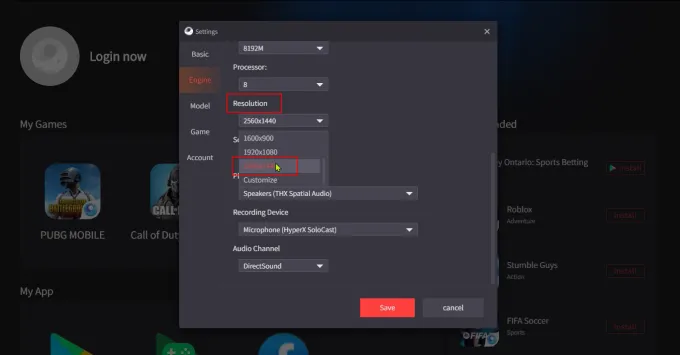 Do the same for DPI and set it to '160'.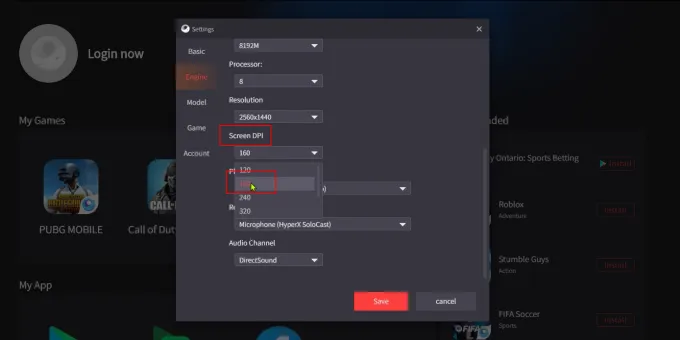 Click on 'Save' to save your settings and then launch PUBG Mobile.
How to Purchase UC in PUBG Mobile using Midasbuy
As discussed earlier, the first method we are going to see today uses third-party websites such as Midasbuy, MooGold, SeaGM, Codashop, RazerGold, etc. For this article, we are going to use Midasbuy because it is preferred by PUBG Mobile. On MIdasbuy, you can not only buy UC but also other PUBG Mobile items such as redeem codes, RP upgrades, and many more. But for now, let's focus on the UC part.
Step 1: Open PUBG Mobile and login into your account.
Step 2: Once logged in, click on the UC icon at the top right corner.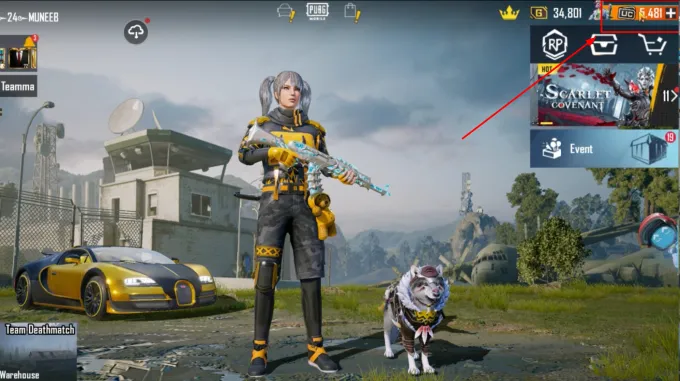 Step 3: In the UC buying menu, switch to the 'More Payments' option. You can check this by making sure the option at the top reads "Switch to Google Pay". If it doesn't click on it and change the same to more payments.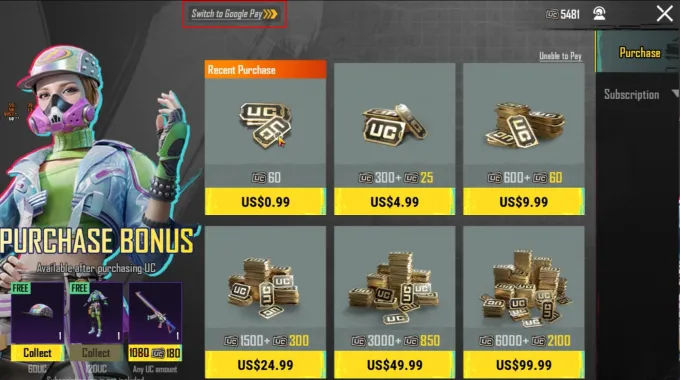 Step 4: Click on any UC amount, it doesn't matter since you can choose the amount later in Midasbuy itself.
Step 5: Midasbuy should automatically open to the purchase page. Here, verify your account name and player ID. You can also view your UC balance by linking your account to Midasbuy.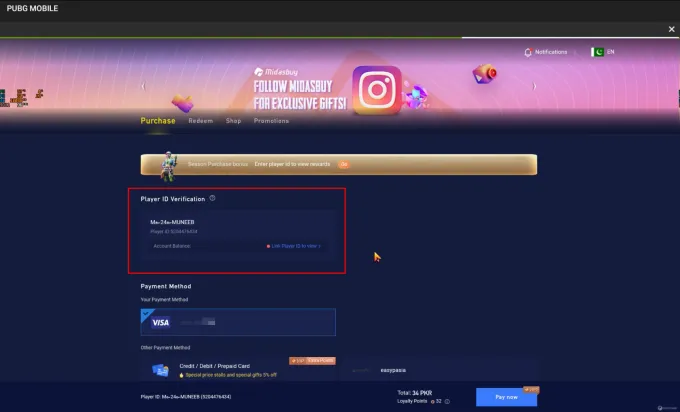 Step 6: Scroll down and select your preferred payment method. Midasbuy offers Credit cards, Debit Cards, and Prepaid cards for payments. Razor Gold and other popular local payment methods are also available.
Step 7: Scroll down a little bit more and select the amount of UC you want to purchase and click on "Pay Now"
Step 8: After clicking "Pay Now" Midasbuy will redirect you to the payment gateway. Fill in the appropriate details and click on "Payment".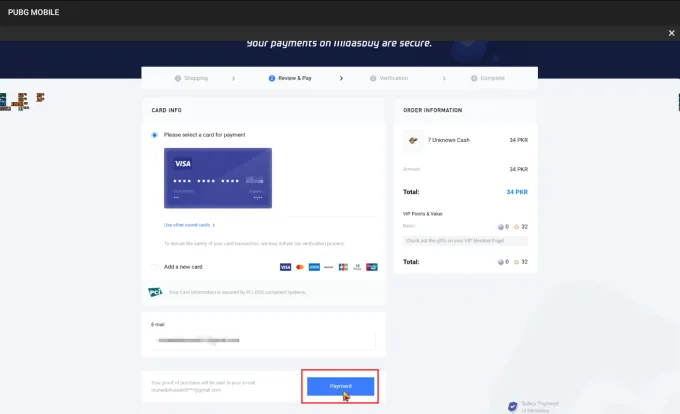 Step 9: Once you click on payment, Midasbuy will process the transaction. If the transaction succeeds, you will be redirected to the homepage. If not please re-check your details and make the payment again.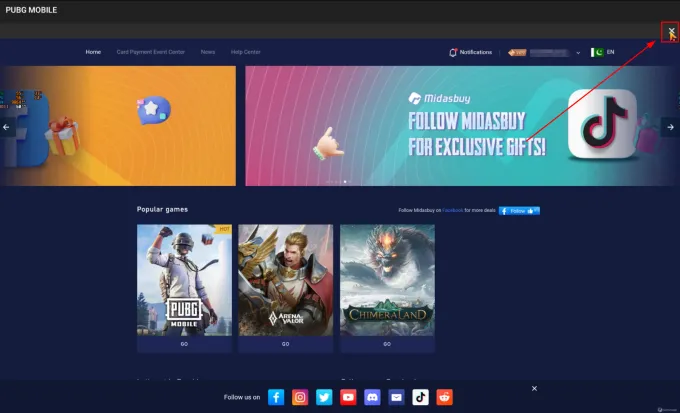 Step 10: On the Midasbuy homepage, click on the close icon at the top right and you will be back in PUBG Mobile where you can see the UC has been credited to your account.
That's all! Buying UC with Midasbuy is very simple and sometimes you get certain discounts and rewards for choosing Midasbuy.
How to Purchase UC in PUBG Mobile using In-Game Purchases
Now let's see how to purchase UC using in-game purchases or Google Pay.
Step 1: Open PUBG Mobile and login into your account.
Step 2: Click on the UC icon at the top right corner once you are logged in.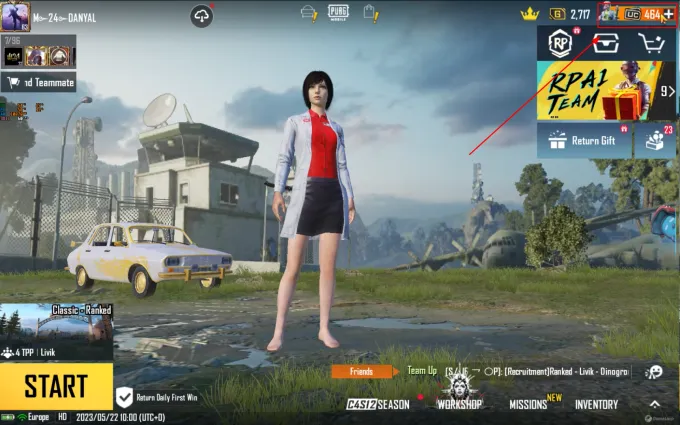 Step 3: Make sure you are buying through Google Pay. You can check this by reading if the text at the top says "Switch to more payment options". If it doesn't click on it and switch to Google Pay.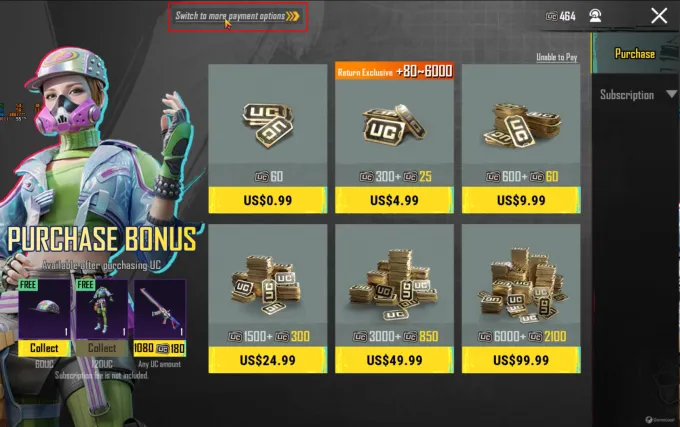 Step 4: Click on the amount of UC you'd like to purchase. For this guide, we are going with 60UC.
Step 5: After you click on the UC, a Google Play purchase screen will pop up from the bottom. Add your payment details if already not added and click on "Buy"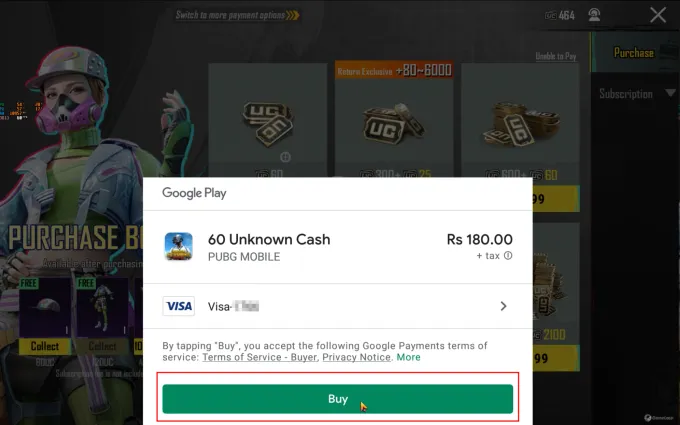 Step 6: You will be prompted to enter your password. Do the same, check the "Remember me on this device" option for a more seamless experience, and click on verify. Google Play will process the payment and add the UC to your account.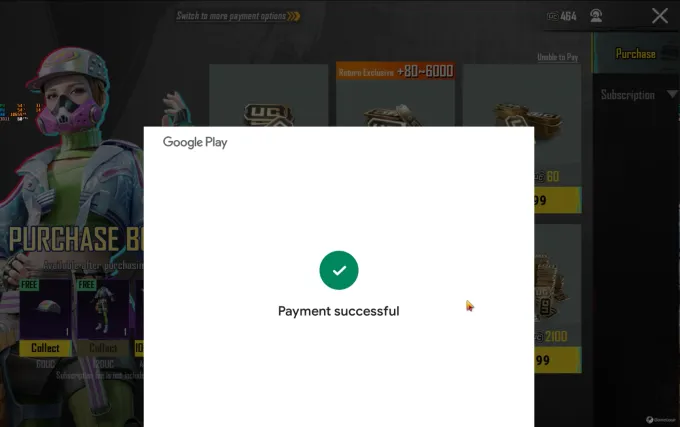 And that's how to buy UC for PUBG Mobile using Google Play.
We hope this guide helped you with buying UC for PUBG Mobile. Now go enjoy your UC and get ahead in the game!
Tips for Improving Your Aim in FPS Games

2023-07-05

Fix Incompatible Hyper-V Detection

2023-04-11

Taking Screenshots

2023-04-07

Can't find my favorite games

2023-04-06

Installing DirectX 11 Runtime

2023-04-05