Doomsday: Last Survivors - Ultimate Beginners' Guide
2023-05-31

Tải xuống
Table Of Contents
What is Doomsday: Last Survivors All About
Doomsday: Last Survivors Tips and Tricks for Beginners
How to play Doomsday: Last Survivors on PC
Zombie survival games are one of the most popular categories that players enjoy exploring in cyberspace. Its sole aim is to destroy all of the zombies as a survivor but by managing resources, crafting weapons, and interacting with other human survivors. You are probably one of those players who enjoys killing zombies and saving the world from them. If you are looking for a game that fits with your long journey, Doomsday: Last Survivors had come up with this idea. Doomsday: Last Survivors is one of these popular and exciting categories that has online battling which must recruit fellow survivors to upgrade your shelters, and explore more of those areas that are filled with fogs till you reach apocalypse or "doomsday". It is created and developed by IGG.COM that you may know them as the creator of Lords Mobile: Kingdom Wars. Before writing about all the details, you can download Doomsday: Last Survivors on Google Play Store.
What is Doomsday: Last Survivors All About
When the zombies attacked the place, they turned everything into ash and killed as many civilians as they could and infected those innocent people to tear them apart. But legends never die on the battlefield. There were few who defeated these nasty zombies and created their own bases to stop them from their attacks. They were developing, upgrading, and increasing weapons, town halls, food to keep kids and the injured alive. Doomsday: Last Survivors is considered as the best strategy, tactical, and competitive survival game of all time. It is a base-oriented game same as any other related ones but more detailed and finesse in attacking zombies and upgrading facilities and expanding the base buildings. Let's have a quick look at the whole map details so that you have a gist on how to play the game more efficiently. The whole structure is upgrading and developing your map components and battling to explore the fogs to get more lands to develop. But before that, you should see the details:
Commander Info

: It is more like a profile info that you can see all the details you need to know. Doomsday: Last Survivors was more successful in building a better and more customizable environment. What you see at the first sight is portrait, portrait frame, and chat bubble that you can choose to make your commander info cooler and more professional. In the "more info" section, you can see your overall might, battle stats, and total resources stats. There is one more section called "squads" in which it shows the total squads, might, and travel queue information overview. There three icons namely ranking, feats which shows your all achievements throughout your victories in fighting the zombies, and settings.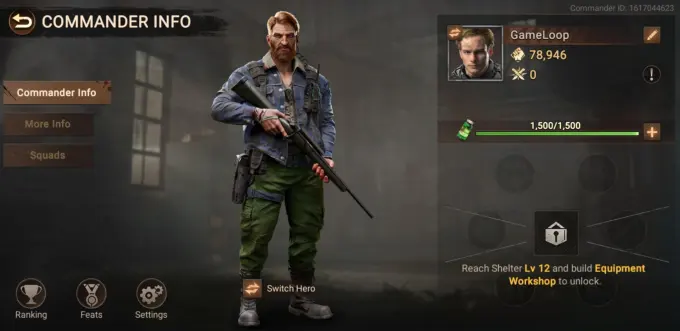 Hero

: In the game, you can see your heroes that you collected and it is categorised as four rarities: common, uncommon, elite, legendary. They are counted as survivors. If you tap on the details, you can now see the date recruited, rank, rarity, kills, and zombie kills and a brief detail on how they survived and not infected by those zombies.

Infantry barracks

: Innocent people will be trained here to protect themselves. Once upgraded, you can see the civilians rank from tier 1 to tier 6.

Ranged barracks

: These barracks train combat units to fight against the zombies. They range from ranger and rouge to armoured heart piercer and ace heart piercer.

Farm and Lumberyard

: Your troops and everything in the game needs to be repaired by themselves. These two buildings in the game make tomatoes as food, wood, and steel to reimburse various facilities.

Warehouse

: After collecting the resources from their facilities, you need to store them in order to use it when needed.

Barricade

: Survivors cannot defend their territories with bare hands except using walls around.

Headquarters

: The main building on the map that can upgrade other facilities by levelling up the main building. It is worth mentioning that it has only 25 levels which you can boost fast and have the ultimate buildings from other players.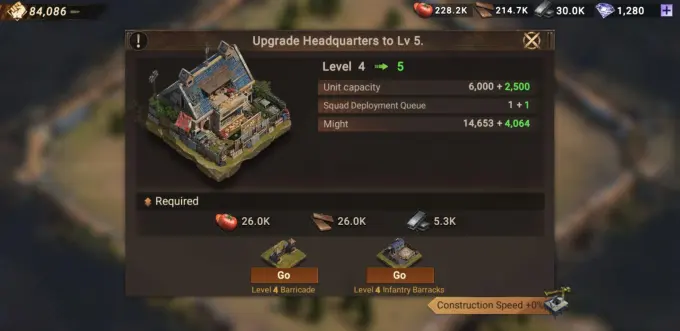 In general, the map has four different buildings that are economic, military, decorative, and storage boxes. Whenever you raise your headquarters, you can deploy related buildings.
Apart from the building details, the developers have optimised and updated Doomsday: Last Survivors which are as follows:
Two more heroes (Jonathan and Elena) had been added in the game since the number of heroes were low and limited.

The island raid has been optimised and the Event user interface is improved as well. Moreover, lethal outbreak, grand revival, and great hunter have optimised.

The developers had set a limited event where you can collect so many hero fragments and gems.

One more rank tier called "

Top Fighter

" was added to the alliance league.
Doomsday: Last Survivors Tips and Tricks for Beginners
Here is what you can do to boost up your progression in Doomsday: Last Survivors:
Upgrade your base facilities with required food, wood, and steel resources that you have collected and stored in the warehouse.

Gather resources faster by levelling up the farm, lumberyard, and steel workshop.

Complete main and side missions daily and week so that you will not miss any resources.

Go find, recruit, and level up survivors to attack zombies more.

Join alliances and get new rewards and items to craft survivors and level up facilities more quickly.

Participate in limited events where you can find legendary items for building up your map.

Attack in a strategic combat and get huge rewards by raiding either by yourself or your teammates.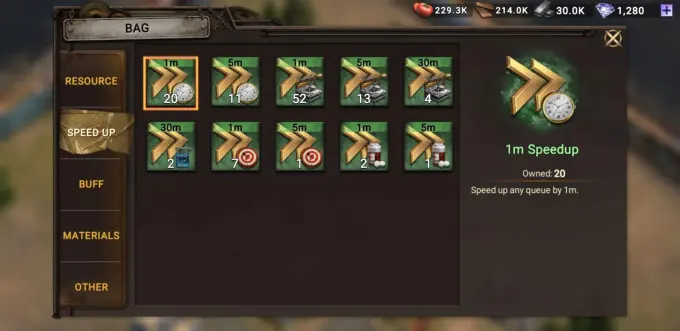 How to play Doomsday: Last Survivors on PC
In order to download Doomsday: Last Survivors on your PC that is already released on Google Play Store, you must:
Download the GameLoop on its

official website

.

Once installed and launched, open up the search box and look for and install

Doomsday: Last Survivors

.

Launch the Doomsday: Last Survivors and enjoy playing as a lone survivor.
Alternatively, you can download Doomsday: Last Survivors on the official GameLoop website by looking up the game title in the search bar. Once you click on the game, you will be redirected to Doomsday: Last Survivors webpage. By downloading the game, you not only downloaded the GameLoop, but also installed the game automatically on your desktop.
In Doomsday: Last Survivors, you can be the last survivor but join other survivors to build your own kingdom till the doomsday and be the master of all time.
Fight Against Titans With Gunner Waifus in Snowbreak: Containment Zone

2023-07-13

Genshin Impact: The Best Characters and Builds

2023-07-13

Among Us: How to Spot an Impostor

2023-07-12

Call of Duty Mobile: The Ultimate Guide to Multiplayer

2023-07-12

An Ultimate Guide to Conquering the Epic Seven Game: Heroes, Equipment, Tips & More

2023-06-28