Thief Puzzle - A Fun and Addictive Hyper Casual Trivia Game
2023-05-31

Thief Puzzle: to pass a level
Tải xuống
Table Of Contents
Thief Puzzle and The Humorous Gameplay
Thief Puzzle and its Features
Thief Puzzle on PC
You come across an ad on a game you're already playing and getting your attention towards it. Or you may watch it on Twitch or the Trovo's chitchat category in which everyone is playing and having fun with their communities. You guessed it right. Thief Puzzle is one of those casual and brain-teaser games you see in an ad. TapNation, one of the pioneers in creating puzzle games, has provided that for you to test your IQ level and challenge you to beat the odds by changing your strategic skills in a short amount of time or what linguists call it "minimax strategy". Thief Puzzle: to pass a level has found its way through content creators and even YouTubers which convinced their viewers to download and play on their own. Thief Puzzle has over 750 levels and it can keep you entertained every day and everywhere whether you are heading to the office or coming back home after a long and boring night shift in a bus, metro station, or a taxi. The writer's opinion is that the developers were successful in the gaming industry by creating such stylized and offline games and that the Thief Puzzle was downloaded and installed over 100M times on Google Play Store. Additionally, Thief Puzzle: to pass a level offers a wide variety of ideas which makes the stories more compelling. It ranges from engaging gameplay experience and developing critical thinking to overcoming the puzzles.
Thief Puzzle and The Humorous Gameplay
It is worth mentioning that TapNation created this brain test two years ago and still attracts live streamers to play and share the moments to their viewers. Moreover, the idea of developing these sorts of games is that it can fill the leisure time during studying or working so that not only can the users have fun, but they also help them to improve their decision-making in the real world.
What makes Thief Puzzle unique as compared to any other related games is practising different sorts of skills. This includes three kinds of games that are robbery and escape games along with the brain tests. The gameplay is super easy. You simply swipe and steal everything that might be precious to you on each level. Every level's difficulty might be different and it is categorised as easy, medium, and hard. If you can't pass a certain level, you can use your "hint" button or even jump on the next level by using the "skip" button. But people who you are stealing from will not wait for you to take their belongings and will kill you in the funniest way. You must be careful and don't get caught up while solving these creative puzzles.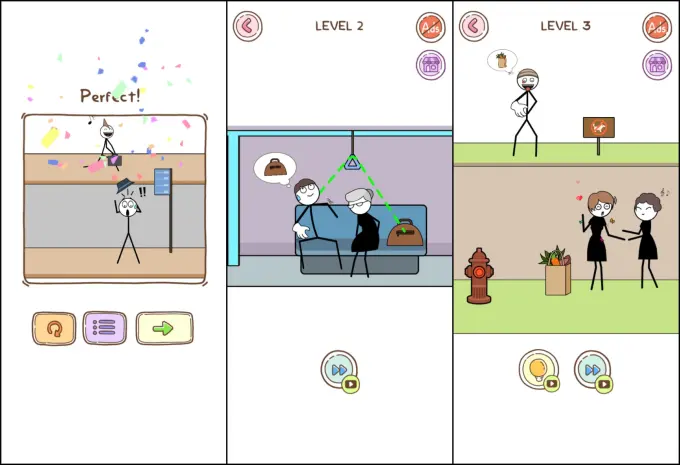 Thief Puzzle and its Features
Generally, the gameplay of Thief Puzzle: to pass a level focuses on solving puzzles and passing them to reach higher levels and become a master thief. By having the gist of this sort of processing in the game, you might want to know how this game helps and assists you in real life (IRL). First key element of Puzzle Thief is its objective nature that you must successfully finish each level by solving the riddles. Next thing you notice is the types of puzzles that need problem-solving and decision-making skills which you can improve during the gameplay. Strategy and planning will be the third item in that the thief master may need to devise a strategy to complete a mission that has locked doors, bodyguards, or an old woman calling her grandson to pick her up in a park as the obstacles. The last but not least is completing the mission through trial and error. This is a common part of every puzzle game in which you employ some sort of experiment with various styles and approaches to find the adequate solution.
Specifically speaking, Thief Puzzle has some distinctive features that is already mentioned in the article and that is briefly noted down below:
You can download it offline for free.

It can be played for all ages.

Simple gaming experience that is highly addictive.

Funny game effects and sounds during the missions.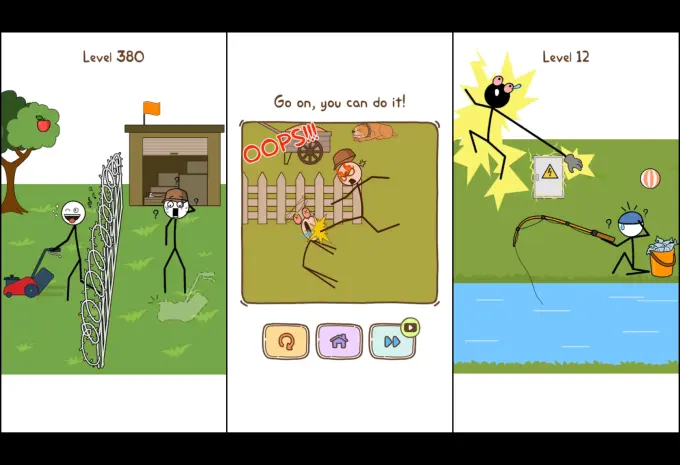 Developers have done a fantastic and amazing job by implementing and applying these kinds of strategies that can entertain their users. Interestingly, the live streamers will play this game instead of talking with their viewers during the break time when they are either eating their meals or waiting for their games to be updated. In this way, the viewers will try to download the game to play with their favourite streamer.
Thief Puzzle on PC
If you are looking for a better and superior experience to play this trivia game, you have come into the right place. You can now download the Thief Puzzle: to pass a level on your PC for free. Moreover, if you live stream on YouTube, Twitch, Trovo, or Omegle platforms and you don't want to switch to your smartphone for screen sharing, GameLoop is the best option for you to select. GameLoop is an android emulator that can provide you the best gaming experience to install and run android apps and games. Before installing the Thief Puzzle, you need to download the GameLoop app at its official website or look up the "Thief Puzzle: to pass a level" in the search box. Once you have downloaded the GameLoop, you need to find the game in either the search bar or the "library" section and download it. After downloading, the game will be automatically installed on your desktop and by clicking on the game's icon GameLoop will open its standard engine to run Thief Puzzle. Here you can customise your graphic quality as well by changing it from smooth and balanced to HD.
Besides, the GameLoop will save your precious time playing the same category while working on your PC for free so that you don't need to switch on your phone. In order to become the master thief and beat up your friends sooner, you don't hesitate and download the Thief Puzzle: to pass a level on your PC for free.
Cat Mart: Building a Feline Empire, One Meow at a Time

2023-08-02

Gunstars - Battle Arena: Unleash Your Inner Warrior and Dominate the Arena

2023-07-28

Indus Battle Royale: Conquer the Ancient Realm of Warfare

2023-07-28

The Lord of the Rings: Rise to War - A Legendary Journey through Middle-earth

2023-07-27

Merge Mansion: A Magical Blend of Puzzles and Mysteries

2023-07-27