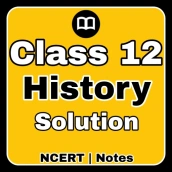 12th Class History Notes & MCQ
PC
Mr Dheeraj
Download 12th Class History Notes & MCQ on PC With GameLoop Emulator
12th Class History Notes & MCQ, is a popular steam game developed by 12th Class History Notes & MCQ. You can download 12th Class History Notes & MCQ and top steam games with GameLoop to play on PC.
12th Class History Notes & MCQ
Hello friends it is the notes of both the books of class 12 in history and that too in simple language
1) ईटें उनके तथा अस्थियाँ (हड़प्पा सभ्यता)
2) राजा किसान और नगर (आरंभिक राज्य और अर्थव्यवस्था (लगभग 600 ई. पू. से 600 ई)
3) बंधुत्व जाति और वर्ग - आरंभिक समाज (लगभग 600 ई.. से 600 ई)
4) विचारक विश्वास और इमारतें-सांस्कृतिक विकास (लगभग 600 ई. पू. से संवत् 600 तक)
5) यात्रियों के नजरिए - समाज के बारे में उनकी समझ (लगभग दसवीं से सत्रहवीं सदी तक)
6) भक्ति सूफी परम्पराएँ - धार्मिक विश्वासों में बदलाव और श्रद्धा ग्रंथ (लगभग आठवीं से अठारहवीं सदी
7) एक साम्राज्य की राजधानी : विजयनगर (लगभग चौदहवीं से सोलहवीं सदी तक)
8) किसान, जमींदार और राज्य - कृषि समाज और मुगल साम्राज्य (लगभग सोलहवीं और सत्रहवीं सदी)
9) राजा और विभिन्न वृतांत - मुगल दरबार (लगभग सोलहवीं और सत्रहवीं सदी)
10) उपनिवेशवाद और देहात-सरकारी अभिलेखों का अध्ययन
11) विद्रोही और राज-1857 का आंदोलन और व्याख्यान
12) औपनिवेशिक शहर-नगर - योजना स्थापत्य
13) महात्मा गाँधी और राष्ट्रीय आंदोलन - सविनय अवज्ञा और उससे आगे
14) विभाजन को समझना - राजनीति, स्मृति, अनुभव
15) संविधान का निर्माण - एक नए युग की शुरूआत
NCERT Solutions for Class 12 History English Medium
Chapter 1 Bricks, Beads and Bones The Harappan Civilisation
Chapter 2 Kings, Farmers and Towns Early States and Economies
Chapter 3 Kinship, Caste and Class Early Societies
Chapter 4 Thinkers, Beliefs and Buildings Cultural Developments
Chapter 5 Through the Eyes of Travellers Perceptions of Society
Chapter 6 Bhakti-Sufi Traditions Changes in Religious Beliefs and Devotional Texts
Chapter 7 An Imperial Capital: Vijayanagara
Chapter 8 Peasants, Zamindars and the State Agrarian Society and the Mughal Empire
Chapter 9 Kings and Chronicles The Mughal Courts
Chapter 10 Colonialism and the Countryside: Exploring Official Archives
Chapter 11 Rebels and the Raj The Revolt of 1857 and its Representations
Chapter 12 Colonial Cities Urbanisation, Planning and Architecture
Chapter 13 Mahatma Gandhi and the Nationalist Movement Civil Disobedience and Beyond
Chapter 14 Understanding Partition Politics, Memories, Experiences
Chapter 15 Framing the Constitution The Beginning of a New Era
* important Text
The students of english medium can check the Notes on this App to get to know about the NCERT Class 12th History solutions.
NCERT Solutions for Class 12 History includes all the questions provided in NCERT Books for 12th Class History Subject.
In the History subject, class 12th students have to give proper answers for the all the questions. Even in the Board exams, the all important points and authentic explanation is given importance. No student would like to lose marks because of unauthentic answers given by them. Through the NCERT History Book Class 12 Questions and Answers in english on this page, the students will get to know the right way to answer the NCERT Problems. Here you will get NCERT Solutions for Class 12 History in english
CBSE Class 12th History Notes in hindi Value Based Questions (12th History Notes in hindi ). Value based questions are very important and
always form part of examinations and class tests. Students are requested to download the 12th class History Notes in hindi and them to get better marks in examinations.Value Based Questions Class XII History Notes in hindi
Chapter Wise CBSE Class 12 History Solution & MCQ Notes, were designed by expert teachers from the latest edition of NCERT books to get good marks in board exams. NCERT History Notes for Class 12 contains all chapters Quick Revision Notes and Key Points. Here we have given CBSE History Course Class 12 Notes of इतिहास
Class 12th History Notes in hindi NCERT Solutions app is specially designed for the CBSE class 12th students to help them prepare for their exams. It also helps them throughout the year to complete their homework on time and double check the answers.
For AnyQuires Contact Us :
Gmail ld: Dilawarkmr@gmail.com
Show More
Preview
Information
Developer

Mr Dheeraj

Latest Version

0.25

Last Updated

2021-11-28

Category

education

Available on
Show More
How to play 12th Class History Notes & MCQ with GameLoop on PC
1. Download GameLoop from the official website, then run the exe file to install GameLoop
2. Open GameLoop and search for "12th Class History Notes & MCQ" , find 12th Class History Notes & MCQ in the search results and click "Install"
3. Enjoy playing 12th Class History Notes & MCQ on GameLoop
Minimum requirements
OS
Windows 8.1 64-bit or Windows 10 64-bit
Storage
1GB available space
Recommended requirements
OS
Windows 8.1 64-bit or Windows 10 64-bit
Storage
1GB available space