Revamped Characters and In-Game Missions - A Look at Free Fire OB39 Update
2023-03-18

Free Fire: 6th Anniversary
Download
Free Fire Update has been the talk of the town lately, as it has given players an exclusive preview of the exciting changes that the game's developers have in store for the upcoming update. The buzz surrounding the update has been nothing short of phenomenal, with Garena officially announcing its release and unveiling eye-catching posters to tease the players.
Table Of Contents

About Free Fire
Free Fire OB39 Update Release Date
Free Fire OB39 Update Features
Conclusion
The upcoming update promises to bring a plethora of new features to the table, including character skill awards, a brand-new character system, and various tweaks to both CS and BR modes. Players are already on the edge of their seats, eagerly anticipating what's in store for them in the next update.
But that's not all - Garena has even more surprises up its sleeve to keep players engaged and entertained. Following the conclusion of the update event, players can look forward to a slew of new events and exciting freebies that will enhance their overall gaming experience.
So, buckle up and get ready to dive into the thrilling world of Free Fire with the upcoming update - it's going to be an absolute blast!
About Free Fire
Free Fire is an adrenaline-pumping battle royale game for Android that has been taking the gaming world by storm. Developed by Garena, the game falls into the category of multiplayer shooting games and has quickly become a force to be reckoned with in the mobile gaming market.
The game's popularity can be attributed to several factors. Firstly, the game has simple and intuitive controls that make it accessible to players of all skill levels. Secondly, the game is fast-paced, action-packed, and loaded with thrilling moments that keep players on the edge of their seats. Lastly, Free Fire's multiplayer mode allows players to team up with their friends and compete against players from around the world. Free Fire's success is undeniable, and it has emerged as a strong competitor to the ever-popular PUBG Mobile. Both games fall into the same genre, but Free Fire has carved out its own niche with its unique gameplay mechanics and features.
One of the standout features of Free Fire is its ability to run smoothly on lower-end Android devices. This has opened up the game to a wider audience, particularly in regions where high-end smartphones are not as prevalent. Additionally, Free Fire's smaller map size and faster-paced gameplay make it a more accessible and beginner-friendly game when compared to the larger and more complex PUBG Mobile.
Free Fire has also managed to capture the attention of casual and competitive gamers alike. The game's simple and easy-to-learn mechanics make it an ideal game for casual gamers looking to kill some time. Meanwhile, the game's ranking system and competitive tournaments have attracted hardcore gamers looking to test their skills against the best players in the world.
Garena has also done an excellent job of keeping the game fresh and exciting for its players. The developers regularly release new updates, events, and game modes that keep the gameplay experience engaging and entertaining. From new weapons and skins to exciting new game modes, Free Fire always has something new and exciting to offer its players.
Free Fire OB39 Update Release Date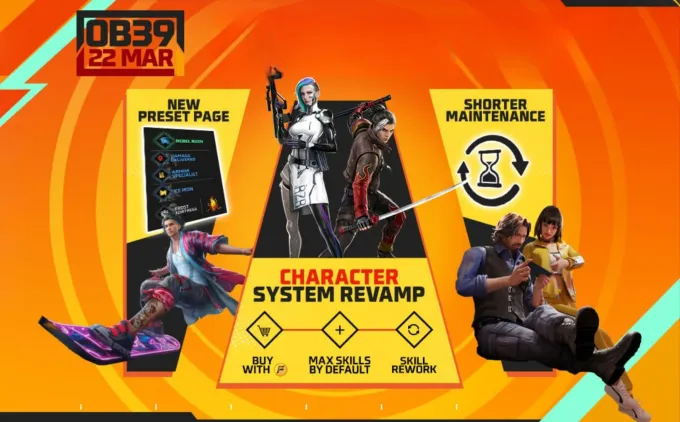 The highly anticipated OB39 update is set to hit the game servers on March 22, 2023. While Garena has confirmed the release date, they've been tight-lipped about the exact time it'll be available to play. We can only hope that the wait won't be too long!
As with any online multiplayer game, updates are typically preceded by a maintenance period to ensure everything runs smoothly. This time around, it's expected that the developers will start rolling out the latest version during a break that'll likely occur between 5:30 to 6:00 am (GMT +0).
Now, we all know that maintenance periods can be a bit of a drag, as they make the game inaccessible for a few hours at a time. However, Garena has assured fans that the maintenance period for OB39 will be shorter than usual. So, there's reason to hope that players won't have to twiddle their thumbs for too long before getting back to the game they love.
Just remember, even after you download the update, you might still have to wait a bit before you can dive back into the action. If you try to start up the game during the maintenance period, you'll receive an error message letting you know that the server isn't quite ready yet. But fear not - the wait will be worth it once you're back in the game and enjoying all the exciting new features that OB39 has to offer!
Free Fire OB39 Update Features
New Characters and Overhauled Skills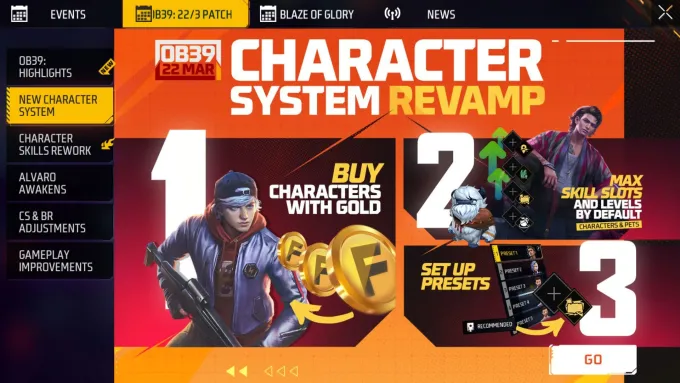 the upcoming OB39 update is set to overhaul the game's entire character system, promising an exciting new gameplay experience! The changes are so sweeping that players will now be able to obtain characters using gold, and they'll come with max skill slots and levels right out of the gate. That's right - no more grinding and leveling up just to unlock a character's full potential!
And that's not all - pet skills will also be affected by these changes, adding a new layer of strategy and depth to the game. You'll have to rethink your approach to the game to stay ahead of the curve.
o keep things balanced, the developers will be tweaking several characters in the game, including Dasha, Otho, Xayne, and Ford. These official changes will help ensure a fair and level playing field, and keep the game challenging for players of all skill levels.
The OB39 update will also introduce a brand new character to the game - Alvaro Awakens. This mysterious new character promises to shake things up in the Free Fire universe, so get ready to explore and discover all the new possibilities!
Changes in CS and BR Modes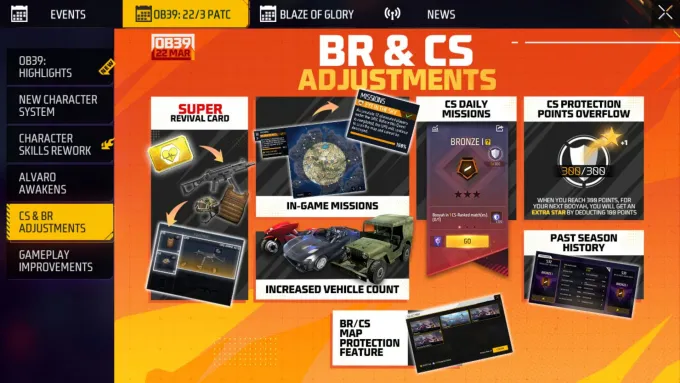 The Super Revival Card, which was previously only available in the Advance Server, will now be making its way to the regular version. This game-changing card will allow players to revive their teammates with full health and full armor - talk about a game-changer!
The battle royale mode is also getting some serious love as well. In-game missions are being added, adding a new layer of depth and challenge to the gameplay. And for those who love to get around in style, vehicle speed is being increased for even faster transportation.
Garena has announced a brand new feature that's sure to catch the attention of players. The BR/CS Map projection feature will display the past season's history and projected future of the game, offering insights into the game's evolution over time.
While Garena has confirmed these features, we'll have to wait for the official patch notes to see the full scope of the changes and additions. But one thing's for sure - Free Fire fans are in for a treat with this update.
Conclusion
With the Free Fire OB39 update just around the corner, the anticipation among players is reaching an all-time high. This update promises to bring a host of exciting new features, from the overhauled character system to the Super Revival Card and in-game missions in BR mode. The new BR/CS Map projection feature also offers a glimpse into the evolution of the game over time.
While Garena has confirmed some of these features, the full scope of the update will only be revealed with the release of the official patch notes. But one thing is for sure - Free Fire fans have a lot to look forward to.
At our blog, we strive to keep you up-to-date with the latest news and developments in the gaming world. Whether you're a Free Fire fan or interested in other popular games, be sure to check out our blog for more exciting content.
Survive the Fantasy World of Dawnlands

2023-05-31

Tom Clancy's Rainbow Six Mobile - Your Favourite Competitive Multiplayer Upcoming on Android Platform

2023-05-31

Blaze Through the Galaxies in Honkai Star Rail

2023-05-31

Geometry Dash Lite - Gameplay Insights and Review

2023-05-31
Klicken Sie zum Installieren