The Genshin Impact Update: Patch Notes and Enhancements
2023-05-24

Download
Table Of Contents
Genshin Impact: A Mobile Game Like No Other
Update Schedule
Compensation Details
Eligibility for Compensation
Adjustments Optimizations
Genshin Impact: A Mobile Game Like No Other
Genshin Impact has taken the gaming world by storm with its breathtaking visuals, immersive open world, and engaging gameplay. Developed by miHoYo, this free-to-play action role-playing game has garnered a massive fan base across platforms, offering a visually stunning and deeply captivating experience. Players are transported to the enchanting continent of Teyvat, a meticulously crafted realm filled with diverse landscapes, secrets, and fantastical creatures. The gameplay revolves around a unique elemental system, allowing players to unleash devastating attacks and solve puzzles by harnessing different elements. With a roster of diverse characters, strategic skill combinations are required to overcome challenges and engage in exhilarating combat.
In Genshin Impact, character progression and customization are vital. Exploring the world and completing quests grants experience points and valuable resources to enhance character abilities and unlock new talents. The game also features a gacha-style system, adding excitement and collectibility as players obtain new characters and weapons through wishes. With its seamless blend of exploration, combat, and character growth, Genshin Impact provides an immersive gaming experience that keeps players captivated and rewarded for their efforts.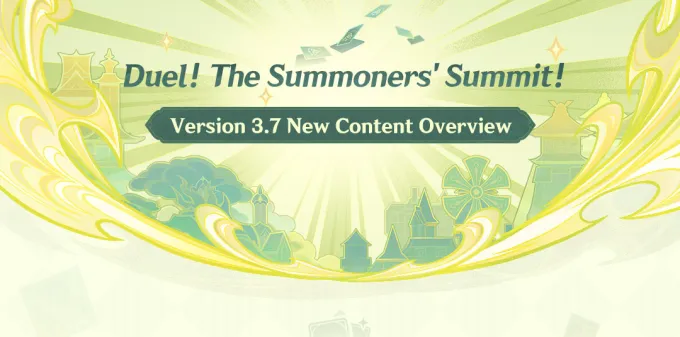 Excitingly, an upcoming update for Genshin Impact is just around the corner, scheduled to arrive on May 24, 2023. This highly anticipated update promises a range of enhancements and new content that will further enrich the Genshin Impact experience. From new areas to explore and challenging quests to undertake, to additional characters and weapons to discover, players can expect an even more immersive and captivating journey through the world of Teyvat.
Prepare to delve deeper into the enchanting world of Genshin Impact as the upcoming update on May 24, 2023, brings a wealth of new adventures and thrilling gameplay enhancements. Whether you're a seasoned adventurer or a newcomer to the world of Teyvat, this update is sure to offer something truly extraordinary. Stay tuned for the release and get ready to embark on an unforgettable journey in Genshin Impact!
Exciting updates are on the horizon! During this maintenance period, access to the game will be temporarily restricted. We kindly request that you make note of the update schedule and plan your gaming sessions accordingly. Once the maintenance is complete, the game will be updated to a brand new version.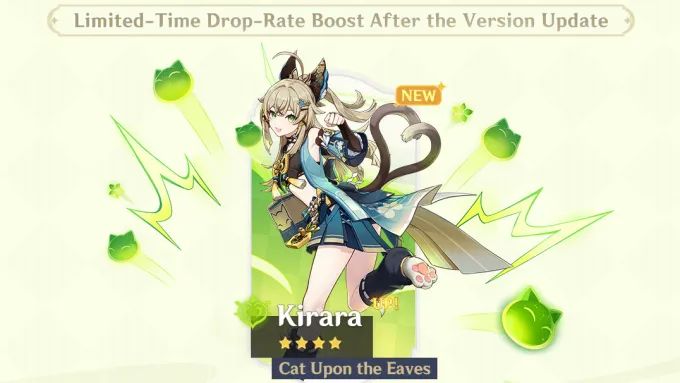 Update Schedule
The update maintenance is scheduled to begin on May 24, 2023, at 06:00 (UTC+8) and is estimated to last for approximately 5 hours.
If you encounter any difficulties while installing the new version, please don't hesitate to contact our dedicated Customer Service team. We are committed to providing you with the best possible assistance and resolving any issues you may encounter.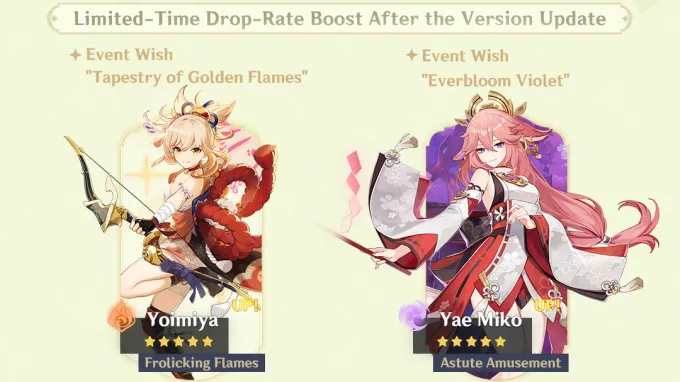 Compensation Details
As a token of our gratitude for your patience during the maintenance period, we will be offering compensation in the form of Primogems. For every hour that the servers are down, you will receive 60 Primogems, totaling up to 300 Primogems.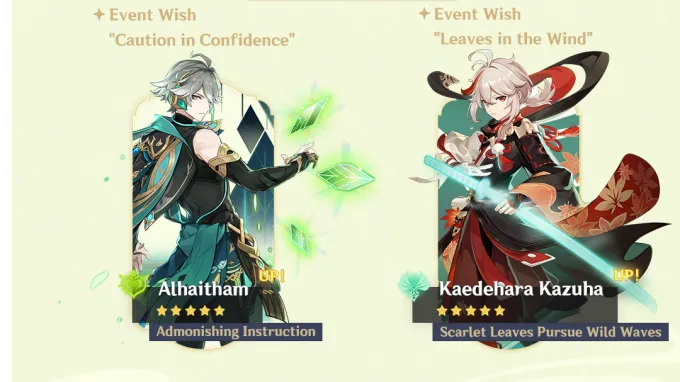 Eligibility for Compensation
To be eligible for the maintenance compensation, you must have reached Adventure Rank 5 or above before May 24, 2023, at 06:00 (UTC+8).
Please make sure to claim your compensation before the end of Version 3.7 to ensure you don't miss out.
Official team will distribute the compensation via in-game mail within 5 hours after the update maintenance is completed. Please note that the mail will expire after 30 days, so be sure to claim the attached compensation in a timely manner.
For more detailed information about the update, including bug fixes and additional compensation details, please refer to the Version Update Details notice, which will be posted on May 24, 2023, at 07:00 (UTC+8).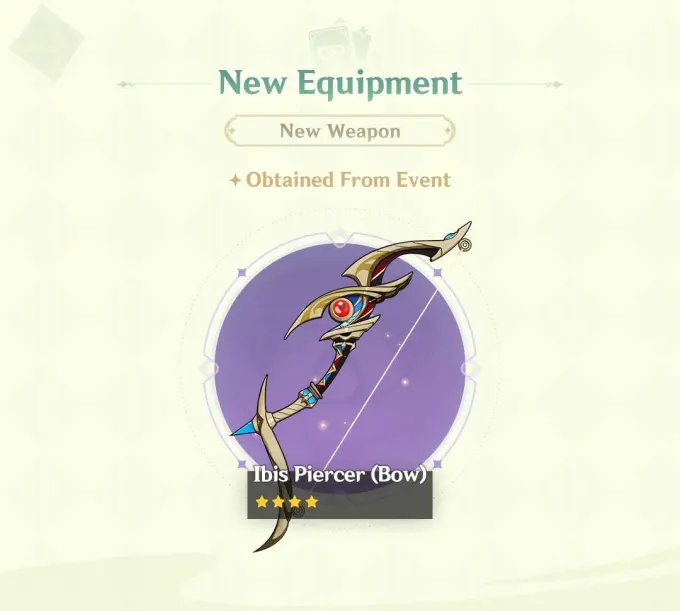 Adjustments Optimizations
● Genius Invokation TCG
Enhances the visual icons generated by Ganyu's Normal Attack "Frostflake Arrow" on her Character Card and optimizes the presentation of the defeat menu in Genius Invokation TCG.

Improves certain description texts and punctuation within the Genius Invokation TCG.

Renames the status "Normal State" of the card "Winged Dendroshroom" to "Aerial Superiority" in the Genius Invokation TCG challenge.

Enhances the effects described for Bennett's Combat Status "Inspiration Field" on his Character Card: With "Grand Expectation" equipped, the DMG increase requirements of "Inspiration Field" will always be active instead of requiring a specific HP condition. The description of the "Inspiration Field" created by Bennett with "Grand Expectation" equipped will differ from the one created without the equipment.

Adjusts the effects of Ganyu's Talent Card "Undivided Heart" in Genius Invokation TCG: The +1 Cryo DMG effect will no longer apply after equipping this card.

Modifies the effect of Hu Tao's Talent Card "Crimson Bouquet" in Genius Invokation TCG: The additional DMG dealt based on max HP will now apply to all enemies hit, rather than just the first enemy hit.

Adjusts the rules of the "Trail of Tales" card game in Genius Invokation TCG, improving the balance and gameplay experience.
● Character Balance Adjustments
Optimizes the Elemental Skill and Elemental Burst animations for several characters, including Xiao, Keqing, and Mona, providing a more immersive and visually appealing experience.

Adjusts the damage scaling of certain Elemental Skills and Elemental Bursts to ensure a better balance between characters.
● System Improvements
Adds a new feature that allows players to lock their equipment, preventing accidental dismantling or selling of valuable items.

Enhances the item sorting functionality, making it easier for players to organize their inventory.

Improves the matchmaking system for co-op mode, reducing connection issues and enhancing overall stability.

Adds new options in the settings menu, including customizable keybindings and audio settings.

Optimizes the in-game chat system, allowing for smoother communication between players.

Introduces various bug fixes and optimizations to enhance the overall gameplay experience.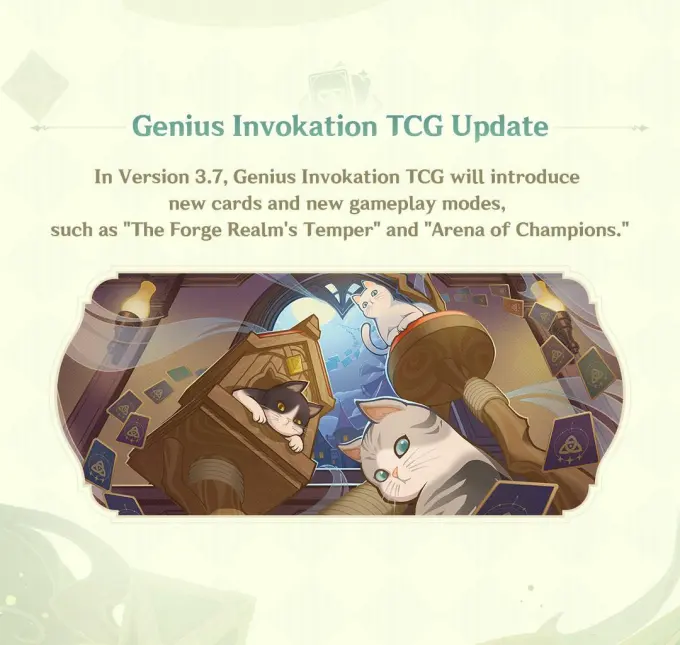 We appreciate your understanding and support during this update maintenance period. We hope these adjustments and optimizations will enhance your gaming experience and bring you even more joy in the world of Teyvat.
As always, we remain dedicated to providing you with the best possible gaming experience, and we look forward to embarking on new adventures together!
-Official Genshin Impact TikTok Account
-Official Genshin Impact Twitter Account
-Official Genshin Impact Facebook Page
-Official Genshin Impact YouTube Channel
Exploring the Exciting Features of Call of Duty: Mobile Season 5 - Get Wrecked!

2023-05-31

Patch Notes 4.2: League of Legend Wild Rift Update Unleashed!

2023-05-26

Call of Duty®: Mobile Season 5 - Get Wrecked! New Map, Mode, and Rewards

2023-05-26

Genshin Impact - Glimmering Flames and Vibrant Weapons: Event Wish Update 3.7

2023-05-24

Call of Duty Mobile Redeem Codes and How to Redeem Them

2023-05-15