Call of Duty®: Mobile Season 5 - Get Wrecked! New Map, Mode, and Rewards
2023-05-26

Download
Table Of Contents
The Get Wrecked Battle Pass: Unveiling New Weaponry and Scorestreaks
Free Tiers of the Battle Pass
Premium Pass Tiers
A New Multiplayer Battlefield: Armada Strike
A Fresh Multiplayer Mode: Search & Rescue
The Trophy System Arrives in Battle Royale
A New Themed Event: Desolate Endurance
Fresh Seasonal Challenges and Featured Events
Enhancements to Tournament Mode
World Championship Stage 3 Qualifiers
Store Update: New Mythic Weapon Draw and More
The Atlas Corporation has once again exceeded its limits, leaving the general public exasperated. The streets are now inundated with protests and demonstrations, demanding that the Operators at the center of it all take a decisive stance. However, when the chaos settles, the question remains: who will emerge victorious?
Prepare yourselves for the exhilarating Call of Duty®: Mobile Season 5 - Get Wrecked! This new season cranks up the pandemonium to unprecedented levels, introducing a fresh Multiplayer map, a new mode, and enhancements to the weekend Tournaments. Players now have the option to compete in both Multiplayer and Battle Royale.
Mark your calendars for the launch of Season 5 - Get Wrecked! on May 31 at 5 PM PT.
The Get Wrecked Battle Pass: Unveiling New Weaponry and Scorestreaks
The Get Wrecked! Pass boasts an assortment of free and premium items. Among them are new Operator Skins, Weapon Blueprints, Calling Cards, and additional COD Points that can be used towards your next Premium Pass or Store purchase.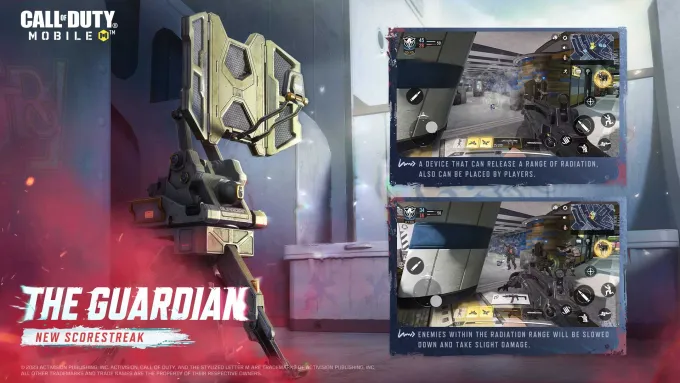 Free Tiers of the Battle Pass
At Tier 21 of the Battle Pass, make way for the FFAR 1 Assault Rifle, known for its blazing rate of fire. Tier 14 unlocks the new Guardian Scorestreak, a deployable device that emits a cone-shaped radiation, hindering enemy movement, distorting their vision, and inflicting constant low-level damage. Other noteworthy free Tier rewards include a variety of camos, Weapon Blueprints, and the Hades - Broken Hearts at Tier 50.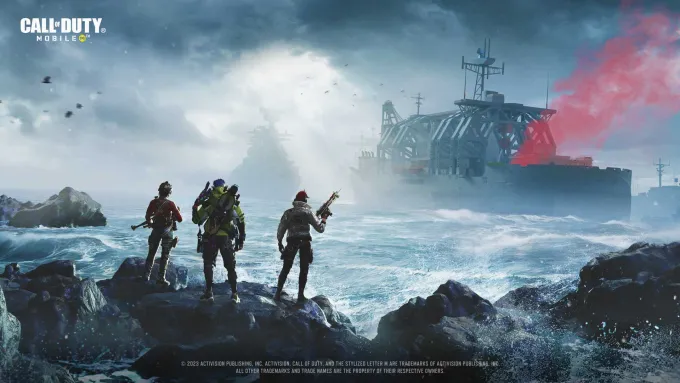 Premium Pass Tiers
Obtaining the Premium Pass grants you access to an extensive range of content featured in the Get Wrecked! stream. This includes exclusive Operator Skins such as Rampage - Showdown, Synaptic - Neutralizer, Sims - Regulator, and Roze - Smokey Skies. Arm yourself with the AK117 - Corporate Issue, ZRG 20MM - Holy Roman, FFAR 1 - Burnt a Cinder, Shorty - Patched, and the Switchblade X9 - Treachery to outgun your adversaries.
Battle Pass Subscription: Join the Ground Forces by purchasing a Battle Pass Subscription, and unlock additional rewards each season. Enjoy a 10% boost to Player and Weapon XP, as well as limited discounts on 10x crate pulls.
Season 5's Ground Forces rewards encompass the Hunter - Infantry Operator Skin, the MAC-10 - Mollusk Majesty Weapon Blueprint, and the Backpack - Mollusk Majesty.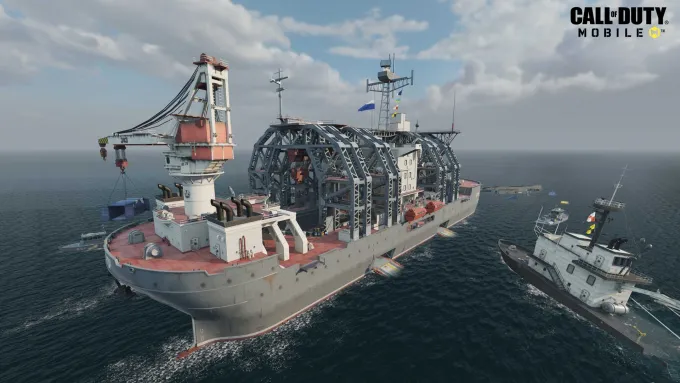 A New Multiplayer Battlefield: Armada Strike
Prepare for an intense battle on the high seas with Armada Strike, where players must fight for dominance on a colossal ship situated amidst a fleet of oceangoing vessels. Originally introduced in Call of Duty®: Black Ops Cold War, Armada Strike presents players with challenging skirmishes above and below deck. The map even provides rappel lines for swift movement between different levels.
Engage in aquatic flanking attacks by diving into the water and vie for control of the central command room to cut off a crucial pathway through the ship. Keep a vigilant eye for snipers and other long-range Operators positioned across the starboard and port sides. Remember to relentlessly press the enemy team until victory is achieved.
​​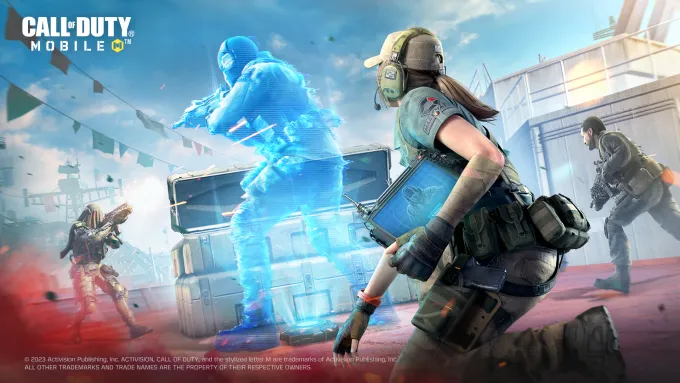 A Fresh Multiplayer Mode: Search & Rescue
Search & Rescue combines elements of Search & Destroy and Kill Confirmed, tasking players with attacking or defending bomb sites. Teams possess the ability to revive downed teammates once per round.
When eliminated for the first time, Operators drop a dog tag at their location. If a teammate retrieves it, the fallen Operator is revived and re-enters the round. However, if an enemy grabs it first, the downed Operator is permanently out of the game. Like in Search & Destroy, victory can be achieved by successfully detonating or defusing a bomb site or by completely eliminating the enemy team.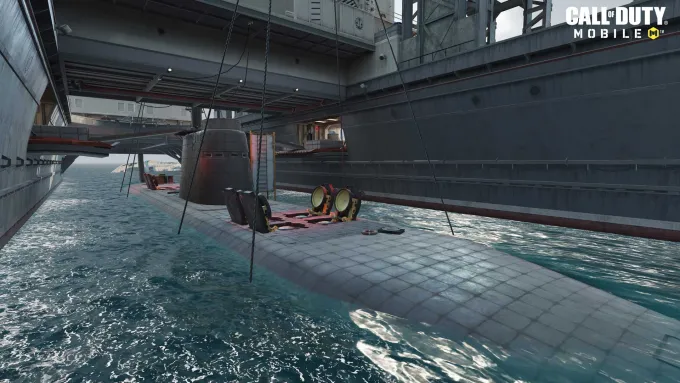 The Trophy System Arrives in Battle Royale
If you find yourself bombarded by grenades and other explosive projectiles in Battle Royale, worry not! The Trophy System is here to defend your position. This autonomous defense mechanism destroys a limited number of incoming explosives while active, allowing you to concentrate on the enemy directly in front of you instead of evading an imminent blast. Keep a keen eye out for this invaluable tactical asset as you scavenge across the map.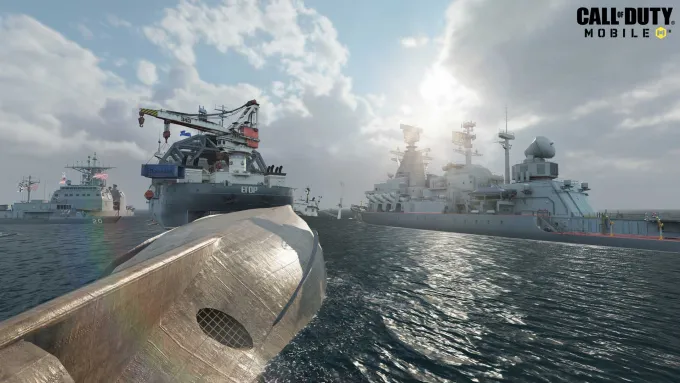 A New Themed Event: Desolate Endurance
Establish your own survivor base, gather supplies, construct facilities, and secure a foothold in this chaotic realm. Engage in both Multiplayer and Battle Royale to earn milestone rewards, including daily tasks that grant advanced materials upon completion. Utilize these materials to upgrade your base's buildings, thereby enhancing your efficiency in obtaining further rewards.
Fresh Seasonal Challenges and Featured Events
Season 5 introduces an array of new Seasonal Challenges and Events, offering Operator Skins, Weapon Blueprints, Battle Pass XP, and more. Among the exciting additions is the new Tactical Flashlight attachment.
New Attachment: Mount the Tactical Flashlight onto the RUS-79U and gain the ability to detect enemy Operators from a greater distance, regardless of lighting conditions. This attachment proves invaluable for swiftly acquiring targets at long-range in various environments.
For more information, consult the in-game Events tab throughout the season. It will provide details on Daily Missions rewards and Monthly Login incentives.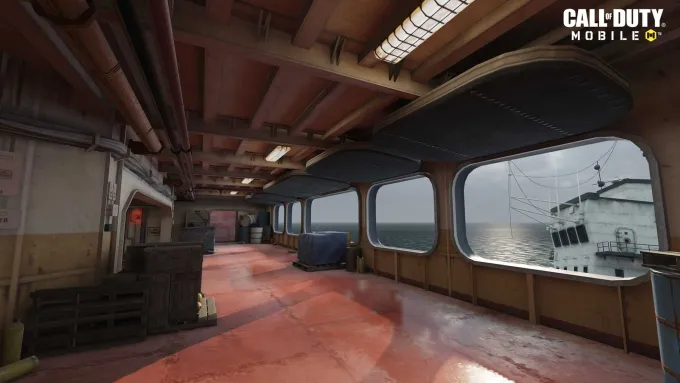 Enhancements to Tournament Mode
Starting in Season 5, the weekend Tournament mode allows players to compete in both the weekly rotating Multiplayer mode and Battle Royale, commencing with Alcatraz.
Melee Camos: Get up close and personal with new Tournament mode Melee Camos. Once you've unlocked a sufficient number of Primary Weapon Tournament Camos, the Melee Camos become available, allowing you to showcase your style even in close-quarters combat.
Improved Crates: Tournament crate contents receive an upgrade, enabling players to utilize their 1CP coupons on the first pull of Mythic Card Crates.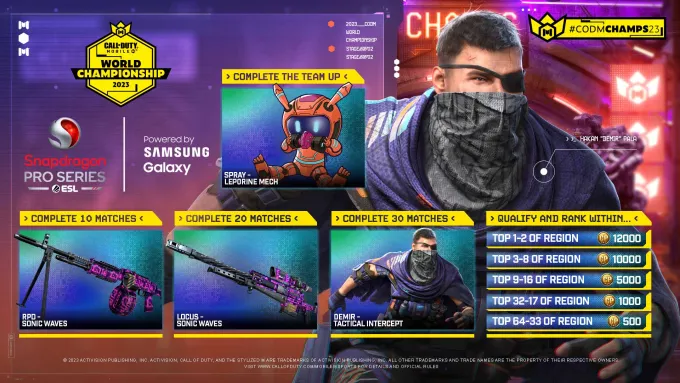 World Championship Stage 3 Qualifiers
The Call of Duty: Mobile World Championship 2023 is heating up as teams enter the Stage 3 Qualifiers in June, as part of the Snapdragon Pro Series (SPS). This unique event celebrates mobile esports and Call of Duty: Mobile, offering cash prizes across multiple stages of competition, culminating in the $200,000 Mobile Masters Finals in 2024.
The Stage 3 match outcomes play a pivotal role in advancing to Stage 4. Stage 4 features the fully broadcasted regional Challenge Finals, where teams compete for their spot in the Stage 5 World Championship Finals, boasting an enormous $1 million prize pool.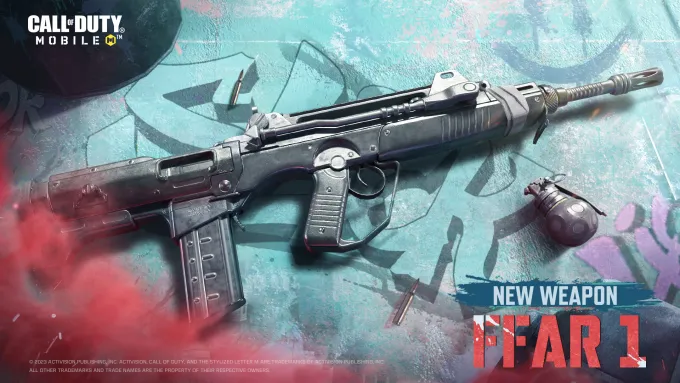 Store Update: New Mythic Weapon Draw and More
Prepare for the new Mythic Weapon Draw, featuring Kui Ji - Faded Shadow, a skilled bodyguard and spy who fights with top-of-the-line weapons such as the cutting-edge fire-based FFAR 1 - Bright Blade. This Mythic-rarity Weapon Blueprint, inspired by the new Season 5 Assault Rifle, is among the exclusive items included in the Draw.
Season 5's anarchy-themed Draws showcase Operator Skins like Alias - Signal Jammer and David Mason - Bandit, alongside Legendary Weapon Blueprints such as the KSP-45 - Jolted Radio and the RUS-79U - Custom Job. Stay alert for the return of the Clean House Draw, presenting the Legendary Price - Counter Terror Operator Skin, the Legendary J358 - Heavy Handed Pistol Weapon Blueprint, and more.
Battle Pass Vault: In Deep Water joins the Battle Pass Vault in Season 5, introducing Epic-rarity Operators like Roze - Foreshadow, Rorke - Man Hunter, Otter - Backstroke, and the notorious Merrick from Call of Duty®: Ghosts. Equip yourself with new Epic Weapon Blueprints, including the BK557 - Counter Stealth Unit, the QXR - Close Catch, the DR-H - Rebreather, the PP19 Bizon - Devilfish, and the CR-56 AMAX - Torpedo.
Vault Updates: Starting from Season 5, each Battle Pass Vault season will rotate out of the in-game Store after 90 days, ensuring that approximately four Battle Pass Vault seasons are available at any given time.
Experience all of this and more when Season 5: Get Wrecked! launches on Call of Duty: Mobile on May 31 at 5 PM PT.
We'll see you online.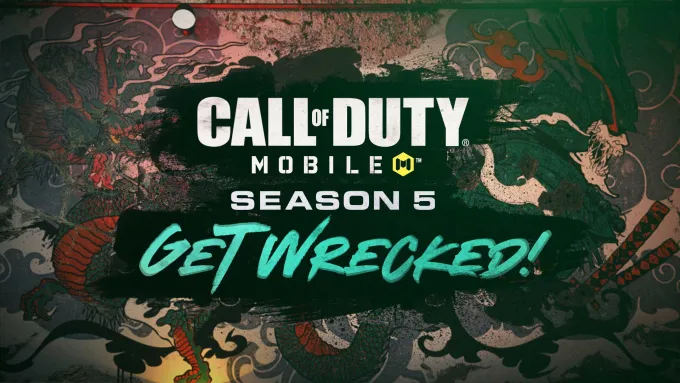 For the most recent Call of Duty intel, visit Call of Duty: Mobile official website, and make sure to watch Call of Duty on YouTube. Stay connected with Call of Duty on Twitter, Instagram, and Facebook for the latest news and updates.
For more information about Activision games, visit the Activision Games Blog. Follow @Activision on Twitter, Instagram, and Facebook for additional updates.
Exploring the Exciting Features of Call of Duty: Mobile Season 5 - Get Wrecked!

2023-05-31

Patch Notes 4.2: League of Legend Wild Rift Update Unleashed!

2023-05-26

Genshin Impact - Glimmering Flames and Vibrant Weapons: Event Wish Update 3.7

2023-05-24

The Genshin Impact Update: Patch Notes and Enhancements

2023-05-24

Call of Duty Mobile Redeem Codes and How to Redeem Them

2023-05-15