How to Play Mini World on PC
2021-12-27

Download
How to Play Mini World on PC with GameLoop
With the new era of gaming, the popularity of sandbox games is on the rise. And when it comes to a Minecraft-like game with greater visuals and environment, the best game option is the one and the only Mini world: CREATA.
With over 2 million downloads on the google play store, this game is becoming more popular every single day. Mini world on PC is a Chinese-themed sandbox game that offers you the opportunity to do exploration, enjoy adventure, and create your perfect dream world within the game.
The fact that there is no leveling up or enormous griding on the game, makes it one of the most enjoyable games on android. But a beautiful game like this deserves to be played on the biggest screen. Keeping that in mind, GameLoop is here to enable you to play mini world on PC completely for free.
Enjoy the enhanced game quality, amazing graphics, easy-to-learn controls, and a stellar gaming experience with GameLoop today.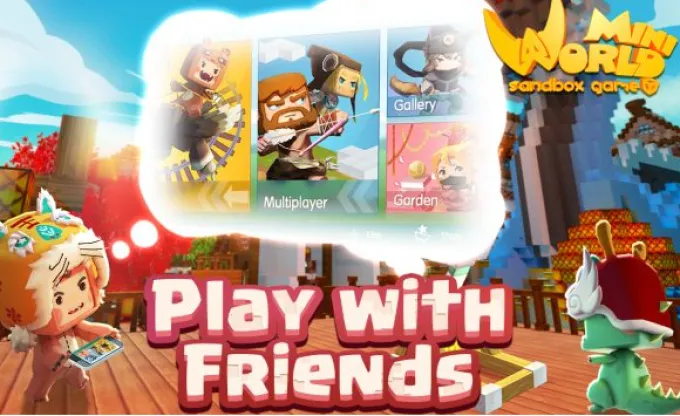 Mini world on PC | the most beautiful sandbox ever made
The mini world is slowly becoming one of the most played sandbox games in 2021. It offers the players a beautiful world to explore, with limitless possibilities. The game has no feature lock in place. That means any free-to-play player can now take advantage of all the great features of this sandbox game and play to its maximum potential.
Amazing survival mode
In the survival mode of the mini world, your goal is to collect the resources from the world and build strong tools and shelter to survive. As you progress in the game and get your hands on rarer resources, you will be able to craft new upgrades. There are also epic monsters on the dungeons and caves that you can fight solo or with your friends.
Feature-rich creation mode
If you are here to play for fun and showcase your creativity in the sandbox world, then mini world on PC has got you covered as well. In the creation mode, you will have your hands on all the possible resources and tools from the start of the game.
This game mode is offered to showcase your creativity without any hurdles. You can build Lifesize castles, dungeons, or even Chinese-themed empire state build if you wanted to. The sky is the limit.
Community made games
If the two amazing game modes were not enough, there is a massive selection of community-made minigames for players to play. These mini-games are tested and played by hardcore fans and offer a new blaze to the overall mini-world game. From parkour, strategy to puzzle, and FPS, you can play mini-games of various genres with your friends online.
How to play Mini World on PC?
An amazing game like Mini World should be played on the larger screen. So, if you have decided to ditch your smartphone and play the mini world on PC, then you have come to the right place.
To take full advantage of the game on PC, you need to install an excellent android emulator on your computer. And GameLoop is by far the most efficient, easy use, and reliable android emulator to play mini world on PC. And the best news is, GameLoop is completely free to use.
To start playing mini world on PC, go to the official GameLoop website and click on download on the top right corner of the webpage. Once the file is downloaded simply double click on it to install the GameLoop emulator on your PC.
Once the Emulator is downloaded, sign in to your google play account. After signing in, go to the search bar and search for Mini world: CREATA. Click on install, and your Mini world on PC will be downloaded and ready to play with GameLoop.
Hardware requirements to play Mini World on PC with GameLoop
One of the biggest benefits of GameLoop is that it has very low hardware requirements. Below is the hardware specification that will allow you to play mini world on PC to its maximum potential.
· Intel core i3 processor or higher.
· Intel 5200 Iris Pro Graphics.
· A minimum ram of 2 GB.
· Windows 10 OS.
Final thoughts
GameLoop is the best android emulator for you to enjoy your favorite Mini world on PC. So download GameLoop today and enjoy over 1000 android games and apps including Mini world.