Download PUBG Mobile PC using Gameloop
2021-12-29

Download
PUBG Mobile remains at the top of the list when it comes to Battle Royale games and for the right reasons too. PUBG mobile has always been creative with its content and that is why it has managed to stay on top of its competition for years.
PUBG mobile features some of the most fun game modes from classic BR battles where you fight against 99 other players in an epic showdown for survival to some highly intense fast-paced 4v4 deathmatches.
While playing PUBG mobile on-the-go is convenient but if you really want to unleash the true potential of the game, you would have to download PUBG mobile on PC and here's how:

How to Download and Play PUBG mobile on PC?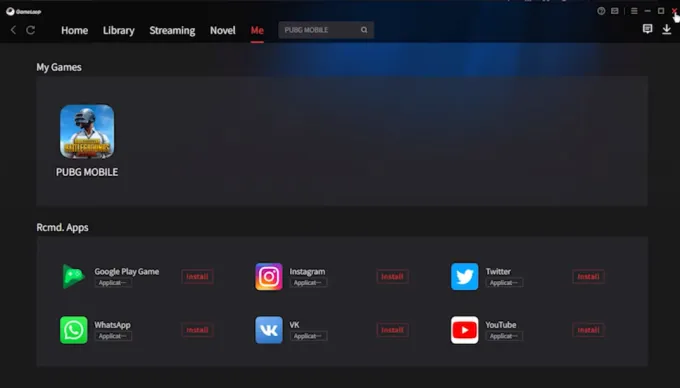 PUBG Mobile can easily be downloaded right on your PC thanks to the official PUBG mobile emulator Gameloop. Now you don't have to stick to your phone's small screen all day long while eying the battery all the time.
You might already have heard about Tencent Gaming Buddy which has now transformed into Gameloop android emulator. It's tailor made for PUBG mobile to provide you the best gaming experience on PC. All you need to do in order to get PUBG mobile is follow these few simple steps:
Download GameLoop emulator from the official website.

Once the download is finished, run the ".exe" file to install GameLoop.

Open GameLoop and search for PUBG MOBILE in the search bar at the top.

Find PUBG MOBILE in the search results and click "Install".

Once Installation is finished, click "Start" to play the game.

That's it! Enjoy playing PUBG MOBILE for PC on GameLoop.

PUBG Mobile PC Requirements
Before you start downloading PUBG mobile on your PCs, you need to make sure that your PC meets the minimum requirements to run the game. Now PUBG mobile is made for mobile devices (android and IOS) and running it on PC makes it way easier as the hardware even on your Low-end PCs will be much more performant than the ones in your mobile device.
However, running an android game on a PC using an emulator requires a considerable amount of power compared to native windows games. Here are the minimum requirements to run PUBG mobile on a PC:

PUBG Mobile PC Minimum Requirement for Gameloop:
CPU: Dual-core from Intel/AMD at 1.8 GHz.

GPU: NVIDIA GeForce 8600/9600GT, ATI/AMD Radeon HD2600/3600.

Memory: at least 3GB of RAM

OS: Windows 10, 8.1, 8 and 7

DirectX: Version 9.0c

Storage: 1GB of free storage

Best Gameloop Settings for PUBG Mobile on Low-End PC?
The requirements to run PUBG mobile using Gameloop are pretty low compared to many other modern games out there, however it does still require a decent amount of power to properly run the game at acceptable framerate.
So if you have a low-end PC, you might experience some hiccups playing PUBG that can ruin the whole experience. However there are many ways that you can improve the performance of PUBG mobile PC on Gameloop.

Gameloop Engine Settings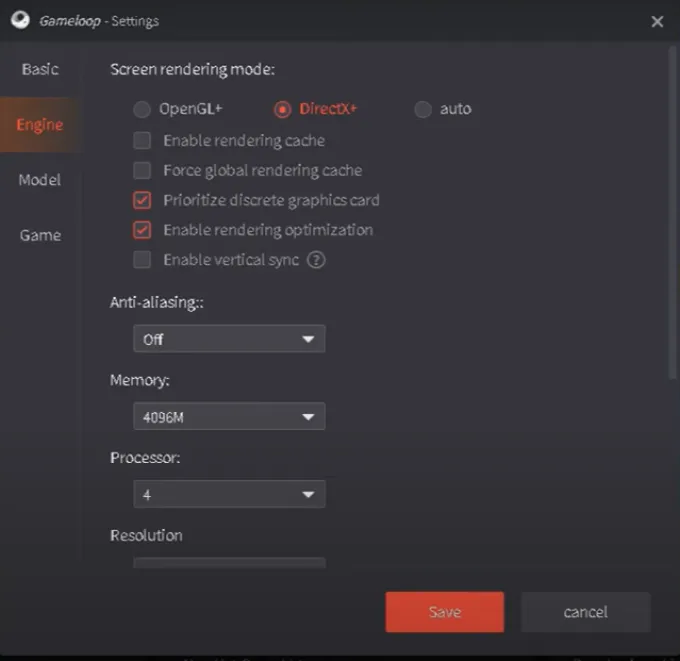 The first thing you need to do is open up the "Engine Settings" inside of Gameloop emulator settings. There you will see a bunch of options, each of which I am going to explain below:
Screen rendering mode: Gameloop gives you three options for screen rendering mode OpenGL+, DirectX+ and Auto. If you are using an GPU with older technology, it might be a good option to use OpenGL for screen rendering as it increases your performance.
However if you are using a newer GPU, you might want to stick with DirectX. But if you are not completely sure about your hardware, it might be a good practise to try out both and figure out which one works best.
Anti Aliasing: You can turn off Anti-aliasing as it doesn't affect the quality of your graphics much.
Memory: For the memory you have to keep it just under your RAM storage size.
Resolution: You don't need to keep the resolution any higher than 1280 x 720, it only puts more strain on your hardware.
Processor: The higher, the better. For maximum performance you need to let Gameloop use all the CPU cores.

Gameloop Smart Controls for PUBG Mobile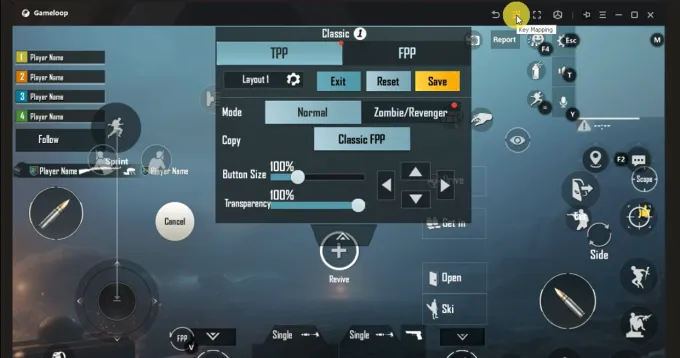 Gameloop has introduced an innovative system for key-binding your keyboard controls to PUBG mobile PC called the Smart Control. It allows you to easily configure your keyboard controls to play PUBG mobile using keymapping.
Gameloop automatically sets the keyboard keys for you but in case you want to customize it according to your own playstyle. Here's how :
Run PUBG Mobile PC and go to settings.

Inside settings find "controls" and click on Customize for the first option.

In customize control settings, click on key mapping (as shown in the image above).

Move the keys around and place them on top of the controls that you want to bind with that specific key.

Once satisfied with your keymapping, save it for future use.
Note : If you are having issues with keymapping, make sure that your Gameloop emulator is up-to-date. If it's not, update the emulator and reset the keymapping once again.