Download Pokemon Game PC for Free and Play with GameLoop
2021-12-23
If you like Pokemon's world and want to play the Pokemon game on the computer, here is Pokemon Unite, developed by Tencent. Gather your friends, form your team and reflect your own strategy on the arena for this game that has been developing with new features since beginning.
It is not difficult at all to enjoy playing the Pokemon game PC. Continue reading our article to discover the convenience of playing mobile games from PC with GameLoop 7.1.
Play Pokemon game on a PC
Pokemon, which we all watched perhaps many times, is available on mobile devices! You can now breed your own Pokemon and fight other Pokemon breeders.
Moreover, it is not complicated to play. Don't be late to take your place and download GameLoop 7.1 now. Feel pleasure playing the Pokemon game on your computer for free!
Pokemon Unite was only released for Nintendo Switch at first. The mobile version of Pokemon Unite, a MOBA game, a multiplayer online battle arena game, was also released for smartphones after a certain period of time.
Now you can play this MOBA game online from your Android and iOS mobile devices. you can download the Pokemon Unite for free with Tencent Gaming Buddy, GameLoop. Install it on your computer and enjoy playing mobile games on your PC.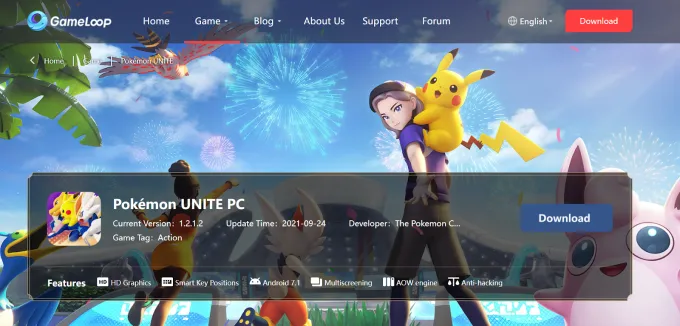 Tips for beginner players of Pokemon Game PC
To summarize briefly, there are 5 players in each team in the game and two teams are facing each other. These two teams of 5 are in a strategic war with each other.
The story of the game is as follows, an energy that makes Pokemon more skilled and stronger permeates Aeos Island. That's why Pokémon Breeders from all over the world come to the island to harness this energy in exciting Pokemon battles.
Breeders must evolve their Pokemon quickly during the match. In this way, they can counter the opposing team's Pokemon.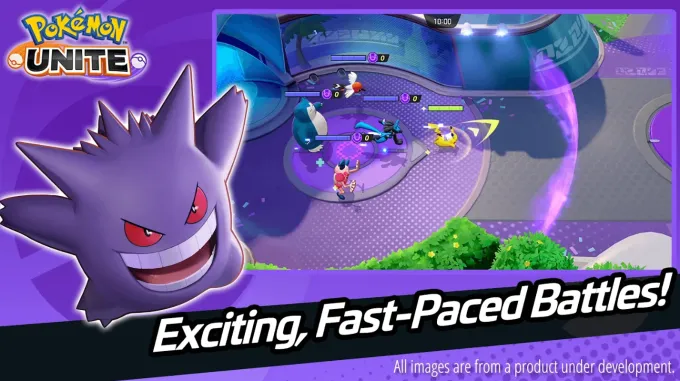 As you will remember from other MOBA games, a character is chosen before the competition. In the same way, you participate in the competition by choosing the most compatible Pokemon.
Your pokemon will evolve and even temporarily transform after each battle. Thus, experience and lots of practice are very important in this game as well. Imagine a game where your Pokemon's abilities improve as they evolve.
How to Play Pokemon Game PC on a computer ?
One of the most important issues for those who are interested in Pokemon is to play the Pokemon game PC on a computer. With Tencent Gaming Buddy GameLoop 7.1, this is no longer a dream. All you have to do is download both GameLoop and Pokemon Unite.
Download Pokemon Unite for free
After downloading the game from GameLoop official website, we run it and determine the shape, appearance, outfit and most importantly the nickname of the character we will use in the game.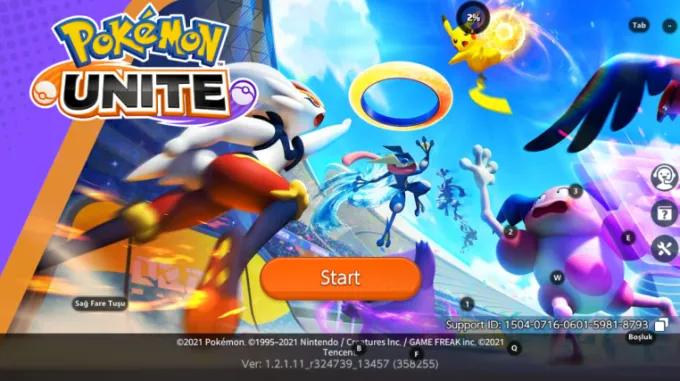 Now your appearance is ready, you can join the island as a pokemon breeder. Professor Phrous and researcher Erbie will tell you everything you need to know about the island. No need to worry Erbie will give you practice before competitions.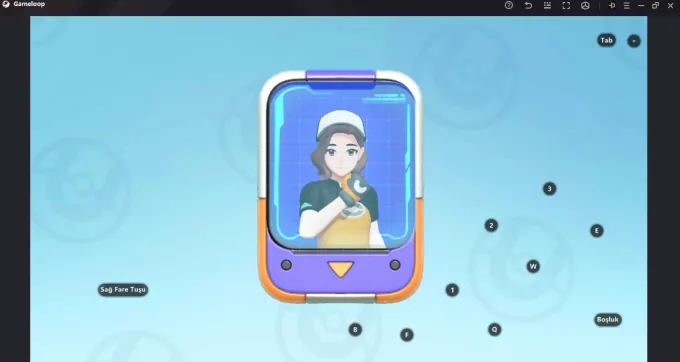 Learn the Pokemon Game PC with Erbie
First you will experience the details of single combat and then team combat by learning from Erbie. Here we recommend that you do all kinds of experimentation because as we said before, all kinds of practice are crucial for this game.
Another important thing is that the pokemon you will use in the competition is suitable for you. Players, or pokemon trainers, choose moves their Pokémon can potentially learn and items to carry in battle.
As the battle progresses, the Pokemon will get stronger and learn a variety of new moves and attacks. So get plenty of practice and discover which moves fit your playstyle!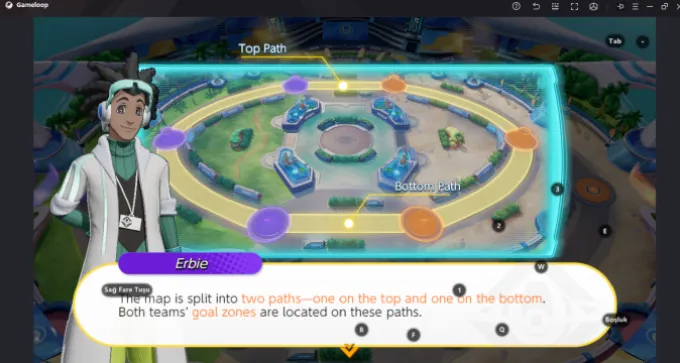 Pokemon Unite game modes
The pleasure of playing the Pokemon game PC continues at full speed. After the practice is completed, you get your first license as a Unite License, so you can fight in the Unite Battle arena. These licenses also determine your Trainer level. You have to improve your trainer level to be able to compete in better areas.
Pokemon Unite has 3 game modes. They are:
We can choose the standard mode at first because you need to reach the 6th level For Ranked mode and 8th level for Quick mode.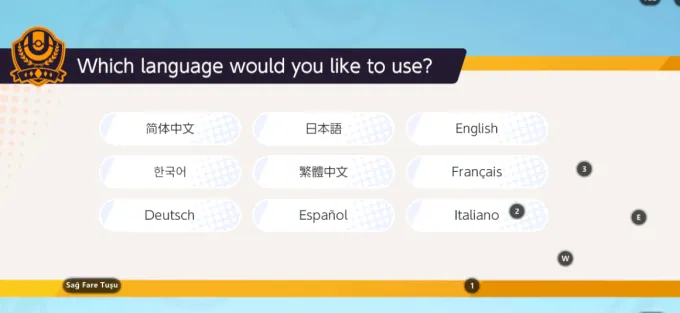 You can also play the Pokemon game Pc in 9 different languages.
Pokemon battles
A standard match takes 10 minutes when playing the Pokémon game on the computer, during which teams of 5 players must enter the arena and hunt wild Pokémon to collect points and experience. They need to throw the Aeos points they collect from these hunts into special areas in the opponent's area.
While hunting, players can level up, learn new skills, and even transform into more powerful forms. In any case, the team with the most points at the end of the time wins the match.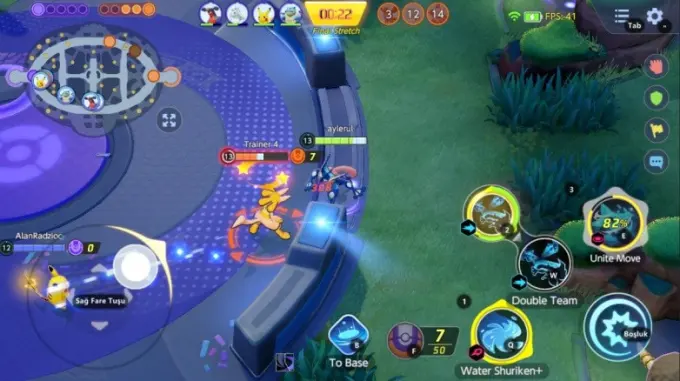 You can have up to three items on your pokemon while playing the Pokemon game on PC. Besides, there are more than 15 types of items. So find combinations that best complement your Pokemon's moves!
In your practice, you will see that by defeating wild pokemon or the pokemon in the opposing team, you will collect their Aeos energy. You will load these collected energies into special areas in the opposing team area.
With this move, your team will earn points as much as the energy you load. You will need to protect your own private areas when the opposing team tries to do the same. For this, if you strategize with your teammates, it will be easier to beat the opposing team.
You can earn in-game rewards as well as outfits for your trainer to unlock more Pokemon. You can also buy Aeos gems with real money and unlock rewards with these gems, thanks to in-game purchases.
What are the highlights of the Pokemon game?
We mentioned that there are many customizations in the game. While each Pokemon has different traits, some Pokemon tend to have similar traits. These tendencies are categorized as follows:
Atacker: These Pokemon can inflict heavy damage to their opponents, but they have low durability.

Speedster: This type of pokemon has high mobility and attack. In this way, they can make quick attacks and take the earned points to the opponent's area faster.

All Rounder: In this type, Pokemons are holistic with above-average attack and stamina. They are extremely stubborn warriors.

Defender: It is the type of Pokemon that is superior in protecting allies and blocking opponents due to its high stamina.

Supporter: They help their teammates by healing their teammates and applying status conditions to the opponents.
In the game, there are 8 characters as Attacker, 4 characters as Speedster, 4 characters as All-Rounder, 5 characters as Defender, and 4 characters as Supporter, in total 25 characters.
Since Pokemon Unite is a game that always receives updates, there may be differences in the number of characters and the content of store products in the future. For more up-to-date information, you can visit the Pokemon Unite official website.