Clash Squad Mode has emerged as one of the most challenging and intense game modes in Free Fire PC. And while Free Fire already had pretty short and intense matches, Clash Squad just takes it to a whole new level.
With a quickly shrinking zone and limited space to fight the enemies, you have to be at the top of your game in order to win these quick rounds in this Clash Squad mode. Although it is a Free Fire mode, Clash Squad is very different from other game modes in the game and that is why you have to come up with different strategies to win more rounds.
In this guide, we are going to share with you 5 tips and tricks to win Clash Squad in Free Fire PC.
Choosing the Right Character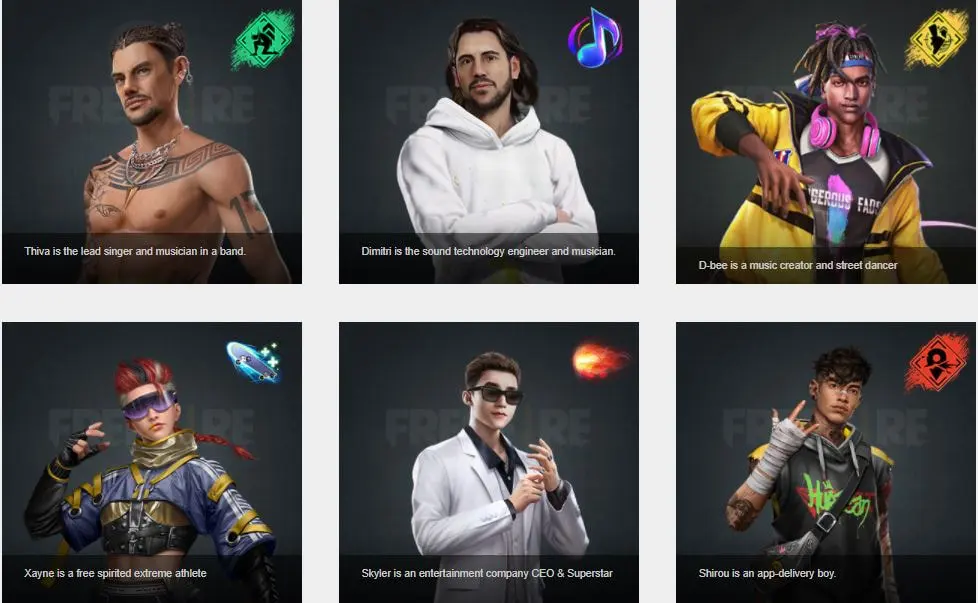 [Source: Free Fire Official]
Unlike any other modes in the game, Clash Squad requires you to play more aggressively as there is not enough time and very limited space to bag more kills and claim the round. So defensive playstyle isn't really going to cut it and so you have to go with aggressive playstyle.
And in order to land that aggressive playstyle, you also need to go with the right characters that complement the aggressive playstyle. The fact that Clash Squad offers a very limited space pushes the players to close-quarter combats with almost no time to camp around.
Choosing the Right Weapons
[Source: Free Fire Official]
Playing with the right character is important but it is equally as important to have the right weapons to have an edge over other players in Clash Squad. So just like we selected our characters, we need to pick weapons that compliment close-ranged fights because most of the time, you will find yourself in tight spots with enemies breathing down your neck.
So you have to make sure that you have the right arsenal for close-ranged shootouts. We have already made a list of the best weapon combinations for different types of playstyles, you can go with the ones that are more suitable for aggressive close-ranged fights.
Don't Rush Unnecessarily
One of the things that get players killed early on in the Clash Squad mode is unnecessarily rushing. While Clash Squad is made for quick and aggressive plays, it does not mean that you have to rush towards the enemies all the time. Take your time and be on the lookout because there are always players fighting with each other, seize the opportunity for a 3rd party attack, and bag some kills without putting your life on the line.
Unlike other game modes, Clash Squad is merciless with no second chances, so you need to be vigilant before you decide to dive headfirst into the fight. Even if you see a player alone and vulnerable, make sure that there's nobody else around looking for a 3rd party chance. Play sensibly and rush when you have to, don't overdo it.
Claim the Best Spot
Although the Clash Squad mode isn't made for camping or defensive plays, it still comes in handy to find the best spots that give you an edge over your enemies, and the best places you could find in Clash Squad are the ones with high ground, because getting a high ground makes it super easy for you to land shots with more precision and makes it hard for the enemy to hide.
Clash Squad has a bunch of high places that you can use to create a stronghold for yourself and keep an overwatch on the enemies from a safe distance. There are a ton of lists and even guides out there compiling all the places that you can claim to get high ground in Clash Squad.
Don't Get Tilted
Lastly, I just want to add that if you are just a beginner, you will encounter a lot of losses at the start and that might be a little frustrating but don't lose sight of the big picture, losing is part of the learning process. Don't get tilted over a few bad matches, because with every single match you grow stronger to face the heat.
The best way to make the learning process more fun and less of a frustrating experience is to play with people that you know, your friends or family members, who will encourage you to play better rather than talking you down on losing matches.

Garena Free Fire: Rampage
Free Fire is the ultimate survival shooter game available on mobile. Each 10-minute game places you on a remote island where you are pit against 49 other players, all seeking survival. Players freely choose their starting point with their parachute, and aim to stay in the safe zone for as long as possible. Drive vehicles to explore the vast map, hide in the wild, or become invisible by proning under grass or rifts. Ambush, snipe, survive, there is only one goal: to survive and answer the call of duty. Free Fire, Battle In Style! [Survival shooter in its original form] Search for weapons, stay in the play zone, loot your enemies and become the last man standing. Along the way, go for legendary airdrops while avoiding airstrikes to gain that little edge against other players. [10 minutes, 50 players, epic survival goodness awaits] Fast and Lite gameplay - Within 10 minutes, a new survivor will emerge. Will you go beyond the call of duty and be the one under the shining lite? [4-man squad, with in-game voice chat] Create squads of up to 4 players and establish communication with your squad at the very first moment. Answer the call of duty and lead your friends to victory and be the last team standing at the apex. [Clash Squad] Fast paced 4v4 game mode is now open 24/7! Manage your economy, purchase weapons, and defeat the enemy squad! [Realistic and smooth graphics] Easy to use controls and smooth graphics promises the best survival experience you will find on mobile to help you immortalize your name among the legends.