The Essential Beginner's Guide to MapleStory M
2023-03-25

MapleStory M - Fantasy MMORPG
Download
Are you ready to embark on an epic journey through the fantastical world of MapleStory M? This massively multiplayer online role-playing game is not just any ordinary game. It's an immersive experience that has captivated gamers worldwide, transporting them to a world filled with magic, adventure, and endless possibilities. Whether you're new to the game or a seasoned player, this beginner's guide is your ticket to discovering all that MapleStory M has to offer. So buckle up and get ready to dive headfirst into an exciting world of quests, battles, and endless fun!
Table Of Contents

What is Maplestory M?
Choosing Characters
What are Character Stats?
Combat System
Quests and How To Complete Them
Upgrading Your Characters
Final Words
What is Maplestory M?
MapleStory M is not your average mobile game. It's a fantastic port of the classic MapleStory game on PC, packed with all the magic, adventure, and danger of the original. At the heart of the game lies a gripping storyline centered around defeating the nefarious Black Mage, the evil overlord who seeks to conquer the Maple World. As a brave hero of the Maple World, it is up to you to step up and save the day by sealing away the Black Mage once and for all.
But before you jump into the fray, you need to get acquainted with the basics of MapleStory M. That's where this beginner's guide comes in! In the following pages, we'll cover everything you need to know about creating characters, mastering combat, completing quests, and much more. So get ready to embark on an epic adventure in the Maple World and emerge victorious against the forces of evil!
Choosing Characters
When you start playing MapleStory M, you have the freedom to select from 11 options. However, it's worth noting that three of these options are actually groups, and each group contains multiple distinct characters. So, in total, there are 25 characters to choose from in the game.
Every character in MapleStory M has unique combat abilities and an individual backstory. You can play as one of the legendary heroes who were responsible for the initial sealing of the Black Mage, or you can choose to be a member of the Resistance, Explorers, or Cygnus Knights. Regardless of your choice, your mission is the same: defeat the Black Mage and his followers, known as the Black Wings.
List of Characters
Xenon
The Demon

Demon Avenger
Demon Slayer

The Resistance

Wild Hunter
Mechanic
Battle Mage

Shade
Luminous
Explorer

Arch Mage
Paladin
Buccaneer
Marksman
Hero

Phantom
Mercedes
Evan
Aran
Cygnus Knights

Dawn Warrior
Wind Archer
Night Walker
Blaze Wizard
Thunder Breaker
What are Character Stats?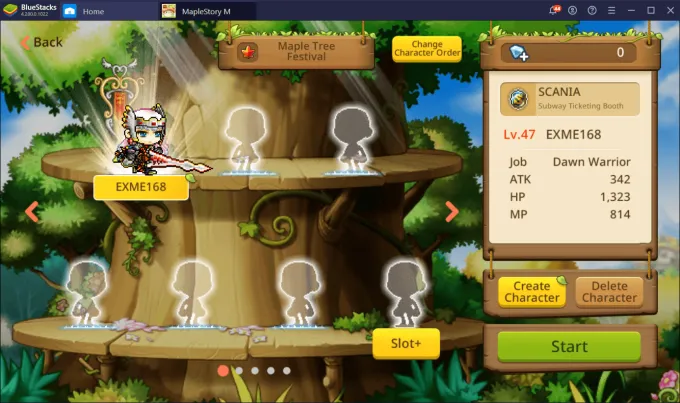 In MapleStory M, each character possesses four essential stats that are vital for their performance in combat.
The first stat is the attack method, which determines whether a character uses physical (PHY) or magical (MAG) attacks to damage their enemies. While most characters use physical attacks, some use magical attacks to eliminate foes. The second stat is the attack range, which can be narrow, average, or wide. Beginners are recommended to choose a character with an average attack range to simplify combat. The third stat is the weapon used by the character, which affects the skills they can utilize in combat. Lastly, the armor type of a character is indicative of their preferred combat style and determines what gear they can equip.
It's natural to wonder which character to pick when starting MapleStory M. However, there is no definitive answer to this question as the choice ultimately comes down to personal preference. The best approach is to experiment with different characters and see which one suits your playstyle.
If you're still unsure, it's recommended to choose a character with an average attack range and a physical (PHY) attack method. This type of character is generally easier to use and ideal for beginners. By starting with a character possessing these traits, you can become familiar with the game mechanics and feel more confident in combat.
Don't worry if you end up regretting your character choice in MapleStory M because the game provides you with five additional character slots to create a new character. If you want to create even more characters, you can purchase additional character slots using 500 crystals. However, crystals are the game's premium currency, which can be obtained mostly by purchasing them with real money.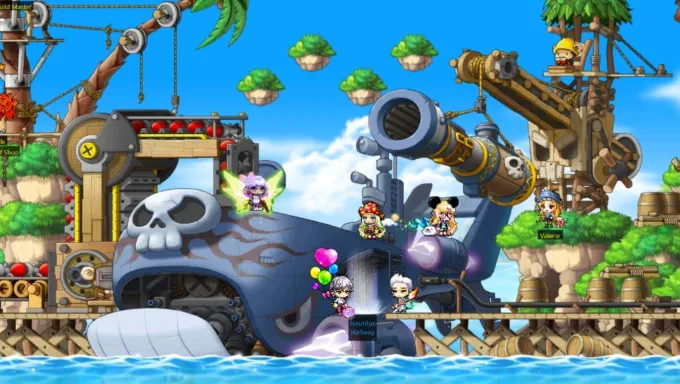 Combat System
The game's combat system involves a basic attack and four skills. While the basic attack may not inflict much damage, your character's skills are special attacks that deal significantly greater damage. Furthermore, each skill has a unique way of attacking enemies. It's important to note that using skills will consume Mana, which is your character's stamina. The amount of Mana consumed depends on the skill used.
Initially, you'll only have one skill slot available, but the game provides four skill slots. As you progress and your character becomes more powerful, you'll unlock additional skills to use in combat. So, keep playing to unlock more skills and enhance your character's abilities.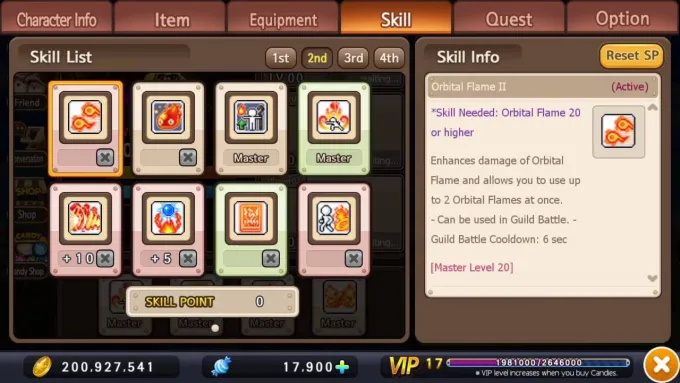 The game features three categories of skills: Active, Buff, and Passive. Active skills are those that require your character to utilize their weapon in a unique way to inflict damage upon enemies. Buff skills are more passive, offering combat advantages such as the ability to stun enemies. Unlike Active and Buff skills, Passive skills do not require any button presses to activate, as they are permanent stat boosts.
In addition, skills are divided into level ranges, meaning that once you reach a specific level, you can equip a new set of skills. You can then mix and match these newly acquired skills with those from another level range. For instance, you can place an Active skill from the Level 1-30 range in one skill slot and a Buff skill from the Level 30-60 range in another.
Quests and How To Complete Them
Quests serve as the main avenue of advancement in the game and are also the primary source of income for your character. Traveling is a critical component of completing quests, as your character will often need to navigate through portals to move between different areas on the game map. As your character travels through these portals, the game displays how many portals they need to traverse before reaching their final destination.
While manually traveling from one map to another can be tedious, MapleStory M offers an auto-play feature called Auto-Quest that can make the journey effortless. Auto-Quest is enabled by default upon starting a quest, and it automates the character's movements until they reach their destination. However, players can still choose to travel manually. For those who don't want to wait, they can spend travel crystals earned from completing quests to instantly reach their destination.
Upgrading Your Characters
MapleStory M, like other MMORPGs, relies on leveling up as the most basic way to upgrade your character. EXP is the currency of leveling up, which can be earned by completing quests and defeating enemies. In addition to leveling up, enhancing your Active, Buff, and Passive skills can also make your character stronger, allowing them to eliminate enemies more effectively. To upgrade skills, you will need to spend skill points, which can be obtained by leveling up your character.
In addition to leveling up and upgrading skills, equipping better weapons and gear is also crucial in improving your character's strength and survivability. With better weapons, your character can deal more damage to enemies, while better gear provides more armor to protect them from incoming attacks. It's important to note that different types of weapons and gear have varying stats and effects, so it's recommended to choose ones that complement your character's strengths and playstyle. Additionally, you can enhance and upgrade your weapons and gear using materials and mesos, which you can obtain from completing quests and defeating enemies.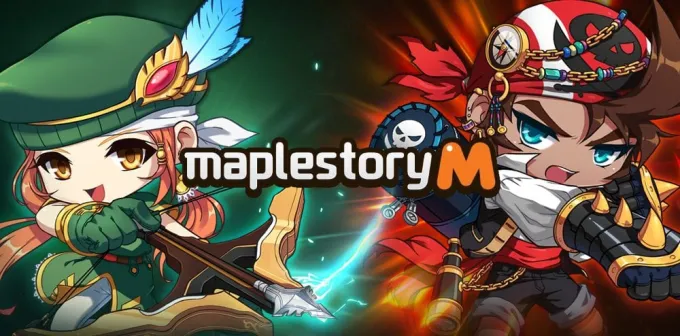 Final Words
To summarize, MapleStory M is an MMORPG that offers players a wide range of character options and game mechanics to explore. The game's combat system includes basic attacks and four different types of skills – Active, Buff, and Passive – which can be upgraded as you level up and gain skill points. The game's quests are the primary means of progress and revenue, and traveling between different areas of the map can be done manually or with the help of auto-play or travel crystals. Leveling up is essential to upgrade your character, and can be achieved through completing quests or defeating enemies. Lastly, equipping better weapons and gear can greatly enhance your character's abilities and defense. If you're a fan of MMORPGs, MapleStory M offers a unique and engaging experience that's definitely worth checking out. For more such content, be sure to visit our blog.
Survive the Fantasy World of Dawnlands

2023-05-31

Tom Clancy's Rainbow Six Mobile - Your Favourite Competitive Multiplayer Upcoming on Android Platform

2023-05-31

Blaze Through the Galaxies in Honkai Star Rail

2023-05-31

Geometry Dash Lite - Gameplay Insights and Review

2023-05-31