Take on Your Foes with Your Own Party of Knights in Airship Knights
2023-03-10

Airship Knights : Idle RPG
Download
Airship Knights is an exciting Android game that takes players on an adventure in a world of steampunk fantasy. Developed by the indie game studio Shade Bobo, Airship Knights is a roleplaying game that offers an immersive experience with its stunning graphics and engaging gameplay. The game is set in a world where airships rule the skies, and players take on the role of a captain leading their crew of knights on various missions. The game features a diverse cast of characters, each with their unique skills and abilities, and players must build and upgrade their airship and recruit the right crew to succeed.
One of the most striking aspects of Airship Knights is its beautiful graphics, which bring the world of steampunk fantasy to life. The game's visuals are stunning, with intricate details in the airship designs, character models, and environments. The game's soundtrack complements the visuals, and the music sets the tone for the gameplay experience. Gameplay in Airship Knights involves flying around the world and completing missions to progress through the game's story. The missions range from combat-based battles against other airships to exploring and gathering resources. As players progress through the game, they earn experience points and collect items that can be used to upgrade their airship and crew.
Airship Knights also features a unique combat system that requires players to make strategic decisions in real time. Players can control their airship's movements, position, and weapons during battles, and they must carefully manage their resources to come out on top. The game's combat system is fast-paced and challenging, making it highly addictive for players. Airship Knights also offers social features, allowing players to connect with each other, form alliances, and work together to complete missions. This fosters a sense of community among players and creates a more immersive experience. Overall, Airship Knights is an engaging and addictive Android game that offers a unique steampunk fantasy experience. The game's stunning graphics, engaging gameplay, and social features make it a must-play for fans of the genre. If you're interested in trying out Airship Knights, you can download it for free.
In conclusion, Airship Knights is an impressive Android game that offers a complete gaming experience. The game's beautiful graphics, engaging gameplay, and social features make it a must-try for players who are fans of the steampunk fantasy genre. Shade Bobo has done a fantastic job of creating a world that is immersive, challenging, and fun to explore. Whether you're a seasoned gamer or a newcomer, Airship Knights is a game that you won't want to miss. Keep on reading to know more about the game.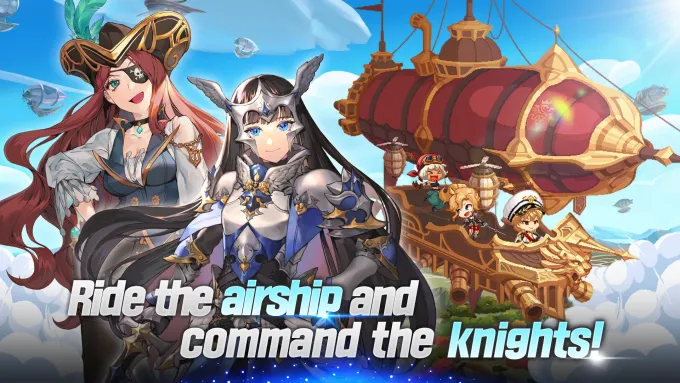 Airship Knights Features:
Board the Airship and Engage in 'Time Attack' Idle Battles
Win battles against monsters in a 10-second match!
Automatic combat and growth for an effortless journey.
Experience an Adventure Story with a Blend of Magic and Engineering
Immerse yourself in an animated fantasy world.
Enjoy unique stories for each knight and thrilling battles!
Become Stronger with 'Returns' in this Endless Journey
Use the portal to return to the beginning and gain more power!
Travel farther with each upgrade.
Upgrade Your Airship to Have the Strongest Engine
Enhance your magic engine for higher combat power.
Manage 6 cabins including the Control Room, Engine Room, and Research Room to strengthen your airship.
40 Pixel Knights with Unique Looks and Abilities!
Choose from knights with various attributes and positions.
Promote, awaken, and equip your knights to help them grow.
Explore the World Map for a Wider Worldview
Battle against other players in 1:1 PVP Arena.
Fight the White Tiger, Black Tortoise, Blue Dragon, and the Red Bird on Elemental Island.
Upgrade to the Knights Templar by challenging the Soul Dungeon.
Conquer the monster-filled Sky Tower and uncover ancient secrets.
Overcome the trials of the goddess in the Promotion Battle of the Captains on Temple Island.
Conclusion:
As an idle RPG, Airship Knights has captured the hearts of many players with its unique blend of magic and engineering, exciting battles, and an endless journey that always leaves players wanting more. With the ability to board an airship and fight in "Time Attack" battles, players are tasked with defeating monsters within a 10-second match. As combat and growth are automatic, increasingly stronger enemies won't be a problem for players as they explore this animated fantasy world.
With the opportunity to get stronger through "returns" and upgrade to have the strongest airship, the game continues to offer a new challenge. With 40 Pixel Knights with incredible looks and abilities, players can create their own party with knights of different attributes and positions, and explore the world map for a wider worldview.
Overall, Airship Knights offers an immersive and exciting gaming experience that has captivated the attention of players worldwide. Don't forget to check out our blog for more exciting content, such as redeem codes for Airship Knights that will help you in your journey to become a legendary knight.
Survive the Fantasy World of Dawnlands

2023-05-31

Tom Clancy's Rainbow Six Mobile - Your Favourite Competitive Multiplayer Upcoming on Android Platform

2023-05-31

Blaze Through the Galaxies in Honkai Star Rail

2023-05-31

Geometry Dash Lite - Gameplay Insights and Review

2023-05-31