Player Creation Mode and Bugatti Cars! All Things New in PUBG Mobile's 5th Anniversary Update
2023-03-18

Download
The highly anticipated 5th anniversary update of PUBG Mobile is finally upon us! Fans of the game are anxiously waiting for its release, and the developers at Krafton have given us a glimpse of what to expect with the latest trailer. Exciting new features such as WoW, Block Cover, Supply Convertor, Player Creation Mode, and many more are expected to be included in the update. The trailer showcases stunning visuals and action-packed scenes that will leave players on the edge of their seats. With just one day left until its release, the excitement is palpable! Get ready to dive into a world of new content and experience PUBG Mobile like never before. Read on for more info about updates and get ready for the ultimate battle royale experience!
Table Of Contents

What is PUBG Mobile
What's new in the 5th Anniversary Update
Conclusion
What is PUBG Mobile
For those of you living under a rock, let me help you catch up on one of the most popular mobile games on earth - PUBG Mobile. Developed by Krafton, the game has taken the world by storm and has become a global sensation. It is a Battle Royale game that pits players against each other in a last-man-standing-style gameplay.
The game features up to 100 players jumping out of an airplane onto an island where they must scavenge for weapons and supplies. As time passes, the playable area shrinks, forcing players into an ever-shrinking area until only one player or team is left standing. The game is available on both Android and iOS devices and has garnered a massive following.
PUBG Mobile offers a variety of game modes, including Solo, Duo, and Squad. In Solo mode, players compete against each other, while in Duo mode, they team up with one other player. Squad mode features teams of up to four players battling it out. Players can also choose from different maps, each with its unique terrain and challenges.
One of the most appealing aspects of PUBG Mobile is its immersive gameplay. The game's graphics and sound effects are top-notch, making it feel like players are genuinely in the midst of a battle. Players can communicate with their team members using built-in voice chat, adding to the overall experience.
Another unique aspect of PUBG Mobile is its constantly evolving gameplay. The developers frequently release updates, adding new features and content to the game. These updates range from new weapons and maps to game modes and events.
One such event is the upcoming PUBG Mobile 5th Anniversary update, which has players eagerly anticipating its release. Krafton recently unveiled a new trailer for the update, giving players a glimpse of what's to come. The update promises to introduce several new features, including WoW, Block Cover, Supply Convertor, and Player Creation Mode.
WoW, or Weapon Mastery will allow players to level up their weapons by using them in battle, unlocking new abilities and customization options. Block Cover, on the other hand, will give players new ways to take cover and avoid enemy fire. Supply Convertor will allow players to trade their excess supplies for ones they need, while Player Creation Mode will let players create custom game modes and maps.
The update also promises to bring new skins, vehicles, and weapons to the game, as well as new rewards for players to earn. It is clear that the developers are committed to keeping PUBG Mobile fresh and exciting for players. Read further to get more details about the upcoming anniversary update.
In addition to its addictive gameplay and constant updates, PUBG Mobile also offers a thriving esports scene. The game has become a popular choice for competitive esports tournaments, with players and teams from all over the world competing for massive cash prizes.
To sum it all up: PUBG Mobile has become one of the most popular mobile games on the planet for good reason. Its immersive gameplay, constantly evolving content, and thriving esports scene make it a must-play for gamers of all levels. Whether you're a seasoned veteran or a new player, there's always something exciting to discover in the world of PUBG Mobile. So grab your phone, jump out of that airplane, and start your journey to become the last player standing.
What's new in the 5th Anniversary Update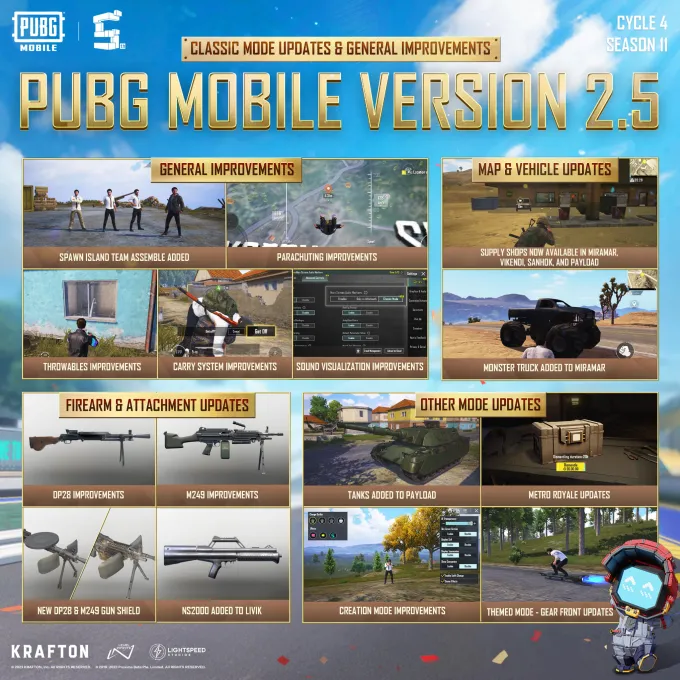 In case you missed the news, this update is set to revolutionize the game with its exciting new gameplay system, World of Wonder (WoW), that includes gameplay modes other than the classic Battle Royale. But that's not all - the update also introduces the Imagiversary-themed gameplay mode, featuring two brand new themed areas - the large Imagination Plaza and the smaller Imagination District. These areas are strategically located in Erangel's Stalber and The Quarry region, and Erangel Livik, respectively, offering players plenty of opportunities for tactical battles and resource looting.
But wait, there's more! The update also comes packed with three amazing new items - the Block Cover, Portable Trampoline, and Dual Purpose Cannon, as well as the addition of the Gun Shield Attachment, Supply Shops, and the introduction of tanks to Payload in Classic Mode. And if that's not enough to get you excited, the Nusa Tycoon event allows every player to upgrade their very own island, making this update a must-play for PUBG Mobile fans everywhere!
Player Creation Mode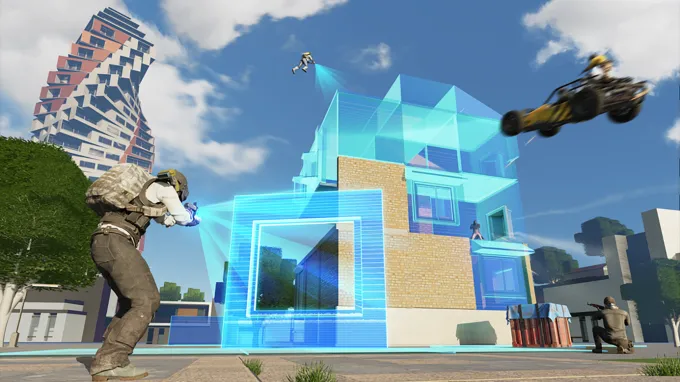 This new gameplay mode is designed to let players bring their creativity to the forefront and build whatever they can imagine within the game. From houses to vehicles and everything in between, players can use this mode to design and construct their own unique structures and share them with the community.
But that's not all! The Player Creation mode also includes a feature that allows players to change their outfits and backgrounds instantly. This means that players can take better selfies and show off their custom creations in style. The ability to personalize your gameplay experience is sure to make this new mode a fan favorite.
Bugattis in PUBG Mobile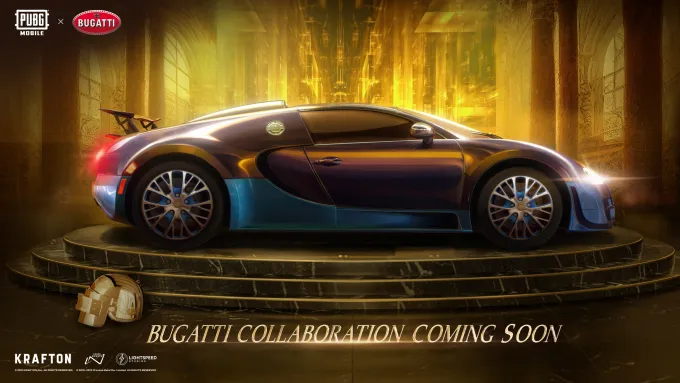 PUBG Mobile is taking things up a notch with its latest collaboration with the legendary car manufacturer, Bugatti. The 5th Anniversary update brings players new vehicles that are sure to turn heads on the battlegrounds. With the addition of these sleek rides, players will be able to zoom around the maps in style and with speed, making their gameplay experience all the more exciting. It's not every day you get to drive a Bugatti in a game, and this collaboration with PUBG Mobile is sure to make many car enthusiasts and gamers alike ecstatic. So buckle up and get ready to rev your engines in the latest update.
Conclusion
That concludes our take on the new PUBG Mobile 5th Anniversary update. Stay tuned to our blog for more updates on PUBG Mobile and other mobile games. We are committed to bringing you the latest news, tips, and strategies to help you stay ahead in the world of mobile gaming.
Survive the Fantasy World of Dawnlands

2023-05-31

Tom Clancy's Rainbow Six Mobile - Your Favourite Competitive Multiplayer Upcoming on Android Platform

2023-05-31

Blaze Through the Galaxies in Honkai Star Rail

2023-05-31

Geometry Dash Lite - Gameplay Insights and Review

2023-05-31