MAX Exclusive Features
Gameplay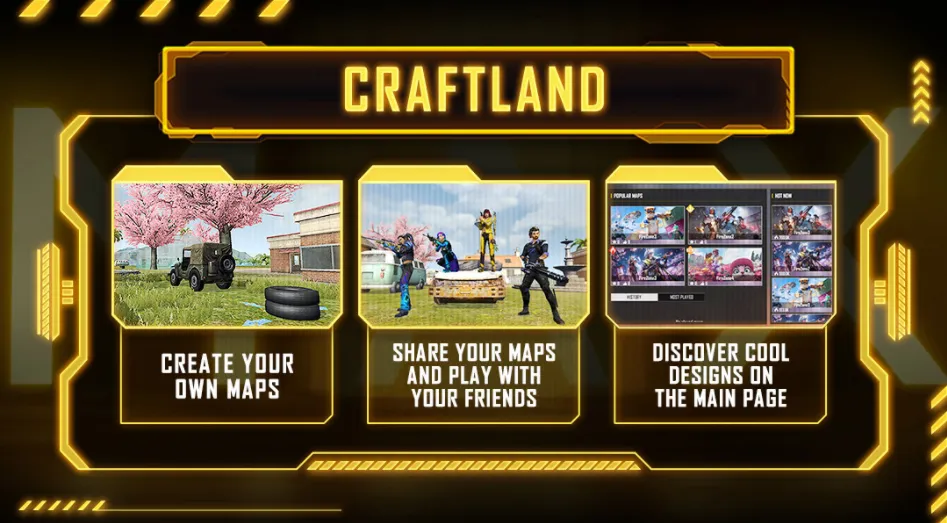 Craftland
New feature available.
"Craftland is a brand new mode that allows players to create and play a map of their own. Do you think you can create the most popular Clash Squad map? Enter Craftland and show us your design!"
Craftland "Map Editor" - Now available in Free Fire MAX.
Free Fire Original players can still participate in craftland maps via the custom room tab.
Craftland dashboard - an interface to show the most popular and recommended maps in Craftland
Upgraded User Interfaces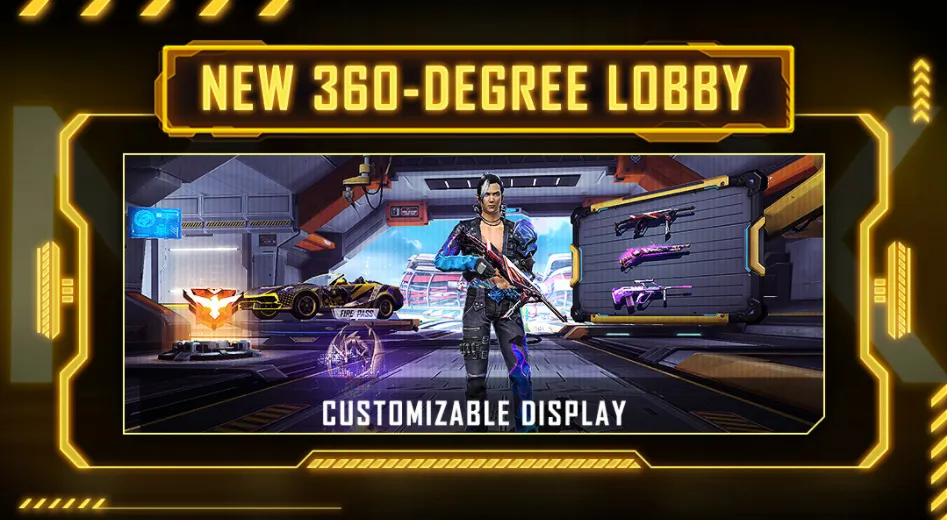 New - 360-degree Lobby
New lobby design and theme.
"We have redesigned the lobby to pave the way for even more functions to be added to the lobby in the future. Let us know what you think and check it out in-game now!"
360-degree Lobby Display now available.
New Animations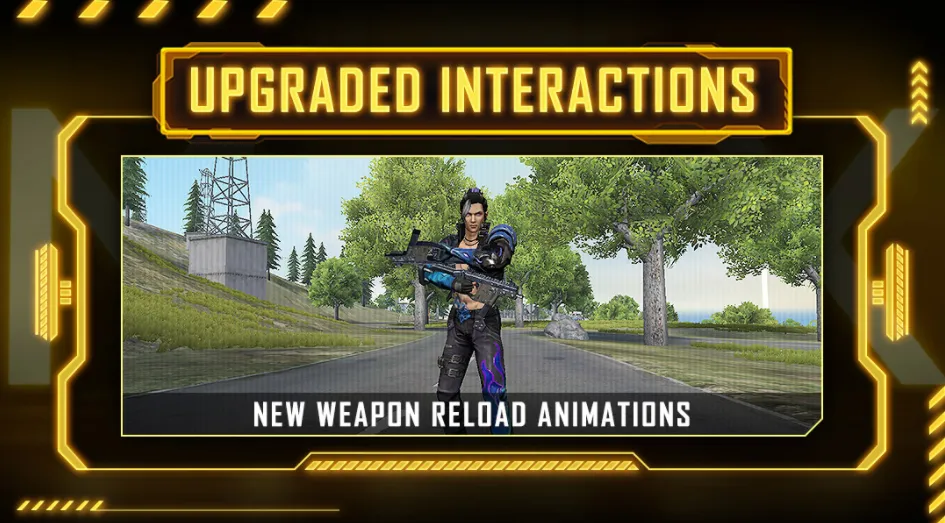 New Weapon Reload Animations
New weapon animations available.
"In Free Fire MAX, players can see a new set of reload animations for all weapons. Tell us which one is your favorite!"
All new weapon animation sequences in Free Fire Max have the exact same reload duration as the original weapon animation sequences to ensure there is no gameplay advantage.
Improved Movement and Interaction Animations
In-game animations now look smoother and more realistic.
"We have made further improvements to the following animations: running, crawling, eating mushrooms, and using the armor repair kit. They look more natural and smoother now!"
All new movement animation sequences in Free Fire Max have the exact same duration as the original animation sequence to ensure there is no gameplay advantage.
Sound Effect Improvements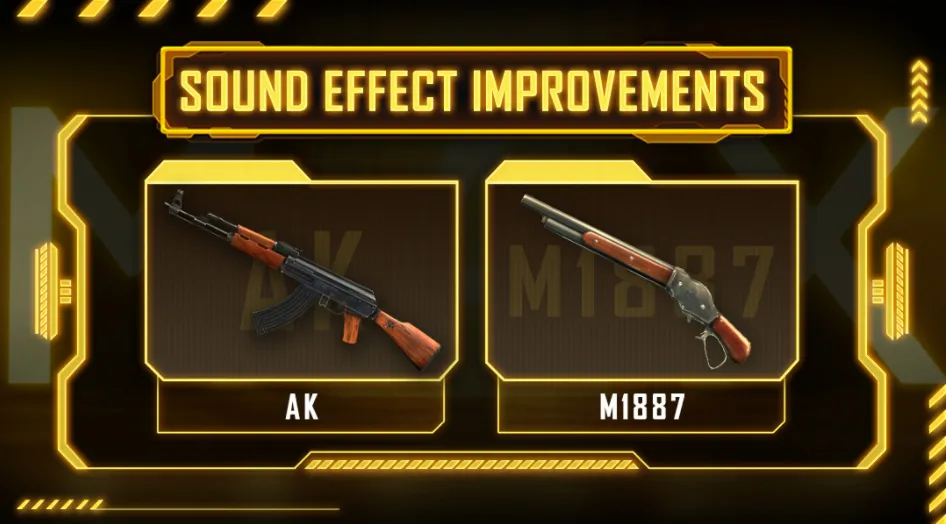 Improvements to Weapon Sound Effects
Fixes and enhancements for the sound effects of firing and reloading guns.
"We heard you! We have gone through player feedback for weapon sound effects and we have worked hard to come back even better! We trust that survivors will enjoy these sound effects even more now. Fire away!"
All-round improvements made to the sound of firing and reloading guns for all game modes.
Enhanced Echo Effect
Added a new echo effect in-game.
"To make the experience of firing your weapon more realistic, we made sure that there is a noticeable difference in feedback received when firing a weapon indoors and outdoors."
Only available in the Combat Zone of Training Grounds for now.
New Special Effects
New UAV Scan Special Effect
Available in Battle Royale mode.
"To make gameplay more realistic, we have added a blue scanning effect for the UAV."
UAV Scan Special Effect available in all maps for Battle Royale mode.
New High-Definition Water and Water Reflection Effects
Available in Bermuda Remastered.
"Players have previously requested more high-quality graphics in our maps. We are confident that you will like the improved visuals of the water - jump right in!
Players can see this in the body of water between Pochinok and Sentosa.
Bug Fixes and Optimizations
- Improved the quality of footstep sounds.
COMMON FEATURES
Clash Squad
New - 6v6 Clash Squad!
Available in the custom room.
"Are you ready for some 6v6 Clash Squad actions?"
New mode available in the custom room.
Map Adjustment
Clash Squad spawn point adjustment in Bermuda.
"We've realized that the Clock Tower zone in Clash Squad is extremely difficult for the team that spawns in the lower area to engage. We're adjusting the spawn points for both teams to make this map more balanced. For Mars Electric, we adjusted the play zone slightly to ensure the warehouse is in the center of the map."
Play zone and spawn point adjustment for the Clock Tower and Mars Electric area.
Battle Royale
Airdrop Vending Machine
Available in Classic and Rank.
"The Vending Machine has been an important feature in the Battle Royale for gear gathering and reviving fallen teammates. With the Airdrop Vending Machine, you will be able to spend your FF coins in more locations."
Airdrop Vending Machine is now available in the Battle Royale.
Revival Points
HUD and UI display optimization.
"The revival system is playing a larger role in the Battle Royale. We're giving the UI an update in this patch to ensure players have more information about Revival Points."
Added a countdown for when revival points will be closed for the match.
Added a revival point cooldown countdown on the map.
Players can now see the Revival Points being captured on the map.
Revival points will no longer disappear halfway while players are capturing them.
Optimized the HUD display when spectating players who are capturing revival points.
Play Zone Adjustment
Play zone damage adjustment.
"We're increasing the damage of the play zone a bit more this patch to ensure players cannot hide outside of the play zone to wait till other players are eliminated. Get in the safe zone!"
Increased the damage of play zones by 10%.
Increased the damage increase of play zones by 3%.
Training Grounds
Combat Zone
Layout adjustment.
"The current layout of the combat zone is a bit too complicated for combat training. We're removing some objects in the combat zone to make enemies more visible in this area."
Combat Zone layout adjustment.
Character and Pets
Chrono
Character Skill Adjustment.
"Even after the change, Time Turner has proven to be a bit too reliable compared to other active skills. We're adding some cooldown and reducing the shield duration to make sure players will use this skill with a high cost."
Time Turner:
Movement Speed - 5/7/9/11/13/15% -> 5/6/7/8/9/10%
Skill Duration - 3/4/5/6/7/8s -> 3/3/4/4/5/5s
CD - 200/192/185/179/174/170s -> 250/242/235/229/224/220s.
Wukong
Character Skill Adjustment.
"Camouflage is currently a bit too difficult to be hit because Wukong is moving at a fast speed with a reduced hitbox. We're toning down the movement speed a bit in this patch so players are less mobile while Camouflaged."
Camouflage:
[New] Movement speed reduced by 20% when activated.
Andrew "The Fierce"
Character Skill Adjustment.
"Wolfpack is too strong when the whole squad is equipping this skill. We're reducing the damage reduction a bit so weapons can still be effective against fully armored Awakened Andrew."
Wolfpack:
Damage Reduction: 8/9/10/11/12/14% -> 5/7/8/9/10/11%
Shirou
Character Skill Adjustment.
"Damage Delivered's long cooldown makes the skill unreliable when players are constantly in combat. We're reducing the cooldown of the skill a bit so it can ready faster between combats."
Damage Delivered:
Cooldown - 35/34/32/29/25/20s -> 25/24/22/19/15/10s
Jai's Microchip
New Item Available.
"Introducing Jai's Microchip, which players can use to get Jai's Skill - Raging Reload."
Jai's Microchip is now available in the Free Fire Store.
Weapon and Balance
Armor Attachments
Available in the Battle Royale.
"We found out that gear progression in the Battle Royale is not very balanced since high level armor can be purchased from the vending machine. We're introducing two armor attachments this patch to make sure players can further upgrade their armor when they spend their time looting. Additionally, more types of attachments will come in the near future!"
Vest Thickener: Equip on your Vest to reduce damage from explosions.
Vest HP Booster: Equip on your Vest to increase HP.
Treatment Sniper
Available in the Battle Royale.
"We're introducing the Treatment Sniper this patch to add up more strategic choices in the Battle Royale. See your teammates having trouble patching up? Heal them with this weapon!"
Base Damage: 70
Heal Strength: 50
Rate of Fire: 0.45
SPAS-12
Weapon Stats Adjustment
"The SPAS-12 has been a bit weaker than other shotguns for a long while now. We're giving the SPAS-12 a bit more range this patch to make sure it can be more competitive with its peers."
Range: +10%
FF-Knife
Weapon Stats Adjustment
"As one of the most difficult weapons to use, the FF-Knife is not strong enough."
Base Damage: +50%
Rate of Fire: +20%
Grenade
Weapon Stats Adjustment
"Currently, the Grenade is too cost-effective especially against fully armed targets. We're removing some power from the Grenade to make sure players can only take out full health enemies with an extremely precise toss."
Maximum damage: -25%
P90
Weapon Stats Adjustment
"Even though the P90 is scope equipped, it currently does not perform well in mid-range compared to other SMGs. We're giving the P90 a bit more power this patch to make it more reliable."
Range: +10%
AWM
Weapon Stats Adjustment
"We're giving the AWM a bit more power so it can remain effective against enemies with higher-level armor equipped."
Armor Penetration: +8%
SKS
Weapon Stats Adjustment
"The SKS is not so reliable right now because it is not so effective against armored enemies. We're giving this weapon a bit more damage to make it more lethal when taking enemies down from afar."
Minimum damage while scoped-in: +25%
Vector
Weapon Stats Adjustment.
"The vector is currently too deadly in close range. We're making some adjustments to this weapon to give players enough time to react against enemies with the Vector Akimbo."
Reload time: -20%
Rate of fire: -5%
Ammo: -5
Rate of fire in Akimbo: -20%
Movement speed in Akimbo: -4%
Gameplay and System
Replay System (Beta)
Replay now available.
"We have been receiving feedback that players are unable to capture some of their highlight moments because we do not have a replay system in place. We are excited to introduce the replay feature of this patch for its first test run on some selected devices. You guys asked and we delivered!"
Replay System (Beta) now available in the profile page for selected devices.
Guild System
Brand new features and UI.
"It has been a while since we've updated the Guild System. We are giving the guild menu a brand new look and adding new guild crates that can be shared with your team members. Join and share these guild goodies!"
Brand new guild UI.
New guild crates are available!
Optimization and Bug Fixes
- Players can split their items while discarding them.
- Added players' rank star count in the in-game Clash Squad leaderboard.
- Added chat bubbles while in the team formation menu.
- Optimized Decoy Grenade's display on the mini-map.