OUTERPLANE - Game review
2023-05-23
Table Of Contents
Storyline
Character Details
Gameplay and Mechanics
Quests and Side Content
Sound Design and Music
How to play
Step into the fantastical world of Outerplane, a captivating turn-based RPG that will transport you to a realm filled with magic, heroes, and a thrilling storyline. Developed by Smilegate Holdings, the masterminds behind acclaimed games like Epic Seven and Lost Ark, Outerplane promises an immersive gaming experience that combines strategic gameplay, stunning visuals, and a vast roster of diverse characters. Join us as we delve into the depths of this captivating RPG and explore its enthralling storyline, intricate character details, and exhilarating gameplay.
Storyline
Outerplane invites players into an enchanting universe where ordinary individuals from our world are unexpectedly summoned into a parallel fantasy realm. Embracing the popular isekai theme, the game draws inspiration from beloved anime series like Rise of the Shield Hero and Re: Zero. However, Outerplane sets itself apart by offering a unique atmosphere that strikes a balance between anime-style visuals and a more serious tone. Prepare to embark on a grand adventure, uncovering the secrets of the world and battling against the forces of chaos as you fight to restore balance.
Character Details
One of the standout features of Outerplane is its extensive roster of characters, each with their distinct personalities, abilities, and roles to play in your journey. Let's take a closer look at some of the notable heroes you'll encounter:
S-Tier Characters
Valentine

Natalie

Kate

Veronica

Rhona

Rin
Valentine: The formidable DPS hero of Outerplane. With her ability to boost the Priority of the strongest ally by 20%, she ensures devastating strikes. Her Lucky or Die skill grants an Increased Critical Hit Rate and Damage for three turns, while her ultimate, My Bloody Valentine, deals AOE damage and reduces enemy priority by 40%. Valentine is the perfect balance of damage and support, making her an invaluable asset to any team.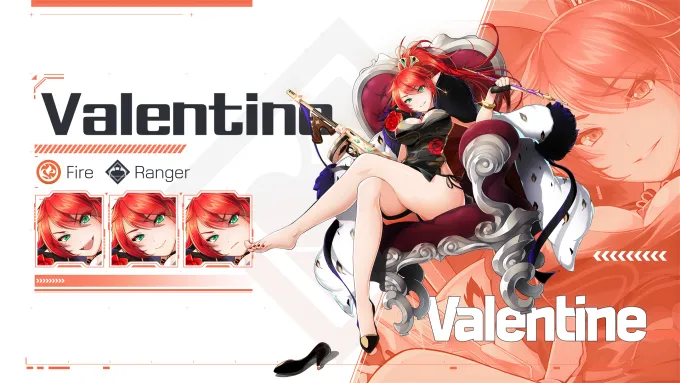 Veronica: A top-tier offensive defender in Outerplane. for free through selective summons, she brings unparalleled strength to your team. With her single-targeted attack, she can inflict a Taunt debuff on enemies, drawing their attention. If Veronica has an Increased Defense buff, she triggers a dual attack with the highest-attack ally. Her AOE skill, Endurance Cannon, removes buffs from all enemies and grants Increased Defense to allies for three turns.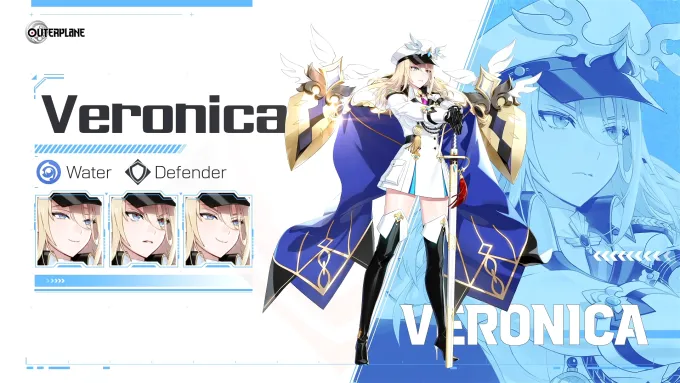 A-Tier Characters
Alpha

Eliza

Maxwell

Beth

Francesca

Saeran

Leo

Iris

Idith

Dolly

Snow

Maxwell

Stella

Adelie
Maxwell: has a unique ability to target multiple enemies, he brings immense power to your team. His basic attack not only deals AOE damage but also grants him an Increased Attack buff for two turns, enhancing his damage output. Maxwell's second ability, Mana Converter, provides him with three stacks of Revelation of Truth, reducing the duration of enemy buffs by one turn. As he accumulates stacks, his true damage potential shines through. At maximum stacks, he unleashes his ultimate ability, Bless All Mages, penetrating 30% of the target's defence.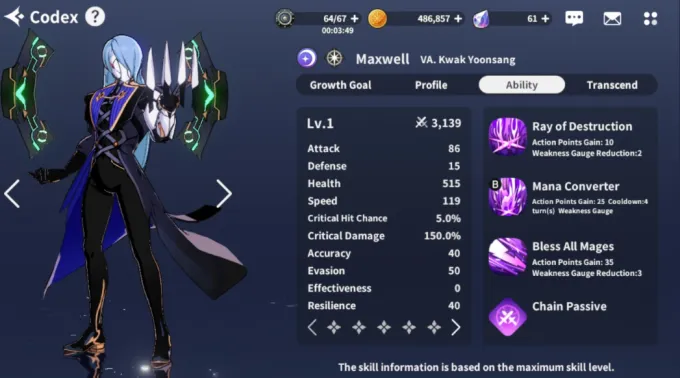 Saeran: Reigns supreme in Outerplane as a healer. As a reward for completing beginner missions, she's easily accessible to all players. Saeran's Power of Light not only deals damage to enemies but also removes debuffs from allies. Her Gaze Upon Us ability heals a chosen ally based on her own maximum HP, ensuring their well-being. But it's her ultimate ability, Arise, that truly showcases her power. Instantly restoring a targeted ally's HP to full, reducing their skill cooldown, and granting them a priority.
B-Tier Characters
Sofia

Cindy

K

Eva

Alice

Laplace
Alice: Her basic attack deals straightforward single-target damage while granting herself a useful Evasion buff for 2 turns, keeping her safe from harm. With her second active ability, Hatter's Teacup, Alice unleashes AOE damage while also stripping one buff from each enemy, weakening their defenses. Her ultimate ability, Alice in Wonderland, delivers another powerful AOE attack, leaving enemies unable to receive buffs for a significant duration of 3 turns.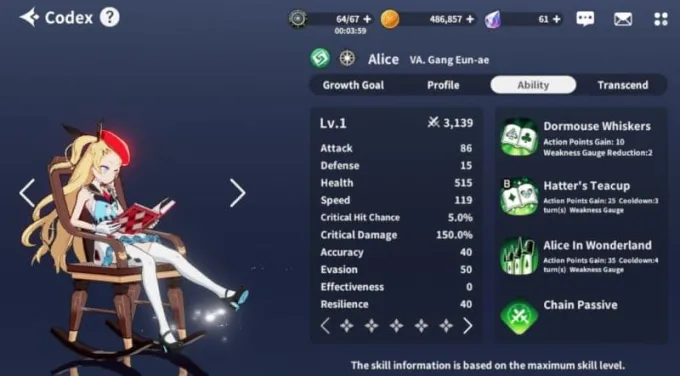 k: The main protagonist of Outerplane, K holds his ground as a Defender, maintaining his usability even in the A-tier. His basic attack, Shield Rush, delivers a single-target damaging blow while reducing the enemy's defence for 2 turns. This debuff sets the stage for his team's subsequent attacks. When it's time to unleash his full power, K's ultimate ability, Raging Storm, strikes with an AOE-targeted damaging skill, wreaking havoc upon multiple foes. While he may not have the flashiest abilities, K's tenacity and ability to disrupt enemy defences make him a dependable choice for players seeking a sturdy Defender to anchor their team.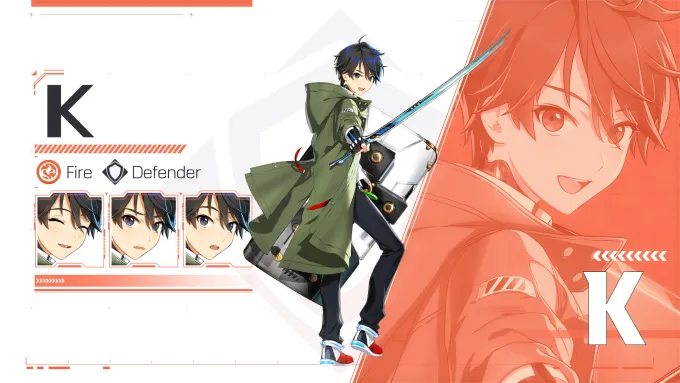 C-Tier Characters
Lily

Claire

Theo

Lisha

Tanya
While the characters mentioned here provide a solid foundation for team-building and progression in the early stages of Outerplane, their effectiveness diminishes as the game progresses. These heroes are offered for free at the beginning to encourage players and aid in early challenges. However, it is important to note that they should be replaced as soon as higher rarity characters are obtained through the gacha system. While Lily can hold her own until mid-game as a healer, the overall recommendation is to upgrade to more powerful heroes as the journey unfolds.
There are 50+ collectible heroes so what are u waiting for hop on your PC and enter the world of Outerplane. Join 1 million+ emulator players on GameLoop.
Gameplay and Mechanics
Outerplane delivers a classic turn-based combat system with a twist of action elements, thanks to Smilegate's experience in developing games like Closers. Engage in strategic battles, utilising skill bursts, skill chains, and aerial combos to unleash devastating attacks on your enemies. The game's skill chain system allows for sequential attacks, disrupting powerful boss patterns and creating visually stunning combat sequences.
Moreover, Outerplane incorporates quality-of-life features that enhance the overall gameplay experience. Features like 3X Battle Speed, Full Auto Mode, and Skip Tickets expedite resource gathering and minimise the grind, enabling players to focus on the thrill of exploration, character progression, and epic encounters.
Outerplane is a remarkable RPG that immerses players in a captivating world filled with adventure, strategic battles, and diverse characters. With its engaging storyline, rich character details, and addictive gameplay, it is poised to become a fan-favourite among RPG enthusiasts.
Quests and Side Content
Epic Adventures Unleashed offers an abundance of quests and side content to keep players engaged for hours on end. The main storyline is complemented by a plethora of side quests, each with its own compelling storylines and unique rewards. From rescuing villagers in peril to uncovering ancient mysteries, these quests provide a sense of purpose and immersion within the game world. Additionally, optional challenges, collectibles, and hidden secrets add further depth and replayability to the overall experience.
Sound Design and Music
The game's sound design and music are top-notch, contributing to the overall immersion and emotional impact of the gameplay experience. The voice acting is superb, effectively conveying the personalities and emotions of the diverse cast of characters. The soundtrack features a combination of epic orchestral compositions and catchy melodies that perfectly capture the game's adventurous spirit. From intense boss battles to serene exploration moments, the audio design enhances every aspect of the game.
How to play
It is always easy to play an Android game on pc by simply using the GameLoop emulator to download and install the GameLoop emulator simply go to GameLoop Once you have it installed, you have to navigate to the Outerplane download page by simply searching for it. Install the game and it will appear on your desktop. Or just click on here Outerplane.
Cat Mart: Building a Feline Empire, One Meow at a Time

2023-08-02

Gunstars - Battle Arena: Unleash Your Inner Warrior and Dominate the Arena

2023-07-28

Indus Battle Royale: Conquer the Ancient Realm of Warfare

2023-07-28

The Lord of the Rings: Rise to War - A Legendary Journey through Middle-earth

2023-07-27

Merge Mansion: A Magical Blend of Puzzles and Mysteries

2023-07-27