Higan Eruthyll Game Review
2023-05-22

Download
Table Of Contents
What Higan Eruthyll is All About
Strategically Intense Combat
The All-So Gorgeous Characters
How to Play Higan Eruthyll on PC
This year is turning out to be one of the best for anime-styled Gacha games with a number of awesome titles already out including Higan Eruthyll. It has been on my radar for quite a long time and for very good reasons. One look at the game and you could tell just how awesome it is, not to mention it's coming from one of the most renowned publishers in Asia, Bilibili. It has only been a few weeks since the game's release and people can't help but compare it with the likes of Honkai Impact 3rd and Genshin Impact. And it makes sense because the game looks eerily similar to the former.
But not in a bad way - the game features polished visuals with stunningly gorgeous and smooth animation. And the best part is that Higan Eruthyll comes with fully-voiced dialogues by some amazing voice actors with both Chinese and Japanese dubs. However, when it comes to gameplay, Higan Eruthyll is pretty different… or is it? Let's find out.
What Higan Eruthyll is All About
Higan Eruthyll is an anime-style RTS roleplay game that puts you in the shoes of a Commander of a special organization called Gopher Troupe. Your job as the commander is to save humanity from the evil clutches of Fantasyland, a dark force with Dream Eaters as soldiers who possess lonely and sad humans and take their souls to Fantasyland. As a Gopher Troupe, you have to enter this land of fantasy, teeming with monsters, and rescue the poor souls who have been locked away by Dream Eaters.
The story definitely sounds unique and exciting, but so far that hasn't been the case for me. It gets a little generic as you progress through the different levels and fight your way up to more challenging enemies and bosses. It simply lacks the mystery and intrigue that makes other Gacha games like Genshin Impact and Honkai so popular in the genre. After a while, it stops being engaging and consequently, makes you skip most of the cutscenes, which are actually one of the main focuses of this game.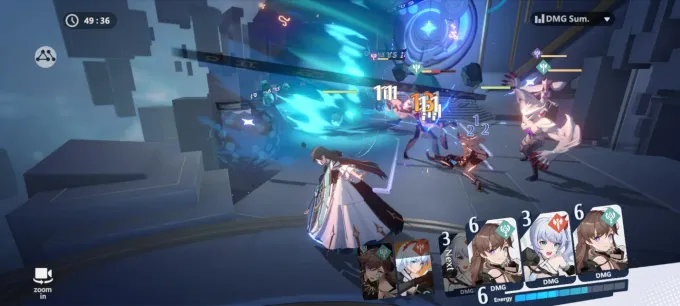 The cutscenes in this game are some of the best I've seen so far and that is thanks to the awesome voice actors who make the dialogues pop. However, after a while, as you progress through the early chapters of the game, you don't really seem to care about what the characters have to say. And I think that's because the story becomes less engaging. But that's about it for the short-comings, there are plenty of awesome things that this game has going for it.
Strategically Intense Combat
If you could look past the story, this game is a dream come true for Anime-styled RPG fans. One of the things that I enjoyed the most throughout my time in this game is its strategically intense combat system. Higan Eruthyll features real-time combat that lets you form a team of 4 characters placed carefully on the tiled battlefield, each with their own unique skills and abilities.
These characters are divided into 6 unique classes (Guardian, Hoplite, Assassin, Ranger, Caster, Adiutrix) with 5 elemental powers including Pyro, Anemo, Hydro, Ice, Lumino, and Umbra. The battlefield is composed of hexagonal tiles and players have to spend energy points to use different cards to make a move against the enemy. But that's not all, these tiles can sometimes have special effects as well that you have to keep in mind.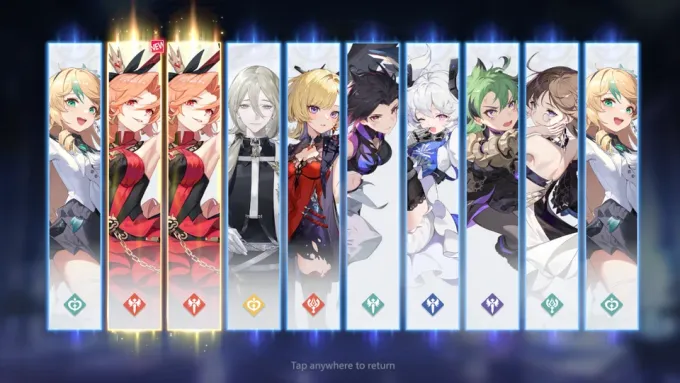 Players have to be mindful of their moves as the usual elemental weaknesses and strengths also apply in this game as well. You can also upgrade your character's weapons to enhance their level cap and unlock new skills to take on more challenging enemies. Speaking of upgrades, there's a fair bit of grinding involved in this game as it requires a lot of resources to get your characters leveled up. But it's nothing we haven't seen in Gacha games before.
The All-So Gorgeous Characters
Just like any other anime-styled Gacha game, Higan Eruthyll comes packed with a plethora of powerful characters. These are categorized into 6 different classes and 5 elements. Depending on their class, these Higan Eruthyll characters can have different roles from melee to ranged. It's always better to pick characters that complement your playstyle. Here's quick a outlook on all the six character classes in the game so far:
Higan Eruthyal Assassins
One of the most common classes in traditional RPGs, who are expert in dealing a significant amount of damage to the enemies. This class is great for players who love getting up close and personal to their enemies with the ability to deal 40% more damage to enemies with HP under 20%. Here are all the awesome assassins you can pick from.
Icicle

Eluya

Kueen
Higan Eruthyal Guardian
Now, if you like to play as a support, Guardian might just be the best choice for you. This class is quite tanky and provides other teammates with decreased damage taken by 5%.
Sheru

Gyldan

Ceasar

Kear

Armand
Higan Eruthyal Ranger
This class lets you deal damage from afar with their ranged attacks and also increases other teammates' damage done by 10% only if the enemies are away. But if the enemies get closer to you, it also reduces your damage done by the same percentage.
Fene

Black

Mireya

Rita

Moetesju
Higan Eruthyal Caster
Casters are equivalent to the mage classes in traditional RPGs. They deal significant amounts of magic damage while also increasing their teammates' energy regeneration by 5%.
Alore

Ciamkom

Kloar

Isa

Follet

Media
Higan Eruthyal Hoplite
These are melee characters who excel in physical damage. Having Hoplite in your team comp can increase all allies' physical damage by 5%. This class is great for players who love wreaking havoc on the battlefield.
Eupheria

Mommel

Sirslet

Ume

Basell

Hathor
Higan Eruthyal Adiutrix
This class is the definition of an all-rounder in Higan Ethuryll. They can buff up allies, debuff enemies and increase the healing rate by up to 15%. If you want to stay on the safe side of things while exploring your true potential and abilities, Adiutrix might be the right option for you.
Rooco

Nuna

Asa

Screamer

Cella

Liv

Codier
It's super important to pick the right characters for your team comp, if you want to progress faster in the game. And that also includes learning about the different elemental strengths and weaknesses. But there are other things you can do to improve your playstyle like playing Higan Eruthyll on PC.
How to Play Higan Eruthyll on PC
Just like any other strategically intense RPG title, Higan Erutyll is best played on a PC for the best performance and smooth gameplay experience. And luckily, it's super easy to play this Higan Eruthyll on PC using the GameLoop Android emulator. With a big screen and convenient keyboard controls, you can get the upper hand over your competitors while enjoying keeping yourself immersed in gorgeous visuals.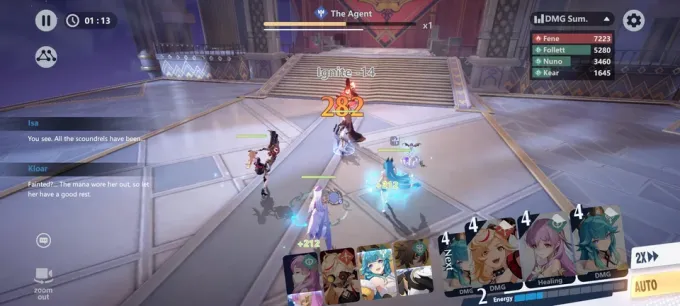 In order to get started, all you need to do is follow these few simple steps:
You first need to download and install the GameLoop Android emulator from the

official GameLoop site

.

Launch the GameLoop emulator, and search for Higan Eruthyll using the search bar above.

Open up

Higan Eruthyll's download page

and click on the "Install" button to proceed with the game's installation process.

After the game is installed, you can launch it directly from your PC's desktop window or "My Games" tab inside of the GameLoop emulator.
GameLoop emulator allows you to fully customize the game controls according to your convenience and preferences. You can even tweak the graphics settings to match your PC's performance to get the best gameplay experience.
Higan Eruthyll is still in its infancy but it has already gotten a lot of traction thanks to its thrilling and highly-rewarding gameplay. It comes packed with a ton of awesome content that keeps you busy for a very long time, with so much planned to roll out in the near future. So, if you are someone who loves Gacha games and action-strategy titles, this one is just for you!
Survive the Fantasy World of Dawnlands

2023-05-31

Tom Clancy's Rainbow Six Mobile - Your Favourite Competitive Multiplayer Upcoming on Android Platform

2023-05-31

Blaze Through the Galaxies in Honkai Star Rail

2023-05-31

Geometry Dash Lite - Gameplay Insights and Review

2023-05-31