Today we will be covering the top 5 Gun combinations which are recommended to use according to your speciality and Game style. These tips and tricks videos help the players to learn and implement certain aspects of the game.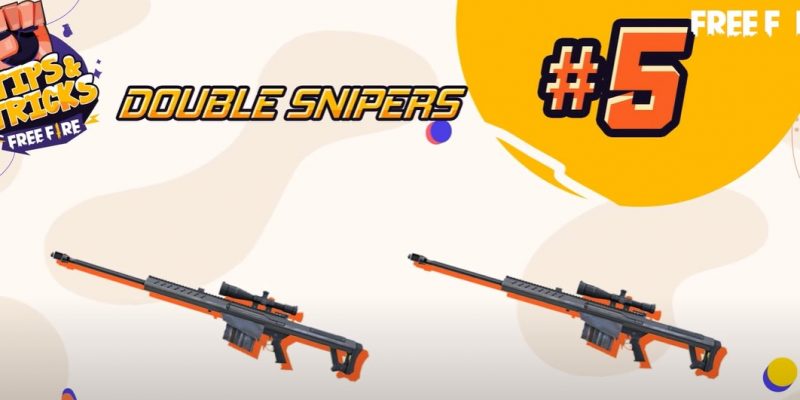 #5 DOUBLE SNIPER
Having double snipers can be tricky yet lethal in the game. If you have very good support players who can give cover fire whenever required, then the double sniper option becomes feasible. However, to use this gun combo, you need to have very good sniping skills and quick movement to knock down enemies especially in close range fights.
Keep in mind that in close range battles, enemies might have an Assault Rifle that will shoot multiple bullets in a few seconds while you will only be able to shoot one bullet at a time. Accuracy is key, if your shots are accurate then enemies have no chance to defeat you since sniper damages are unbeatable. For this combo, the skill which you should use is Chrono, Hayato, Kelly awakens and Moco. Free Fire Top 5 Best Gun combos
#4 SNIPER + SHOTGUN
Sniper + Shotgun is one of the favourite gun combos for most players. Many competitive players use the combo of M82B and M1887 which is one of the best Sniper + Shotgun combo ever. If your accuracy is perfect and you love killing enemies in one shot, then this combo is definitely for you.
The sniper can be used to kill enemies in Mid and long-range, while the Shotgun takes care of enemies in close range fights. The best skill combo used for these guns should be Chrono, Hayato, Kelly awakens and Moco. Free Fire Top 5 Best Gun combos
#3 DOUBLE VECTOR
The double vector combo is very famous for close range encounters. Players often use this combo in Team Deathmatch and Tournaments. It is a challenging gun selection since you only have close range gunpower. It is recommended to use this combo when you have full support from teammates carrying Snipers or Assault Rifles. There are 2 famous skill combos for double vector: 1) Chrono, Hayato, Kelly and Maxim. 2) Wukong, Kelly, Dbee and Hayato. Free Fire Top 5 Best Gun combos
#2 ASSAULT RIFLES + SHOTGUN
This combination is yet another favourite combo of many players. Assault rifles are good for any range of fire and shoot multiple bullets at the enemies in a few seconds. The shotgun as we all know takes care of close-ranged enemies in just one bullet, only if your accuracy is perfect. There are many combos like AK and M1887, Scar and M1014, AUG and M1887, etc which you can use in Free Fire. Free Fire Top 5 Best Gun combos
#1 ASSAULT RIFLES + SMG
This combo is very helpful for new Free Fire players who are still exploring gun options. If you do not have a speciality like Sniping or you are confused about which gun combo to use, then the AR + SMG combo is best for you. Gun combos like AK + MP5 or SCAR + MP40 are very famous and can be used in any game mode.
This combination requires a lot of ammunition since both guns fire multiple bullets in one spray. Always carry adequate ammunition whenever using this ideal combo of AR + SMG. There will be 2 best skill combos for AR + SMG,
Chrono, Kelly, Hayato, Maxim
Chrono, Paloma, Hayato and Kelly
Free Fire
Free Fire is the ultimate survival shooter game available on mobile. Each 10-minute game places you on a remote island where you are pit against 49 other players, all seeking survival. Players freely choose their starting point with their parachute, and aim to stay in the safe zone for as long as possible. Drive vehicles to explore the vast map, hide in the wild, or become invisible by proning under grass or rifts. Ambush, snipe, survive, there is only one goal: to survive and answer the call of duty. Free Fire, Battle In Style! [Survival shooter in its original form] Search for weapons, stay in the play zone, loot your enemies and become the last man standing. Along the way, go for legendary airdrops while avoiding airstrikes to gain that little edge against other players. [10 minutes, 50 players, epic survival goodness awaits] Fast and Lite gameplay - Within 10 minutes, a new survivor will emerge. Will you go beyond the call of duty and be the one under the shining lite? [4-man squad, with in-game voice chat] Create squads of up to 4 players and establish communication with your squad at the very first moment. Answer the call of duty and lead your friends to victory and be the last team standing at the apex. [Clash Squad] Fast paced 4v4 game mode is now open 24/7! Manage your economy, purchase weapons, and defeat the enemy squad! [Realistic and smooth graphics] Easy to use controls and smooth graphics promises the best survival experience you will find on mobile to help you immortalize your name among the legends.