League of Angels Chaos | Ultimate MMORPG Experience
MMORPGs have always had a special place in our hearts for many different reasons and while PC is home to many of these amazing MMOs, League of Angels Chaos wants everyone to join in on the action, especially the mobile gamers out there!
Coming from developer Youzu, League of Angels Chaos is an action fantasy MMORPG, featuring a wide range of celestial characters divided into 3 unique and powerful classes. These powerful beings are at war with each other and the chaos has brought this world to the brink of destruction. Now you are the only hope to restore order and peace to this land of chaos.
Play League of Angels Chaos on PC with Gameloop Emulator
League of Angels Chaos features some of the best visuals we have seen so far in mobile MMOs and as the game continues to introduce more content, it might get a little difficult to run on low-end mobile devices. But with the help of Gameloop emulator, you can easily play League of Angels Chaos on PC using the same account without any additional steps.
You can experience the true thrill of MMORPG the way it is supposed to be by playing it on a wide screen. Gameloop emulator optimizes the gameplay to ensure every player gets the best experience according to their PC specs. You can change the different settings at any point in the game to make it more tailored according to your liking!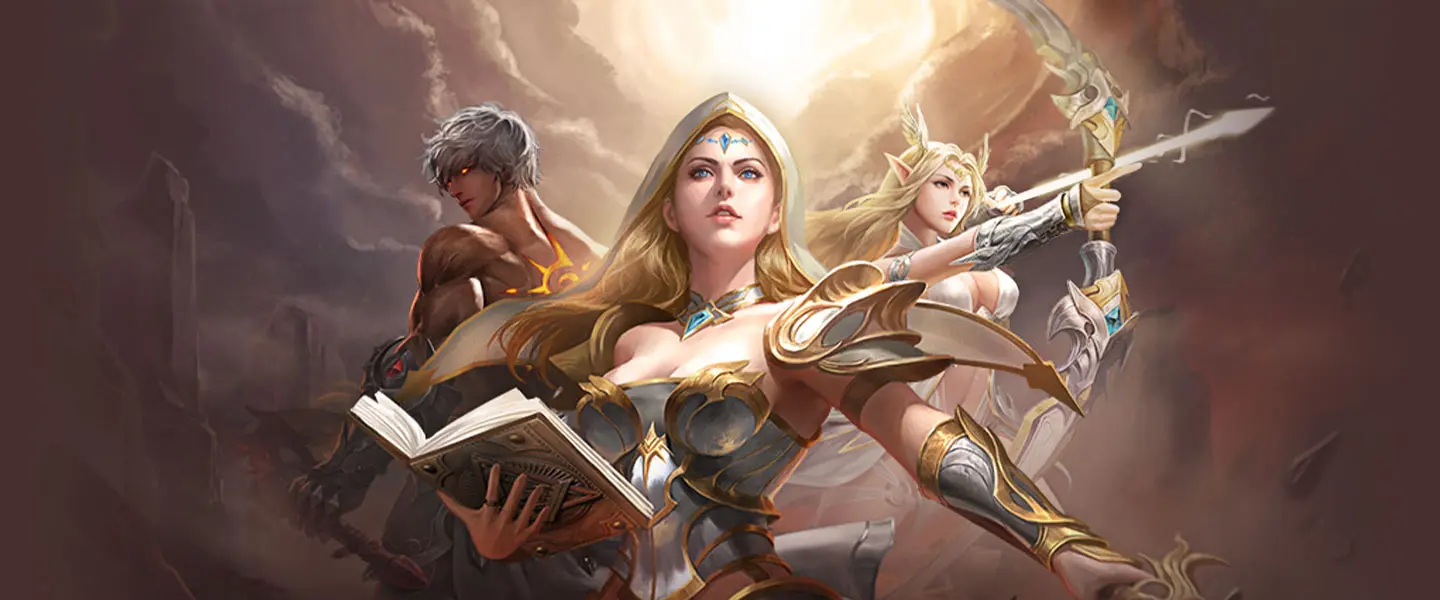 Experience the Thrill of Combat
League of Angels Chaos PC features a plethora of deadly weapons and a smooth combat system where you have to properly plan and execute your attacks to get an edge over your competitors!
3 Classes and More to Come
From Dragoon to Mage to Archer, all these classes offer very unique and powerful skill sets that make up for different playstyles. Get up close and personal with Dragoon carrying heavy blades or wreak havoc upon your enemies with a skilled archer class!
Ton of Content
Trade, loot or forge items to become the best of your class and increase your chances to become the greatest warrior of all in this world of chaos by upgrading your character class.

League of Angels: Chaos
League of Angels: Chaos is a fantasy Action MMORPG designed to give you the ultimate RPG experience on mobile. Ragnarok has engulfed the world in chaos and the heavens themselves have been torn asunder. You, a champion of the gods, are the last hope to bring back order and restore the realm. Embark on your journey to become a legend! [Game Features] 〓 Summon Angels ◆ Unleash True Power 〓 Summon forth the Angels and wield their divine power! Each Angel possesses mighty abilities that will change the tide of battle. Attack, Defense and Support-orientated Divine Blessings add more strategy to the combat. 〓 3 Legendary Classes ◆ Unique Combat 〓 Choose from Dragoon, Mage or Archer, each with their own skill sets and play styles. Dragoon - Champion of justice that fights to uphold honor and the glory of his order. Wielding massive blades on each hand, he is a whirlwind of steel and death on the battlefield. Mage - Master of the elements that controls the primal forces at his fingertips. Possessing generations of knowledge, he can unleash devastating spells on his foes. Archer - Deadly marksman that never misses her mark. Trained by the ancient elves, her mastery of the bow is unmatched even by the gods themselves. Plus more classes coming in future updates! 〓 Alliance Warfare ◆ Cross-Server Conquest 〓 Participate in cooperative Raids, join powerful Alliances, fight across Cross-Server battlegrounds, and claim glory for your server! Clash in spectacular battles solo or alongside your comrades in a highly immersive combat experience! 〓 Forge Equipment ◆ Become A Champion 〓 Collect all kinds of gear, including equipment sets and Divine weapons; Craft and enhance your way to greatness! Forge Legendary Equipment, upgrade Set Attributes, build up your power to conquer the battlefield! Charge into battle on mythical Mounts while and illuminated Wings. 〓 Trade Freely ◆ In-depth Planning 〓 Trade to your heart's content at the Auction House! Find the perfect equipment or make a profit playing the market! Carefully plan your resource management to get ahead of the competition! 〓 Loot Loot and More Loot ◆ Auto Progression 〓 Every Instance, Boss, and Raid showers you with shiny loot. Farm without lifting a finger with auto mode! Make progress even when you can't access your phone!