Download League of Angels Chaos on PC with GameLoop Emulator
2022-04-01
League of Angels Chaos | Ultimate MMORPG Experience
MMORPGs have always had a special place in our hearts for many different reasons and while PC is home to many of these amazing MMOs, League of Angels Chaos wants everyone to join in on the action, especially the mobile gamers out there!
Coming from developer Youzu, League of Angels Chaos is an action fantasy MMORPG, featuring a wide range of celestial characters divided into 3 unique and powerful classes. These powerful beings are at war with each other and the chaos has brought this world to the brink of destruction. Now you are the only hope to restore order and peace to this land of chaos.
Play League of Angels Chaos on PC with Gameloop Emulator
League of Angels Chaos features some of the best visuals we have seen so far in mobile MMOs and as the game continues to introduce more content, it might get a little difficult to run on low-end mobile devices. But with the help of Gameloop emulator, you can easily play League of Angels Chaos on PC using the same account without any additional steps.
You can experience the true thrill of MMORPG the way it is supposed to be by playing it on a wide screen. Gameloop emulator optimizes the gameplay to ensure every player gets the best experience according to their PC specs. You can change the different settings at any point in the game to make it more tailored according to your liking!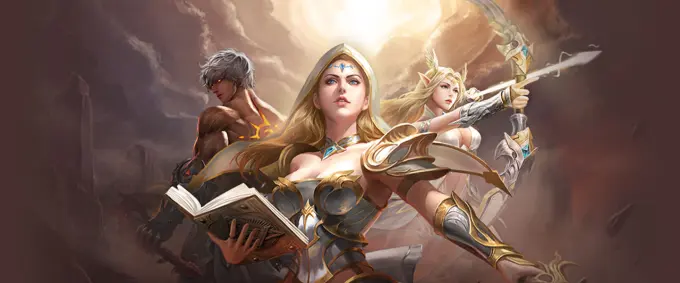 Experience the Thrill of Combat
League of Angels Chaos PC features a plethora of deadly weapons and a smooth combat system where you have to properly plan and execute your attacks to get an edge over your competitors!
3 Classes and More to Come
From Dragoon to Mage to Archer, all these classes offer very unique and powerful skill sets that make up for different playstyles. Get up close and personal with Dragoon carrying heavy blades or wreak havoc upon your enemies with a skilled archer class!
Ton of Content
Trade, loot or forge items to become the best of your class and increase your chances to become the greatest warrior of all in this world of chaos by upgrading your character class.