Arena Breakout Global Closed Beta: Release, Countries, Pre-register, and more
2023-03-27

Download
Arena Breakout is a hardcore survival shooter mobile game developed by Morefun Studios and published by Tencent Games for Android and iOS devices. The game was first shown off at ChinaJoy in 2021. In it, players take on the role of virtual soldiers on a deadly battlefield and try to survive by navigating the large open map. The developers of Arena Breakout promise a hardcore combat simulator with realistic weaponry, damage models, and survival mechanics, which could revolutionise gaming.
Table Of Contents
Arena Global closed beta Release
Arena Breakout global beta release for iOS devices
The countries that got access for Arena Global closed beta on February 17 are:
How to pre-register for Global Beta testing of Arena Breakout:
Additional Information
Console on mobile
Even though Arena Breakout was only available in China until July of last year, many eager gamers worldwide have been waiting patiently for its global release. Everything you need to know about this intense mobile game is provided here.
Arena Global closed beta Release
Arena Breakout announced its Global Closed-Beta testing for Android, the process began on February 17.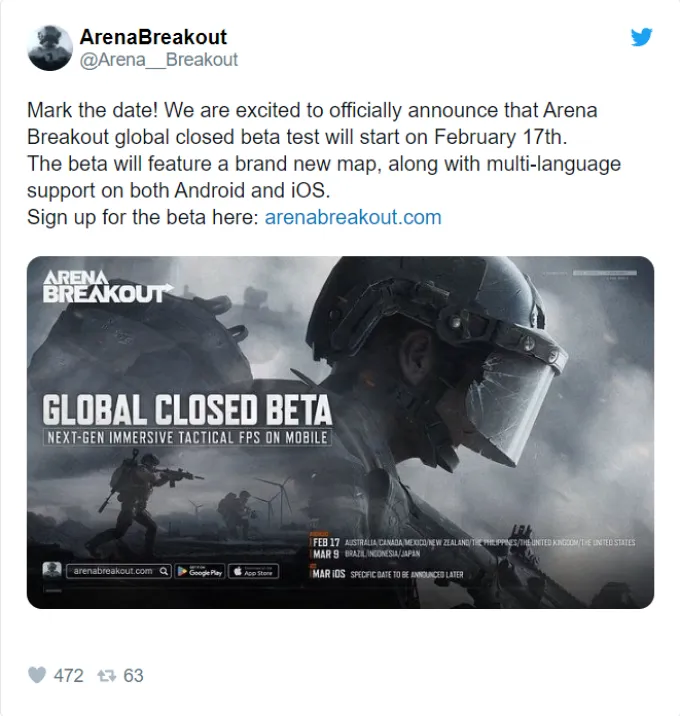 On February 17, the Android beta for the game, which is being developed by subsidiary Morefun Studios, went live in a number of countries. Similar to Escape From Tarkov, Arena Breakout is an extraction shooter in which players must fight their way out of a predetermined area while acquiring new weapons and equipment with each game to gain an advantage over opponents in subsequent matches and risk losing it if they die.
Arena Breakout's prominent marketing as a console-quality first-person shooter has made it stand out. Although extraction shooters are not new to mobile, Morefun appears to be targeting a console-PC crossover audience with their new mobile title. Featuring graphics that are comparable to those found on consoles and a much more intense gameplay loop as a result of the extraction shooter's "use it or lose it" mechanic, in which players run the risk of losing powerful loot during regular matches.
Arena Breakout global beta release for iOS devices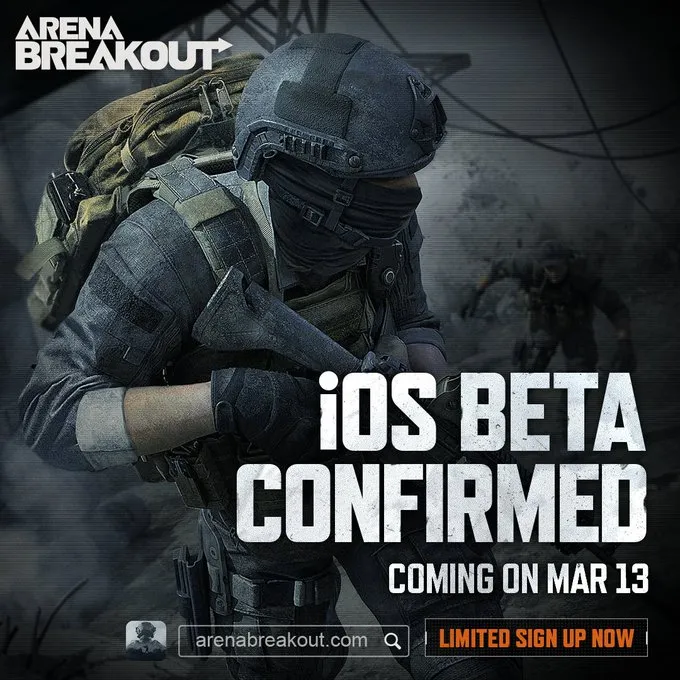 Later the developers announced that the playtest will take place on March 13, giving players a chance to try out the game on their iOS devices before its official release; it will have space for only 5,000 participants, as standard for iOS playtests. On the other hand, the procedure for pre-registering it for testing on both operating systems is now open.
The countries that got access for Arena Global closed beta on February 17 are:
• Australia
• Canada
• Mexico
• New Zealand
• The Philippines
• The United Kingdom
• The United States
The game was later open to players from Brazil, Indonesia, and Japan on March 9.
The duration of this CBT global (closed beta test) is still unknown. A previous CBT lasted two weeks and was only available in Australia, New Zealand, and the Philippines.
Additionally, it is possible that all CBT progress will be lost. In this way, don't stress a lot over storing hardware, and simply attempt to have some good times as could really be expected!
How to pre-register for Global Beta testing of Arena Breakout: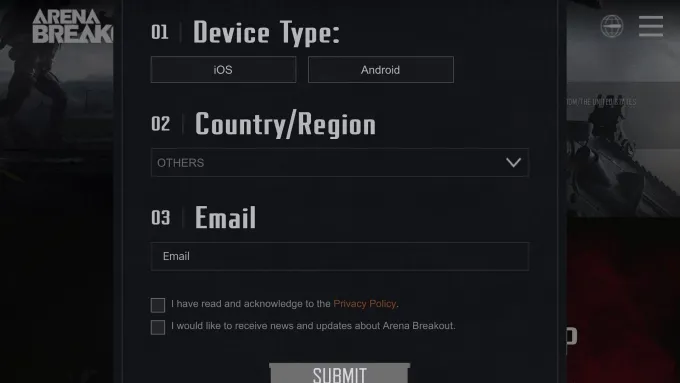 You can apply for a place in the CBT through the official Arena Breakout website.
Even if you are not in those countries chosen for this CBT, you can still register your interest, putting you in the front of the queue for further testing periods.
Players can follow the steps listed below to pre-register for Global Beta testing:
Go to link arenabreakout.com

The main website will open, asking you to fill in your Email ID, as shown in the picture below.

After filling in your Email, press sign up.

A new interface will pop up

Choose your mobile operating system (iOS or Android) and select your country/region

After reading its privacy policy, click on both the brackets and then press submit
The publisher is now preparing for the global market after achieving success in China. There are a number of unique weapons and features in the game. To overcome the obstacles and prevail over their opponents, players must employ an excellent strategy. Armory has been given the name of the upcoming map.
The previous test, which took place in November of the previous year, featured three maps: Northridge, Valley, and the Farm Additionally, numerous instructional videos have been added to the publisher's official YouTube channel.
There are a number of in-game items in Arena Breakout, including food (Energy Bar, Canned Dace), drinks (Taurine, Mountain Spring), medicines, and more. There are over 700 firearm attachments in the game, so you can customise your guns. The game will be won by those who complete each challenge.
Additional Information
Notably, Arena Breakout isn't accessible on phone models comprising:
• Android 5.1 or below
• OpenGL 3.1 or above
• 2GB RAM or less
• 32-bit systems.
Apart from that, the game also doesn't support specific phones such as the Redmi Note 4, Samsung Galaxy J7+, and Huawei M3.
it requires more than 3.5 GB of storage space on your Android smartphone. That said, the developer has recommended at least 5 GB of space for smooth gameplay. However, this offers better graphics quality compared to the lite version.
Console on mobile
Although Arena Breakout is not unique, it is representative of a larger trend toward mobile games that are more console-like. The solid accentuation on graphical loyalty and correlations with console titles shows that Tencent aren't expecting an exclusively portable crowd, yet in addition to get the people who anticipate better looks and clean from their games.
Additionally, the game is also available in lite format for less expensive mobile devices. A lite version that is playable on more phones (although currently only on Android) is a good compromise to offer the same experience to those on less powerful devices. Samsung's announcement that they would be working on optimising ray tracing for mobile devices is one of the biggest barriers to mobile games that push the boundaries of graphics.
Tencent is already bringing many games that were previously only available in China to other countries, so Arena Breakout is likely to be a big mobile release this year. However, the success of a (relatively) hardcore extraction shooter in comparison to more accessible titles will likely have a significant impact on their future choices.
Survive the Fantasy World of Dawnlands

2023-05-31

Tom Clancy's Rainbow Six Mobile - Your Favourite Competitive Multiplayer Upcoming on Android Platform

2023-05-31

Blaze Through the Galaxies in Honkai Star Rail

2023-05-31

Geometry Dash Lite - Gameplay Insights and Review

2023-05-31