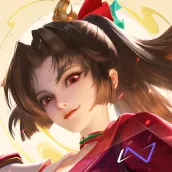 Honor of Kings
PC
Level Infinite
Tải xuống Honor of Kings trên PC với Trình giả lập GameLoop
Honor of Kings has become the new talk of the town for every MOBA lover in the gaming community. The game is still in pre-register phase but fans are already super pumped to get their hands on this one. From the looks of it, Honor of Kings is trying to take the competitive nature of this genre to a whole new level.
With new and innovative gameplay mechanics, fierce characters, and intense battles, the stage is set for an epic showdown of survival. But before you play this game, here are quite a few things that you really need to know.
Gameplay
Honor of Kings offers a fast-paced, action-packed MOBA experience unlike anything else. It challenges players to work together in order to defeat their opponents. The gameplay revolves around battles between two teams, each having five players, who must advance along three lanes toward their opponent's base while also defending their own.
If you have played MOBAs before, you will probably find the gameplay quite familiar. Just like any other MOBA title, Honor of Kings lets players work together to destroy enemy towers and push further into the enemy's territory relying on the teams' combined efforts. Along the way, they must fight off enemy heroes and minions, as well as try to secure objectives such as neutral monsters or getting buffs.
Honor of Kings heavily relies on strategic gameplay elements. It all comes down to players having to decide when to engage in team fights, when to push lanes, and when to push back. You will have to be super team-oriented in order to get the best of your hero's ability to win games.
Classes and Heroes
Just like any other MOBA title, heroes play a central part in the gameplay of Honor of Kings. And lucky for us MOBA fans, Honor of Kings features a vast roster of heroes, each with their own unique set of abilities, strengths, and weaknesses. Each of these heroes is divided into different classes, such as tanks, mages, assassins, and marksmen, each with their own specific role to play in the game.
Players have a variety of different heroes to pick from, and the best part is they all have their own backstories and personality. Some heroes are inspired by real-life historical figures, while others are completely fictional, this adds to the overall depth of the game. So, depending on what complements your gameplay and personality, you can pick from any of these awesome heroes.
And as you progress through the game, you can also level up your heroes' skills and abilities and even purchase new items to help you make faster progress in the game. This allows players to tailor their hero's abilities and playstyle to fit their personal preferences and strategy.
Visuals
Lastly, I just want to talk about Honor of King's visuals and from the looks of it, the game seems to be featuring art inspired by Chinese Mythology and culture. The art mainly focuses on bright colors, ornate designs, and intricate details that look amazing. The same goes for the Heroes' appearance, they are designed with great attention to detail, with unique armor, weapons, and visual effects that make them stand out on the battlefield.
And if we talk about the different maps, they are also quite diverse, featuring a variety of different landscapes and settings. From green forests to snowy mountains, and even ancient temples. The attention to detail in each environment looks impressive. And there also seems to be a dynamic weather system, which would definitely add to the level of immersion in the game.
Conclusion
So, there seem to be quite a lot of things happening in Honor of Kings and most of the features seem to be inspired by fan-favorite features that every MOBA lover has come to love. However, there are still a lot of things that are yet to be seen and fans are quite hopeful that they will be up to the mark.
Cho xem nhiều hơn
Xem trước
Thông tin
Nhà phát triển

Level Infinite

Phiên bản mới nhất

8.3.1.11

Cập nhật mới nhất

2023-08-30

Loại

Chiến lược

Có trên
Cho xem nhiều hơn
Cách chơi Honor of Kings với GameLoop trên PC
1. Tải xuống GameLoop từ trang web chính thức, sau đó chạy tệp exe để cài đặt GameLoop.
2. Mở GameLoop và tìm kiếm "Honor of Kings", tìm Honor of Kings trong kết quả tìm kiếm và nhấp vào "Cài đặt".
3. Thích chơi Honor of Kings trên GameLoop.
Minimum requirements
OS
Windows 8.1 64-bit or Windows 10 64-bit
Storage
1GB available space
Recommended requirements
OS
Windows 8.1 64-bit or Windows 10 64-bit
Storage
1GB available space
Rise of Kingdoms: Lost Crusade
Tải xuống