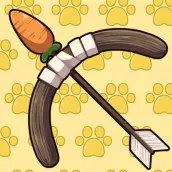 Archer Forest : Idle Defence
電腦版
MadMans
用GameLoop模拟器在電腦上玩Archer Forest : Idle Defence
Archer Forest : Idle Defence 電腦版
來自發行商 MadMans 的 Archer Forest : Idle Defence 能夠在安卓系統上運行。
現在,您可以在電腦上使用 GameLoop 模擬器流暢地玩 Archer Forest : Idle Defence。
在 GameLoop 遊戲庫或搜索結果中下載。 不需要再暢玩遊戲時盯著電池電量或被令人懊惱的來電打斷。
只需在電腦大屏幕上免費下載暢玩Archer Forest : Idle Defence 電腦版!
Archer Forest : Idle Defence 簡介
Lead your archers to protect the forest!
──────────────
▶Variety of Stages
Clear numerous stages to explore new continents!
▶Easy to Play
All you need to do is tap the screen and merge two arrows!
▶Fast Leveling
Upgrade to more stylish and powerful arrows! You can become the strongest!
▶Endless Content
Earn more items from Boss fights!
▶Adorable Animal Heroes
Collect unique and cute heroes with special abilities!
──────────────
▶ Game Contact: archer@gameduo.net
- Privacy Policy : https://www.gameduo.net/en/privacy-policy
- Terms of Service : https://gameduo.net/en/terms-of-service/
- Developer Contact: 3F, 16, Yanghwa-ro 12-gil, Mapo-gu, Seoul, Republic of Korea
更多
預覽
訊息
開發商

MadMans

最新版本

6.06.01

更新時間

5 hours ago

類別

休閒

同時可用
更多
如何在電腦上用 GameLoop 玩 Archer Forest : Idle Defence
1. 從官網下載GameLoop,然後運行exe文件安裝GameLoop
2. 打開GameLoop,搜索"Archer Forest : Idle Defence",在搜索結果中找到Archer Forest : Idle Defence,點擊"安裝"
3. 享受在 GameLoop 上玩 Archer Forest : Idle Defence 的樂趣
Minimum requirements
OS
Windows 8.1 64-bit or Windows 10 64-bit
Storage
1GB available space
Recommended requirements
OS
Windows 8.1 64-bit or Windows 10 64-bit
Storage
1GB available space