Tips and Tricks for Shooting like a Pro in Standoff 2
2023-03-22

下載
Are you tired of being the first one to get eliminated in Standoff 2? Do you want to improve your shooting skills and become a pro? Well, look no further because we've got you covered! In this article, we'll be sharing some of the best tips and tricks for shooting like a pro in Standoff 2.
Whether you're a beginner or an experienced player, these tips will help you take your shooting skills to the next level. From mastering your aim to understanding the different weapons in the game, we'll cover everything you need to know to become a top shooter in Standoff 2.
Table Of Contents

The Techniques
About Standoff 2
Conclusion
But that's not all! We'll also be sharing some insider secrets and strategies that will give you the edge you need to dominate the game. Learn how to use cover to your advantage, how to predict your opponent's movements, and how to effectively communicate with your team to win matches.
So, if you're ready to step up your shooting game and dominate the competition, then keep reading! With these tips and tricks, you'll be able to shoot like a pro in no time. Discover the three essential shooting techniques that will drastically improve your accuracy and help you crush your enemies. Don't be like those players who rely on luck and end up getting gunned down – master the tapping, bursting, and spraying techniques and always be ready for any situation.
And let's not forget about weapons – different guns call for different shooting styles, and this guide will show you how to identify your go-to weapons' strengths and weaknesses. Get your guns ready, aim steady, and let's dive into the world of Standoff 2 shooting!
The Techniques
Tapping
The first shooting technique we are going to start with is "tapping," which involves firing one bullet at a time by quickly clicking the mouse and allowing the recoil to reset before firing another shot. While this may seem confusing at first, tapping can be more accurate than spraying, especially in long-range engagements where controlling recoil can be difficult. This technique is particularly useful with pistols, as they only allow for tap firing, but it is important to slow down and focus on accuracy rather than speed. Tapping can also help with aim and tracking, and practicing it in training can be helpful in actual competitive games. While it may be frustrating in deathmatch, the long-term benefits of tapping make it worth implementing into your training.
Spraying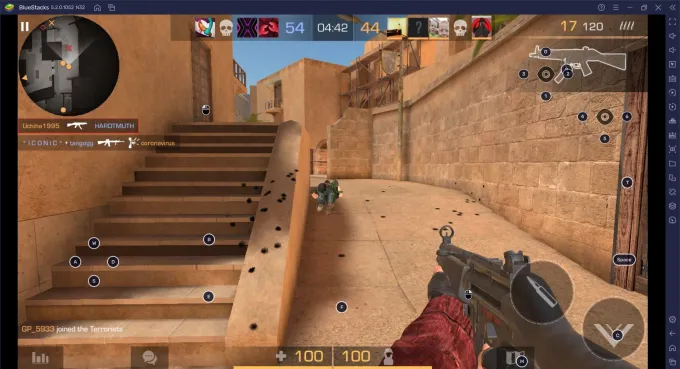 The second shooting technique, spraying, is likely familiar to most players, but it's more complex than it appears. The method involves holding down the mouse and hoping to hit the enemy, but this approach is overly simplistic. Players often spray their clips without stopping, hoping to take out an opponent, but this can be problematic because many weapons have random recoil patterns. For example, spraying the AKR or FAMAS multiple times can reveal slight pattern changes, making it difficult to control the recoil. However, this randomness doesn't emerge until later in the spray, usually after the 10th bullet. Thus, players can control the spray better within those initial bullets and should avoid spraying beyond the 15th bullet to prevent dealing with randomness. Spraying is most effective in short and medium ranges, typically within 20 meters, and works best against multiple opponents. Tap firing and burst firing are more suited for improving accuracy in situations where it's difficult to control the aim. With practice, players can master the recoil within the first 11 bullets and become proficient at spraying.
Burst Firing
Last but not the least we have: Burst firing. This is a shooting technique where you fire a small number of bullets, typically 3-6, before stopping to let the recoil reset. This method offers a balance between quality and quantity of shots, making it the best of both worlds in Standoff 2. Unlike tapping, where you need to ensure that you hit your shots accurately, burst firing allows for a few extra bullets in case you miss your first shot. Additionally, burst firing helps players learn to control recoil, as the initial few bullets for most weapons tend to be vertical and easy to control. This technique is particularly useful for medium to long-range encounters, which are beyond 20 meters.
Burst firing also works well with different movements and peeks in Standoff 2. For instance, jiggle peeking is a common technique used to challenge opponents, where you quickly peek out at an enemy to gather information before returning to cover. Using burst firing during this technique can be very effective. You can peek out briefly and fire a quick burst before backing away, giving you a small window to take out the enemy while making yourself a challenging target. This technique can give you an advantage during the fight if repeated enough times, especially if the enemy is stationary.
It not only makes you a harder target to hit, but it also allows you to reposition and take cover while you wait for the recoil to reset. Strafing can also help you avoid incoming fire and make it harder for the enemy to predict your movements. However, it's important to be careful not to overdo it and expose yourself to unnecessary danger. It's always better to prioritize your survival and take calculated risks rather than blindly rushing in. Additionally, it's important to note that strafing can also affect your accuracy, so you need to find a balance between movement and precision.
About Standoff 2
Standoff 2 is a popular mobile first-person shooter game that has gained a significant following since its release in 2017. Developed by Axlebolt, the game features a variety of gameplay modes, including team deathmatch, defuse the bomb, and arms race. The game's graphics and sound effects are highly realistic, providing an immersive gaming experience. Players can choose from a range of weapons and customize their loadouts to suit their play style. The game also includes a ranking system, allowing players to compete against each other for higher ranks and rewards. Standoff 2 is known for its challenging gameplay, requiring quick reflexes, accuracy, and tactical thinking. The game has a strong community, with players sharing tips, tricks, and strategies to help each other improve their skills. Overall, Standoff 2 is a thrilling and addictive game that offers a highly engaging FPS experience on mobile devices.
Conclusion
Mastering the art of shooting is essential to succeed in Standoff 2. The technique of burst firing offers players a balance between quality and quantity of shots, making it an effective way to control recoil and hit targets accurately. The ability to use this technique with movements and peeks such as jiggle peeking and strafe shooting adds an extra layer of complexity and challenge to the game, making it more exciting for players. With the information provided, players can improve their skills and take advantage of these techniques to become more effective and efficient in their gameplay.
By incorporating these shooting techniques into their gameplay, players can improve their accuracy, control their recoil, and outmaneuver their opponents. For more tips and strategies on how to succeed in Standoff 2, check out our blog for more content.
決勝時刻: Mobile全新版本「自由之舟」概覽

2023-05-31

明日方舟 新晉博士幹員選擇 先鋒與狙擊

2023-05-31

決勝時刻:Mobile Krig6步槍全攻略

2023-05-31

決勝時刻:Mobile HVK30步槍測評

2023-05-31

決勝時刻: Mobile OTs9衝鋒槍評測

2023-05-31