Garena Free Fire Complete Weapons Guide
2022-03-01

下載
Garena Free Fire, one of the most beloved Battle Royale games, has a variety of weapons and inventory that will not falter behind its equivalents. Therefore, gamers want to learn about weapons and inventories to take their games one step further.
So, do you know which weapon is the best in Garena Free Fire? Or do you want to explore what are the most stable weapons in Free Fire? Then, follow our guide.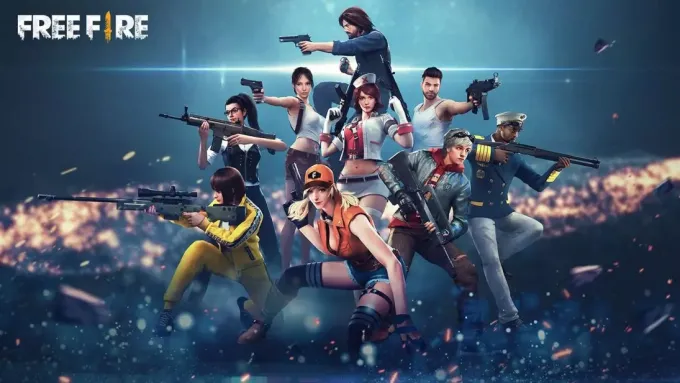 How Many Types of Weapons Are in Free Fire?
Garena Free Fire weapons contain 9 categories, including melee weapons and grenades.
Launcher

LMG

SMG

AR

PISTOL

SG

BOW

SR

MELEE
What are Free Fire Weapons?
Some terms will be used while defining the attributes of weapons. We have listed them as follows for your better understanding:
Damage: Shows the destruction the weapon causes with each bullet.

Range: Shows the range of bullets.

Charger: Allows us to know how many bullets the gun has before reloading.

Movement Speed: Shows the speed you can reach maximum while the weapon is selected.

Rate of Fire: Shows the bullet fire rate

Reload Speed: Speed to install new reload

Accuracy: Gives the rate of bullets which hit the target.

Armor Penetration: Shows the extra damage the enemy would take if they were wearing armor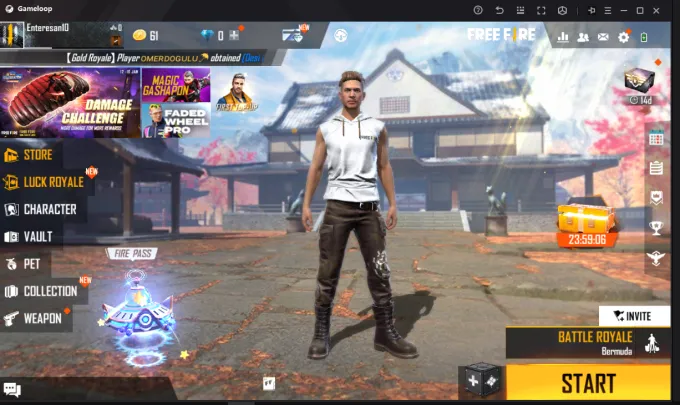 Assault Rifles (AR)
Assault rifles are very popular weapons in Free Fire. They are also easier to use by rookie players as they are effective both at close range and at a distance.
Since they are balanced weapons, they are suitable for use in every part of the game.
Examples of effective assault rifles:

This rifle has a high damage-dealing ability. Also it is a favorite of paratroopers.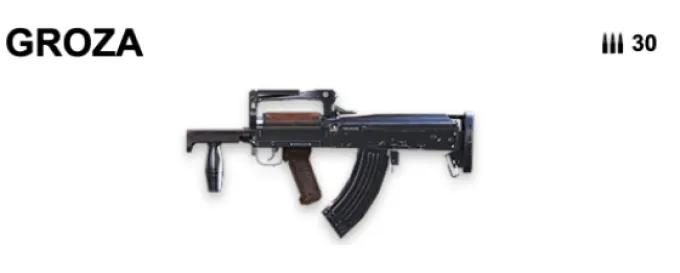 Known with its high damage, long-range, high stability attributes. Probably the most powerful rifle in the game.

Very effective at long range. It turns into a dead machine in the hands of good gamers.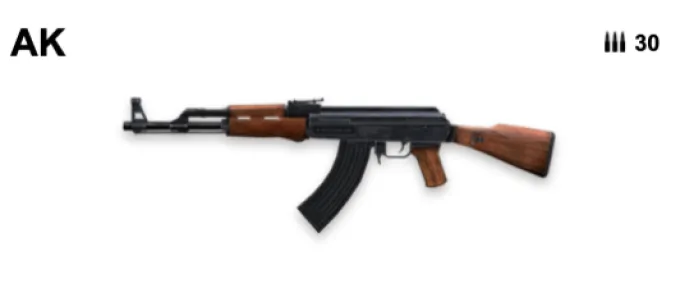 High range and good rate of fire. It is recommended to buy a recoil-reducing attachment to prevent its high recoil.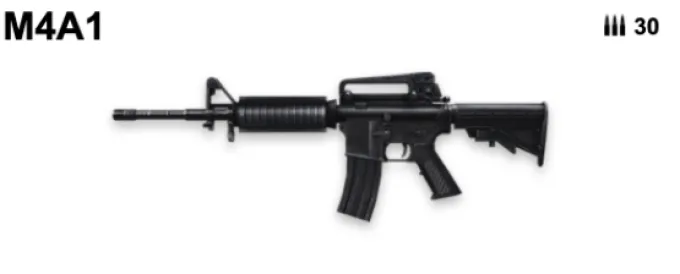 M4A1 has effective range, but its damage is relatively low compared to the M14.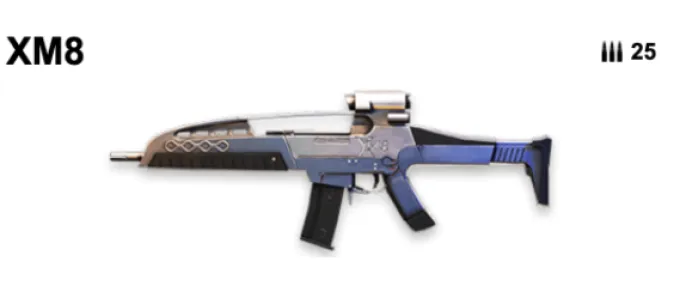 Medium range rifle with a fixed 2x scope.

AN94 has a long shot power and the bullet rate is satisfying.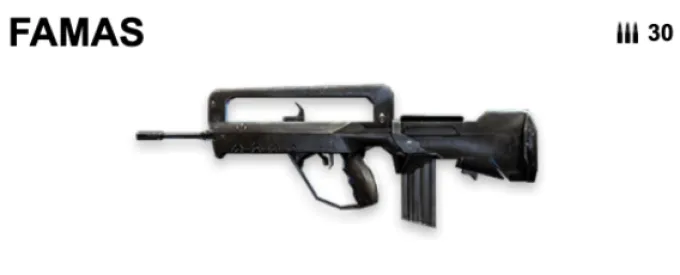 FAMAS fires 3 bullets and is very deadly at medium to long-range.

HEATGUN is a high-tech weapon using energy but gets hot during prolonged use.

Best suitable for beginners due to its easy usage and well-balanced structure.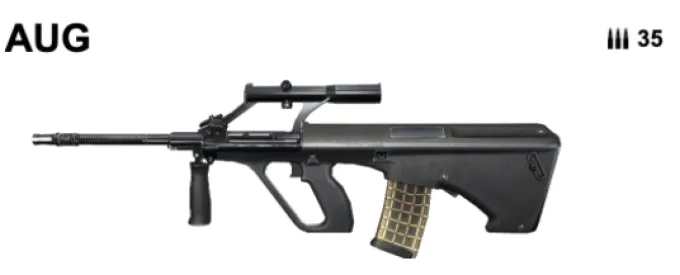 AUG is an ideal double sight rifle.
Submachine Guns(SMG)
Submachine guns are very effective weapons with a high rate of fire in the short-medium range. SMGs create great harmony with shotguns especially in residential areas and cities. You can kill your enemies without noticing you thanks to the high projectile velocity.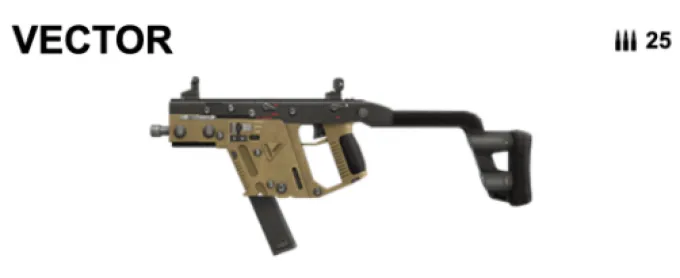 VECTOR can be lifted by both hands separately, and is effective at close rate.

The double shot drum scatters close-range death with its high ammo capacity.

VSS is a medium-range sniper with a self-silencer.

Despite being ineffective at long ranges, MP5 is a stable weapon with less rebound compared to other submachine guns at close ranges.

Easy to use. Best for novices

Although the rate of fire is very high, the reload time is longer compared to the UMP.

Fast rate of fire, effective at close and medium range.

CG15 is a high-tech weapon. It has a longer range than others in the SMGs. (After VSS)
Shotguns (SG)
If the bullet from shotguns hits the enemy, it either kills or inflicts very high damage(nearly kill). However, they are effective at close range only. Plus, they should be used with caution as it has a low reload speed.

The MAG-7 is more agile than most shotguns with mid-range power and a high rate of fire.

M1014 destroys enemies within range.

Even a single hit at close range by M1887 can kill. It has no mercy.

SPAS12, another shotgun that is deadly at close range. Reload speed is slow.
Sniper Rifles(SR)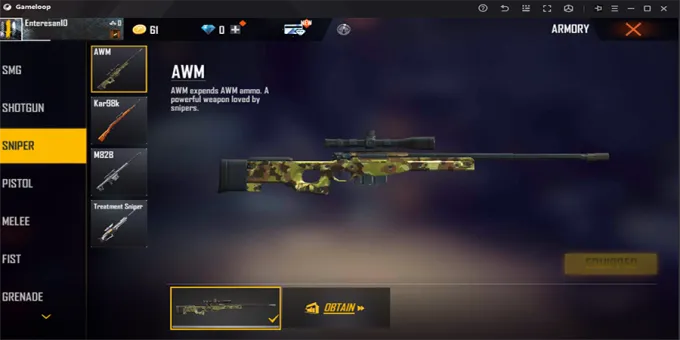 If you like to catch opponents by surprise from a dominant hill in Free Fire, Sniper Rifles are for you. You can kill your enemy quickly if you have high damage infliction power. However, concentrate on getting the best shot, as their fire rate is low. Patience and concentration are essential to wielding these weapons effectively.

The M82B is quite effective against vehicles. Armor penetration is additionally developed for vehicles.

The AWM is a high-damage, long-reload-time sniper rifle that is well used by veteran players.

The KAR98K is a balanced sniper rifle. You can zoom up to 8x with the KAR98K.
Light Machine Guns (LMG)
The most powerful weapons in Free Fire are LMG type weapons. LMGs can be fatal with a high rate of fire. Their ammo capacity is quite high. Although their accuracy is not proper, they can rain bullets on their enemies as they can shoot for a long time without any interruption.

KORD is a powerful weapon. Despite low accuracy its range is satisfying. Using it while crouching or lying down would be better in terms of dominance.

M60 has less ammo capacity than other light machine guns. It is a more balanced weapon in general (relatively to its class)

With a capacity of 100 bullets, M249 is incredibly light and movable. Its range and accuracy are good, relatively to its class.

It is a machine gun with an incredible rate of fire and firepower. Its bullets are nearly endless. However, the user's mobility is diminishing with GATLING.
Pistols
Pistols are invaluable weapons in skilled hands of Free Fire gamers although they are underestimated generally. A pistol, which you will use as a secondary weapon when you run out of bullets, will keep you alive. There is no disadvantage to carrying them. Some of them have high lethal power. The main pistols are as follows;

DESERT EAGLE has high damage power even at long distances. It fires a bit slowly on a regular basis. A master user can become invincible.

TREATMENT GUN is a special pistol that damages enemies and heals your allies.

Originally M500 comes with 2x binoculars. The effective distance is satisfactory. The only downside is the low bullet capacity.

Small grenade gun that covers the secondary gun slot. Be careful when using it, its power is jeopardizing.

Besides the fact that USP takes 12 bullets, its small size is a captivating advantage. The disadvantage is its low damaging power. It can be effective at close range.
Bow
There is only one weapon in this category. The bow is a difficult weapon with its various features. Gamers generally do not prefer.

The Crossbow leaves your enemies in bloodshed and continues to take damage over time. It is a silent weapon that can easily pierce all kinds of vests and helmets.
Launchers
Launchers are used if you want to blow up enemies. This weapon cannot be used in every combat. You should be generous enough to spend one of the weapon slots to use it.

M79 is a next-generation grenade launcher that focuses on area damage. Destroy your enemies in the trench with 40 mm ammunition.

Despite a low rate of fire, MGL140 has spectacular power. Since it has 5 ammunition, it switches quickly to another one.

A vehicle-specific jamming launcher. However, RGS50 does less damage to non-vehicle units.
Melee Weapons
They are weapons that none of us would want to have to use in Free Fire. Because Melee weapons are generally used in the difficult moments when we are vulnerable to the opponent encountered in the jumped place. You're much better off with these weapons than punches when there isn't time to stockpile enough.
Some melee weapons are as follows:

You can quickly kill your enemies with the samurai sword Katana.

Scythe has a high damage capacity and relatively long effective range.

With this pan, you can protect yourself from your enemy's attacks and throws. Plus, you can attack with the pan.
What are Free Fire Weapon Attachments?
Weapons can sometimes compensate for their weaknesses with accessories. If users know the weapon features and attachment aspects well, they can choose which accessory to acquire better.
Silencer: Suppresses gunfire to prevent you from being spotted.
Gun Mouth: Mouthpiece that increases the range of bullets.
Shaft or bipod: Reduces recoil when firing.
Magazine: Increases the number of rounds per magazine (also increases magazine reload speed at a higher level).
Look: Improves aim point by increasing focus.
Muzzle: They increase weapon range. They are very good for SMG and AR.
Foregrip: Recoil can be slightly reduced with this front grip.
Scopes: Indispensable ones are binoculars. Binoculars are zoomers of varying degrees depending on their level. They make targeting easier.
Stock: Increases movement speed and reduces recoil.
How Can Gamers Play Free Fire on PC?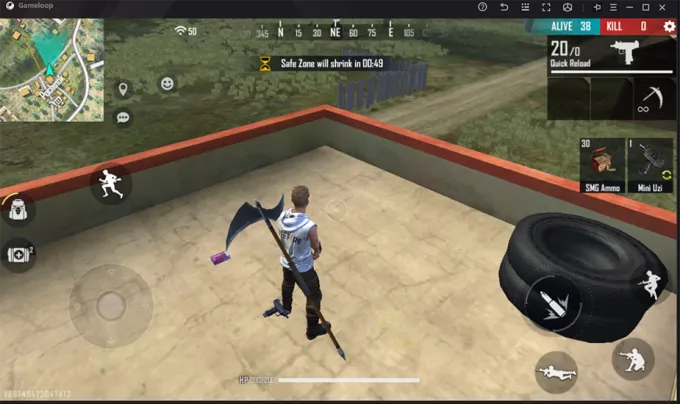 If you want to play Garena Free Fire on PC, you should download the Tencent GameLoop Android emulator first. With GameLoop, you get high efficiency and pleasure even on low-end computers. GameLoop is great for games and it's free.
In order not to be late any more, do not hesitate to download the emulator from the GameLoop official website.
Now you are ready to play, enjoy it. Good luck!
For the news and upgrades about the game, you can visit the Free Fire official website.
Cat Mart: Building a Feline Empire, One Meow at a Time

2023-08-02

Gunstars - Battle Arena: Unleash Your Inner Warrior and Dominate the Arena

2023-07-28

Indus Battle Royale: Conquer the Ancient Realm of Warfare

2023-07-28

The Lord of the Rings: Rise to War - A Legendary Journey through Middle-earth

2023-07-27

Merge Mansion: A Magical Blend of Puzzles and Mysteries

2023-07-27