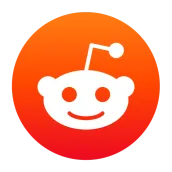 Reddit
para PC
reddit Inc.
Descarga Reddit en PC con GameLoop Emulator
Reddit en PC
Reddit, proveniente del desarrollador reddit Inc., se ejecuta en el sistema Android en el pasado.
Ahora, puedes jugar Reddit en PC con GameLoop sin problemas.
Descárgalo en la biblioteca de GameLoop o en los resultados de búsqueda. No más mirar la batería o llamadas frustrantes en el momento equivocado nunca más.
Simplemente disfrute de Reddit PC en la pantalla grande de forma gratuita!
Reddit Introducción
Reddit is the place where people come together to have the most authentic and interesting conversations on the internet—Where gaming communities, nostalgic internet forums, bloggers, meme-makers, and fandoms mingle alongside video streamers, support groups, news junkies, armchair experts, seasoned professionals, and artists and creators of all types.
With over 100,000 communities about every topic you could think of (and a few you'd probably never think of if it wasn't for the creativity of strangers on the internet), Reddit is the place where you can dive into anything and connect with people on any topic.
A few things you'll find on Reddit…
■ Thousands of communities
Whether you're into breaking news, sports, TV fan theories, or a never-ending stream of the internet's cutest animals, there's a community on Reddit for you.
■ Laughs, lols, and plenty of ridiculousness
Lose track of vast amounts of time as you find memes, bananas for scale, bread stapled to trees, cat videos, and more of the absurd and oddly absorbing.
■ Discussions that will draw you in
The real action is always in the comments. Reddit's discussion threads are where community members jump in to provide commentary, humor, and insight.
■ Answers to questions you're too afraid to ask in public
Recipes, street fashion, career help, fitness plans, and more—find ideas and inspiration for whatever you want to do.
■ Live video streams, chats, and talks
Want to know what people are doing right now? Streaming videos, live chats, and live audio conversations give you a variety of ways to connect with people in the moment.
■ Crowd-sourced points of view on just about everything
Product reviewers, music critics, sports fans, or doge enthusiasts—find people that obsess and care about whatever it is you're interested in.
■ Anonymous profiles so you can do you
On Reddit, you (not your job, number of friends, or social status) define who you are.
■ Lots and lots of cats
Reddit Premium:
Purchase Reddit Premium and enjoy an ads-free experience, 700 coins for every month you're subscribed, and access to premium avatar gear, r/lounge, custom app icons, and more.
Payment will be charged on a recurring monthly or annual basis to your Google Play account. Your monthly or annual Premium subscription will automatically renew unless you cancel at least 24 hours before your subscription ends. Cancel anytime in your device's Account Settings. No partial refunds.
Privacy Policy: https://www.redditinc.com/policies/privacy-policy
User Agreement: https://www.redditinc.com/policies/user-agreement
Content Policy: https://www.redditinc.com/policies/content-policy
Download the official Reddit app today.
Mostrar más
Avance
Información
Desarrollador

reddit Inc.

La última versión

2022.43.0

Última actualización

2022-11-15

Categoría

Sociales

Disponible en
Mostrar más
Cómo jugar Reddit con GameLoop en PC
1. Descargue GameLoop desde el sitio web oficial, luego ejecute el archivo exe para instalar GameLoop.
2. Abra GameLoop y busque "Reddit", busque Reddit en los resultados de búsqueda y haga clic en "Instalar".
3. Disfruta jugando Reddit en GameLoop.
Minimum requirements
OS
Windows 8.1 64-bit or Windows 10 64-bit
Storage
1GB available space
Recommended requirements
OS
Windows 8.1 64-bit or Windows 10 64-bit
Storage
1GB available space
Amino: Communities and Fandom
Descargar
IMVU: online 3D metaverse game
Descargar
Plato - Games & Group Chats
Descargar