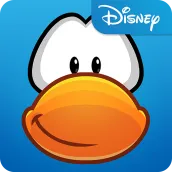 Club Penguin
para PC
Disney
Descarga Club Penguin en PC con GameLoop Emulator
Club Penguin en PC
Club Penguin, proveniente del desarrollador Disney, se ejecuta en el sistema Android en el pasado.
Ahora, puedes jugar Club Penguin en PC con GameLoop sin problemas.
Descárgalo en la biblioteca de GameLoop o en los resultados de búsqueda. No más mirar la batería o llamadas frustrantes en el momento equivocado nunca más.
Simplemente disfrute de Club Penguin PC en la pantalla grande de forma gratuita!
Club Penguin Introducción
Club Penguin is a massive multiplayer community like no other. From ninja battles to fashion shows, in Disney's #1 virtual world, there's freedom to be anything and do everything. Explore the island, join the latest party, meet and chat with friends, play games, adopt and care for pet puffles, visit and Like friends' igloos, and more. And with a commitment to online safety, Club Penguin means fun for kids and peace of mind for parents.
With a membership, get UNLIMITED ACCESS to parties, items, game levels, pet puffles, and more!
For Everyone
JOIN the latest parties—a new one every month
MEET & CHAT with penguin friends
EXPLORE the island
PLAY games to earn virtual coins
ADOPT a red & a blue pet puffle
For Members Only
UNLIMITED ACCESS to all the latest parties & features
SHOP in the catalog for new clothes & items
ADOPT all the available colors of puffles—including the CAT & DOG
COLLECT rare treasures that puffles find
PERSONALIZE a penguin with clothing & items
CUSTOMIZE igloos with the latest furniture
The Club Penguin App is free to play. However, there are optional Club Penguin recurring membership subscriptions that cost real money. If you choose to purchase a membership, it will be charged to your Google Play account.
Duration & Pricing (USD):
1 Month = $7.99
3 Month = $19.99
6 Month = $39.99
Before you download this experience, please consider that this app contains in-app purchases that cost real money, push notifications to let you know when we have exciting updates like new content, as well as advertising for the Walt Disney Family of Companies. Children should always ask their parent or guardian to download and play. WiFi is needed for some features. Network or Carrier data fees may apply if WiFi is not connected.
SAFETY
Disney Club Penguin has had an unwavering commitment to online safety. This includes secure log-in and protection of your child's private information, filtered chat, report player capabilities, and live moderators.
You can upload and save content from this app to your device.
Visit the official Club Penguin website: http://www.clubpenguin.com/
Terms of Use http://www.clubpenguin.com/terms-of-use/en
Privacy Policy http://www.clubpenguin.com/privacy-policy/en
© Disney. Club Penguin™ The service provider for this app is Disney Canada Inc., located at 500-1628 Dickson Avenue, Kelowna, British Columbia, Canada VIY 9X1. Company Registration#1879215 VAT# EU826012025 Support@clubpenguin.com
Mostrar más
Avance
Información
Desarrollador

Disney

La última versión

1.6.23

Última actualización

2016-12-12

Categoría

Casual

Disponible en
Mostrar más
Cómo jugar Club Penguin con GameLoop en PC
1. Descargue GameLoop desde el sitio web oficial, luego ejecute el archivo exe para instalar GameLoop.
2. Abra GameLoop y busque "Club Penguin", busque Club Penguin en los resultados de búsqueda y haga clic en "Instalar".
3. Disfruta jugando Club Penguin en GameLoop.
Minimum requirements
OS
Windows 8.1 64-bit or Windows 10 64-bit
Storage
1GB available space
Recommended requirements
OS
Windows 8.1 64-bit or Windows 10 64-bit
Storage
1GB available space