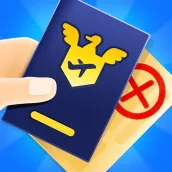 Airport Security
para PC
Kwalee Ltd
Descarga Airport Security en PC con GameLoop Emulator
Airport Security en PC
Airport Security, proveniente del desarrollador Kwalee Ltd, se ejecuta en el sistema Android en el pasado.
Ahora, puedes jugar Airport Security en PC con GameLoop sin problemas.
Descárgalo en la biblioteca de GameLoop o en los resultados de búsqueda. No más mirar la batería o llamadas frustrantes en el momento equivocado nunca más.
Simplemente disfrute de Airport Security PC en la pantalla grande de forma gratuita!
Airport Security Introducción
An airport is a prime location for mischief, and that's exactly what these passengers are up to. As the official security force, you're the only thing standing between the terminal and complete chaos.
Watch out for people flying with a fake passport, or concealed weapons. The X-ray machine reveals the contraband passengers are trying to smuggle into your city. While their bags are in transit, scan them for anything that might be hidden, you never know what's inside.
Armed with your trusty flashlight, you alone must police the building. As every pilot makes their way to a jet ready to fly, criminals are preparing their escape. Be watchful, be vigilant, and let only the most honest travelers pass to their gate.
Get ready for an intense airport adventure where you transform into a border patrol police, defending the airport terminal from the cunning schemes of bad guys. Your role as a vigilant flight attendant goes beyond serving passengers; you're the linchpin in this thrilling airport simulator.
Equip yourself with the powerful X-ray scanner and play the crucial role of a border officer, scrutinizing every passport and detecting concealed contraband. Your mastery over the airport scanner is your ultimate weapon against chaos.
Engage in gripping security checks, apprehend criminals, and ensure that flights under your watch are safe and secure. The boarding pass scanner becomes your gateway to maintaining order, and your sharp eye helps thwart any contraband police encounters.
Navigate through an array of exciting challenges, from passport control to flight control, as you strive to become the airport master. Uncover unique interrogation scenarios, enhancing your skill set and making each achievement even more rewarding.
In this realm of aviation, you're not just a pilot guiding a jet; you're a guardian of order, a beacon of authority, and a sentinel of safety. Your unwavering vigilance ensures that only honest travelers proceed to their gate.
Airport Security Features:
* Embark on an exhilarating Airport Adventure, stepping into the shoes of a border patrol police.
* Immerse yourself in an airport simulator like no other, keeping the terminal safe from bad guys antics.
* Channel your inner Border Officer, utilizing the X-ray scanner to unveil hidden dangers and threats.
* Hone your skills in a variety of security checks, arrest, and earn rewards, proving your mettle as a contraband police expert.
* From passport control to flight control, master the intricate dance of security to become the ultimate Airport Master.
Mostrar más
Avance
Información
Desarrollador

Kwalee Ltd

La última versión

1.5.9

Última actualización

2023-11-12

Categoría

Casual
Mostrar más
Cómo jugar Airport Security con GameLoop en PC
1. Descargue GameLoop desde el sitio web oficial, luego ejecute el archivo exe para instalar GameLoop.
2. Abra GameLoop y busque "Airport Security", busque Airport Security en los resultados de búsqueda y haga clic en "Instalar".
3. Disfruta jugando Airport Security en GameLoop.
Minimum requirements
OS
Windows 8.1 64-bit or Windows 10 64-bit
Storage
1GB available space
Recommended requirements
OS
Windows 8.1 64-bit or Windows 10 64-bit
Storage
1GB available space