Geometry Dash Lite - Gameplay Insights and Review
2023-05-31

ダウンロード
Table Of Contents
Geometry Dash Lite Gameplay and Characteristics
Differences Between Geometry Dash Lite and Geometry Dash
How to Download Geometry Dash Lite on PC?
Everything has started with geometry and the study of lines, points, and angles. You might go find a game that is related to geometry and want to challenge your problem-solving, critical thinking, and logical skills. Geometry Dash Lite is probably one of those search results that pops up on your screen. The very first idea of creating and developing such games goes back to RobTop Games which provides such games for free that can be played offline as well. Geometry Dash Lite is a popular rhythm-oriented platforming game which is a free version of the Geometry Dash and is designed for android platforms that are available on Google Play Store. This game has found its way among streamers (Twitch streamers to be exact) because of its addictive and vivid design whether they can be mobile streamers or PC users. Moreover, the challenging levels make it more attractive towards them by customising the shapes and angles on their own and playing along with their friends and viewers. You can even try Geometry Dash Lite on PC too by using GameLoop as an android emulator which this article will show how you can get it for free. Specifically, this article will explain the in-depth Geometry Dash Lite gameplay and its significant differences with Geometry Dash plus a platform in which you may want to download, install, and launch the game on your PC or the GameLoop per se.
Geometry Dash Lite Gameplay and Characteristics
Geometry Dash Lite's gameplay is super simple to play which makes it more accessible for all ages. But in order to have a better understanding it can be divided into controls, levels, rhythms, achievements, and other cool features.
The first gameplay mechanic is how you can control the character you have or what it is called "icon". By clicking or tapping on the play button you can choose one of the main levels. Once you choose your level, you have some options on playing either on easy, normal, or hard modes. Moreover, there is a practice mode in case you want to hone your skills and warm up before entering the above-mentioned modes. After choosing your favourite icon, you've been given certain attempts to pass the level by tapping and holding anywhere on your screen. You must now jump, fly, or flip through obstacles and passages every level has set for you.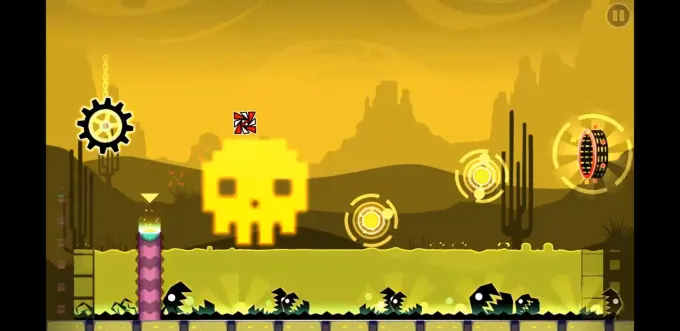 The other characteristic is the level structure. As it mentioned before, each level has three different difficulties which are easy, normal, and hard. It also has different blocks that stop you finishing the levels successfully, namely obstacles, moving objects throughout the whole level, and spikes which can be increased while reaching the end line.
The origin and foundation of Geometry Dash Lite is based on rhythm. The developers created the game only to run and synchronise it with music soundtracks to make it more fun and interesting. When you jump on an obstacle you notice that the music beats and the timing fits all together. It is worth mentioning that the Geometry Dash Lite has 17 soundtracks. The last part is that after you successfully passed the end line, you're actually completing and finishing 64 achievements.
If you're interested in more user-based songs, Geometry Dash Lite suggests you look up to a community of artists called Newgrounds in which you find many more custom background music for your journey. The developers also shared their social media links such as Facebook, Twitter, YouTube, Twitch, and Discord in order for you to watch this game's cool videos and its updates and to discuss with other players on every aspect of the game.
Differences Between Geometry Dash Lite and Geometry Dash
One of the main drawbacks of Geometry Dash Lite is that it is the free version of Geometry Dash. It looks exactly like a demo version but with more options. Besides, it is ad-supported in that the developers earn money from those players who want to play the game for free by promoting the ads. In the full version you may:
customise your icon into different shapes and colours only if you unlock new levels,

save the levels and score,

complete daily and weekly quests,

rank up to see yourself in the hall of fame,

and create and connect your account to save up your progress.
More interestingly, you can create custom levels. By putting difficult obstacles and shapes, you're challenging yourself to improve your hidden skills. Over and above that, this game can be played offline by downloading its content such as missions, soundtracks, or progression level separately.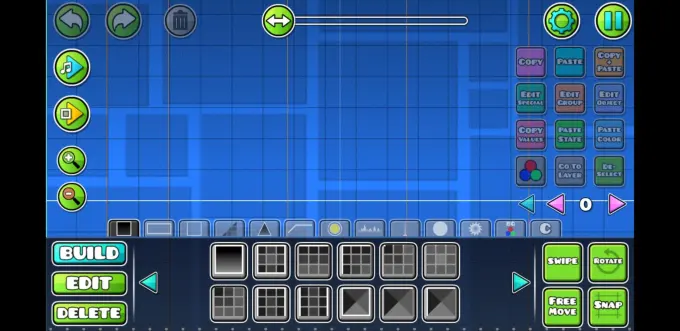 How to Download Geometry Dash Lite on PC?
In order to have your game on your desktop you need to:
Download

GameLoop

on your PC or laptop.

Search

Geometry Dash Lite

in the GameLoop's search box or library.

Once found, download and install

Geometry Dash Lite

.

Launch the game on your desktop and enjoy.
Alternatively, You can download Geometry Dash Lite by searching the title in the top right corner of the GameLoop's official website. When clicking on the download button, Geometry Dash Lite will be automatically installed on your GameLoop and its icon will appear on your desktop. You must click on that icon and the game will be launched in the GameLoop's standard engine. By following these steps, you can play your favourite game with mouse and keyboard.
GameLoop is a popular android emulator that lets you download and install millions of games and apps on your PC. Its main role is to provide a better experience on a bigger screen and in higher graphics which the android smartphones are not capable of. Generally, GameLoop's ultimate goal is to fill the gap between mobile phones and PC gaming experience. It provides its users with the latest gaming experience with higher frame rates and no lag, supports a wider range of mobile games than any other emulators, and enables players and even streamers to play with their friends or viewers.
Apart from this game, there are lots of related games that are already released on GameLoop's official website, and you can now save them in your collection!
Cat Mart: Building a Feline Empire, One Meow at a Time

2023-08-02

Gunstars - Battle Arena: Unleash Your Inner Warrior and Dominate the Arena

2023-07-28

Indus Battle Royale: Conquer the Ancient Realm of Warfare

2023-07-28

The Lord of the Rings: Rise to War - A Legendary Journey through Middle-earth

2023-07-27

Merge Mansion: A Magical Blend of Puzzles and Mysteries

2023-07-27