Blaze Through the Galaxies in Honkai Star Rail
2023-05-31

Unduh
Table Of Contents
Honkai Star Rail Starter Guide
Progress Guide in Honkai Star Rail
How to Get Stellar Jades in Honkai Star Rail
How to play Honkai Star Rail on PC
Useful Links
"Honkai Star Rail" is the latest gacha JRPG game developed by miHoYo, the masterminds behind fan-favorite titles such as "Genshin Impact" and "Honkai Impact 3rd". With miHoYo's amazing reputation for creating immersive and engaging games, Honkai Star Rail is sure to be a hit among gacha gamers everywhere. In Honkai Star Rail, step into a new dimension within the Honkai Impact 3rd universe with an all-new gameplay experience! This thrilling adventure offers a fresh take on the familiar universe. Embark on an epic journey in Honkai Star Rail as you board the Astral Express, a mysterious train that traverses through various dimensions. Explore uncharted territories and encounter otherworldly creatures as you unravel the secrets of this enigmatic locomotive. Honkai Star Rail seamlessly blends action-packed role-playing features with immersive storytelling and exciting exploration. Get ready for an adrenaline-fueled adventure in Honkai Star Rail, as you engage in lightning-fast turn-based battles with an array of colorful characters, each boasting their own set of unique abilities and weapons. The gameplay is all about strategy and quick reflexes, as you navigate through a world filled with danger and excitement. In Honkai Star Rail, switch between characters based on different intense combat scenarios. Utilize enemy weaknesses and gain the upper hand in the battle. You can also play this game now on GameLoop!
Honkai Star Rail Starter Guide
Honkai Star Rail would be very similar to you if you have played Genshin Impact before. It has the same progression mechanics. Honkai Star Rail takes place in a futuristic setting, instead of Genshin Impact's fantasy universe. Honkai Star Rail is a JRPG turn-based game. You roam around the game map in a third-person mode and whenever you see an enemy, you attack the enemy with your basic attack and enter the turn-based scenario. This reminds us of old-school JRPG games like Final Fantasy VII.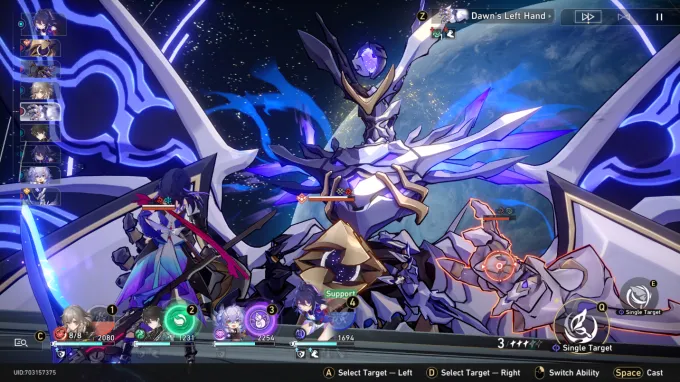 1. Enemy Weakness:
The first thing you will learn in Honkai Star Rail is that you should utilize enemy weaknesses. You can see the enemy's weaknesses on top of their health bar in the combat arena. Every enemy in Honkai Star Rail has a couple of different weaknesses. And you should always get into battles with the characters that are capable of inflicting the proper elements in order to manipulate the enemy's weakness.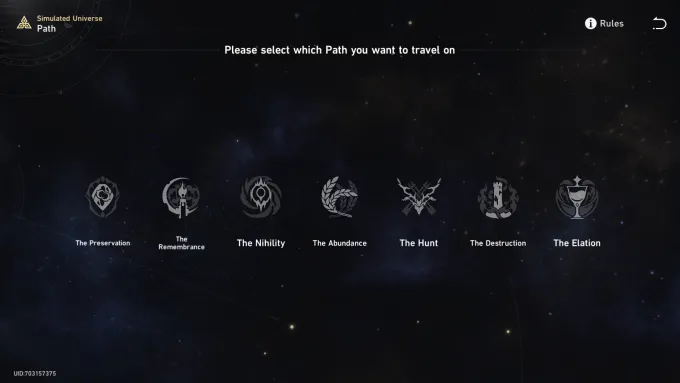 2. Elements and Paths:
The Honkai Star Rail lore features Paths that are associated with an Aeon, a divine being, and represent a particular ideology. A character's Path determines their combat role during battles.
These are the available classes in Honkai Star Rail:
The Hunt is a DPS class that specializes in dealing high amounts of damage to a single target.
The Destruction is a DPS class capable of handling various combat situations.(General DPS)
The Erudition is a DPS class that specializes in dealing damage to multiple targets at once.
The Harmony is a support class that buffs the team by enhancing their abilities.
The Nihility is a support class that specializes in placing debuffs on opponents.
The Preservation is a support and defensive class. This class taunts the enemies and lures them towards themselves, providing safety for their teammates while creating shield defense for themselves and the others.
The Abundance is a healer class that specializes in restoring the HP of allies.
We have various types of elements in Honkai Star Rail. Every character and enemy in the game can operate a specific element while being weak to one or more elements. We have seven unique Elements in Honkai Star Rail:
Physical, Fire, Ice, Lightning, Wind, Quantum, and Imaginary.
Every enemy has two health bars on top of their head. The white bar is their weakness bar and the red one is their actual HP bar. By hitting the enemies, and using their weaknesses, you would both reduce the weakness bar and health bar at the same time. When the enemy's weakness bar is depleted, they will be stunned/staggered and are open to taking extra damage.
3. Ranks, Equipment, and Stamina System: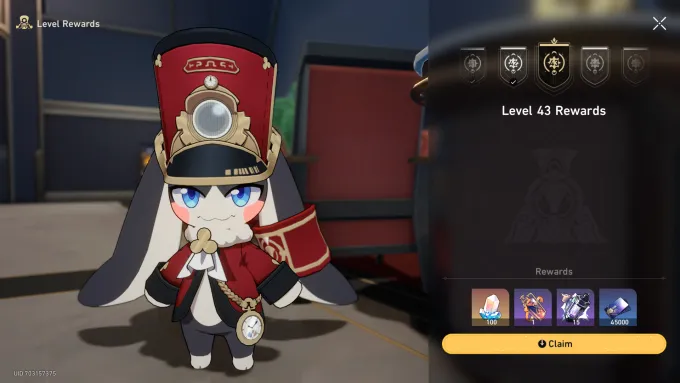 "Trailblazer Rank" is your main account level that goes up as you do different main story and side quests. You gain exp over time and after reaching every new level, you gain special rewards from "Pom Pom" located inside the Train (Parlor Car). This is the main driving factor in the game's progress, so always keep your rank as high as you can. Every ten Trailblazer Ranks, you level up your "Equilibrium Level" by one. "Equilibrium Level" increases the level of the enemies in your world and also increases the rewards gained from doing various types of quests.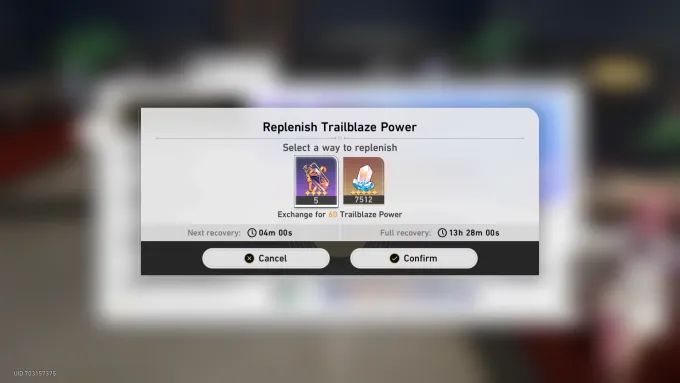 "Trailblazer Power" or the stamina is used to do different limited-time missions. Every 6 minutes you refresh 1 Stamina point. You can also use "Fuel", obtained by doing Honkai Star Rail missions, to refill 60 Stamina points instantly. You need an entire 18 hours in order to fully refill your stamina gauge. The stamina system in Honkai Star Rail refreshes over time. You can have up to 180 Stamina points. You can use your stamina to farm "Character EXP Books", "Credits" and "Character Equipment Relics".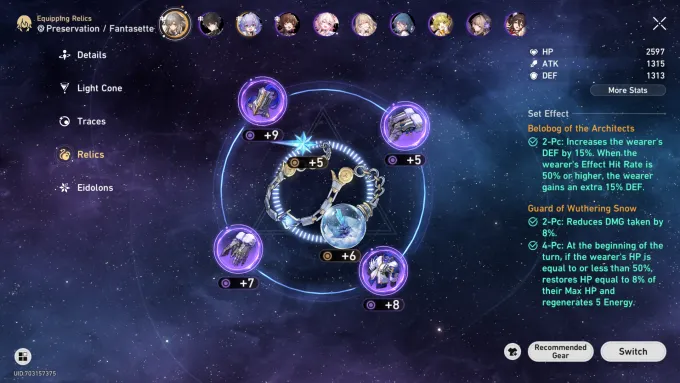 "Relics" are Character equipment in Honkai Star Rail that give your characters a boost to different stats like HP and Attack power. You can upgrade them using materials earned by doing "Calyx" battles.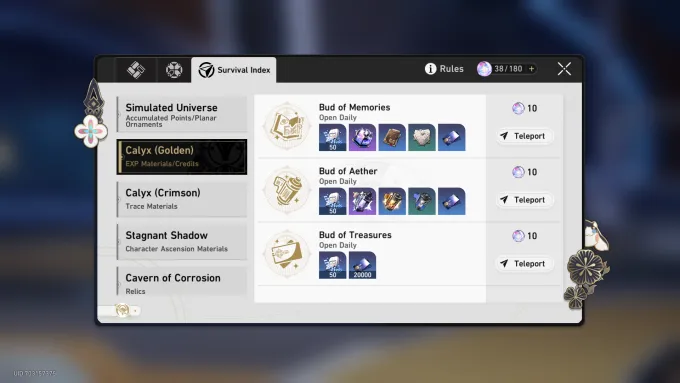 "Calyx" battles in Honkai Star Rail are repeatable mini-battles that you can take part in, using your stamina points, and earn various types of rewards to upgrade your character. You can do up to 6 runs of a Calyx at once, consuming 60 stamina in total, in order to yield more rewards. As your Equilibrium Rank gets higher you will get better rewards from Calyx battles.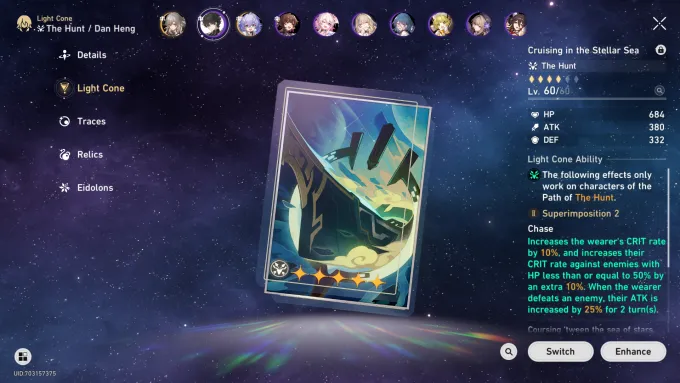 "Light Cones" are your Characters' main weapons in Honkai Star Rail that give your characters an overall stat boost. You can equip one for each character and they should be matching based on the characters' path. They can be upgraded using the material gained from the main story and the Calyx runs.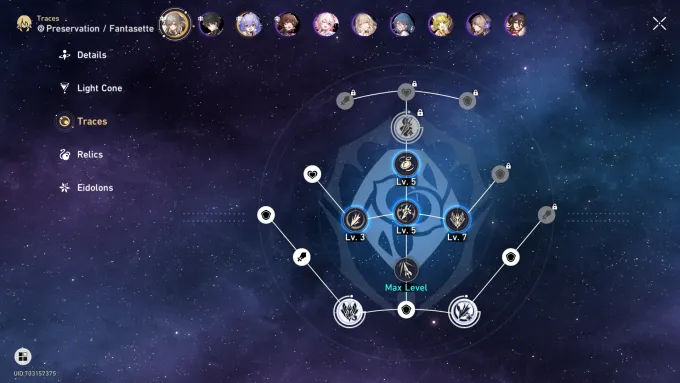 "Traces" are character skill upgrades in Honkai Star Rail. These upgrades can be done using the material and credits earned from doing Calyx runs and other quests. Make sure to prioritize upgrading the skills that benefit you the most.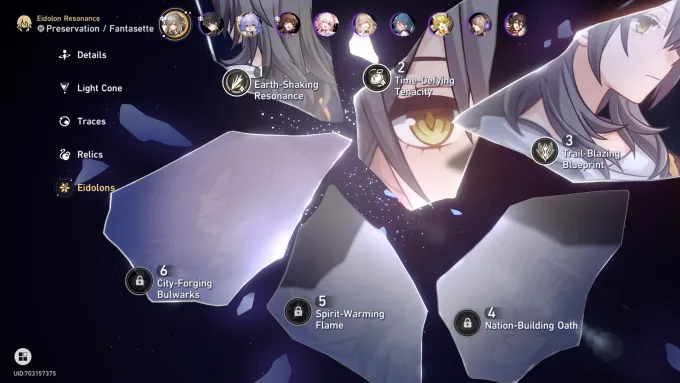 "Eidolons" are increased based on the number of instances you have from each character in Honkai Star Rail. Whenever you summon a duplicate character, you can unlock an Eidolon level for that character which rewards your character with special perks and stat boosts. Your Main Character also earns his/her Eidolons throughout the main story quests.
4. Interstellar Guide, Warp, and Simulated Universe: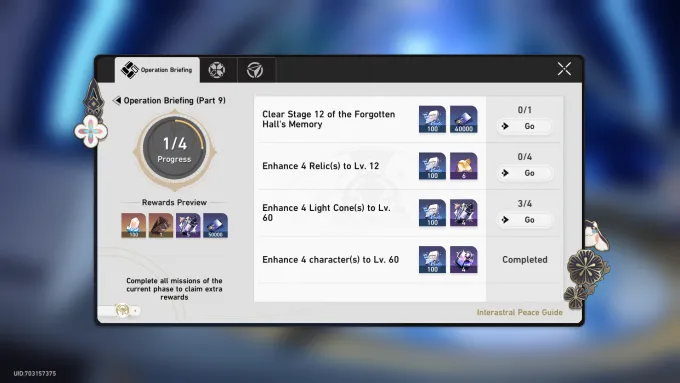 "Interstellar Guide" can be found on top of the screen in Honkai Star Rail. By clicking on it, you can access "Operation Briefing". In "Operation Briefing" you can earn rewards by doing milestone tasks for the game. The other tab is called "Daily Training" which are the daily tasks that you can do in order to earn Trailblazer EXP and other materials. And the last tab is "Survival Index" which is basically an overview of all the repeatable side content you have in Honkai Star Rail.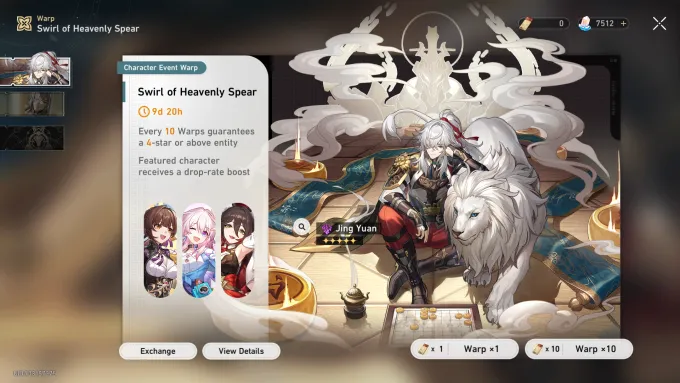 "Warp" is basically the summoning segment of Honkai Star Rail. You summon new characters using Stellar Jades. You earn stellar jades by doing story missions and various types of activities or by spending money in the store. Be sure to summon on the "Departure Warp" banner first. You can earn a guaranteed 5-star character doing so.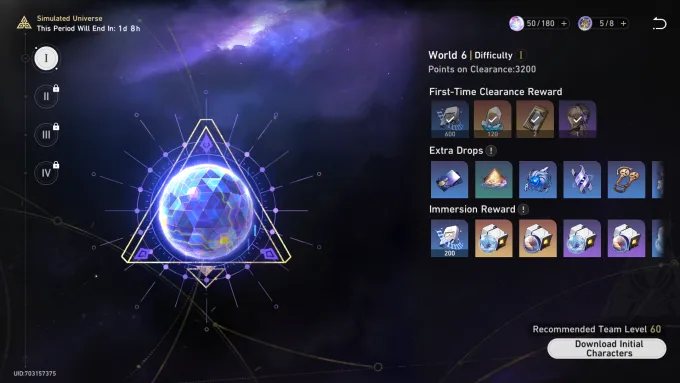 "Simulated Universe" is the Rouge-like game mode of Honkai Star Rail. You have to go through stages, eliminate the enemies, power yourself up, and defeat the boss of the area without dying. After defeating each enemy, you obtain a card that gives you various types of perks. By stacking some of these perks you can get special abilities that can help you through the battles. After completing a Simulated Universe run, you get special rewards that reset every week. So be sure to check back at Honkai Star Rail every week!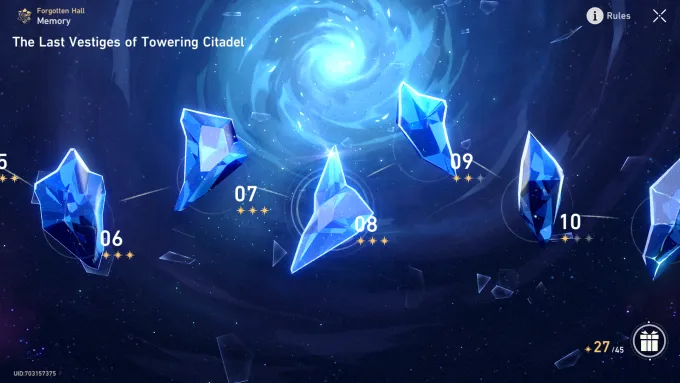 "Forgotten Hall" is another set of battles that rewards you with Stellar Jades and other materials. Be sure to prepare two separate teams, since you need two different teams for this game mode after the eleventh level.
Progress Guide in Honkai Star Rail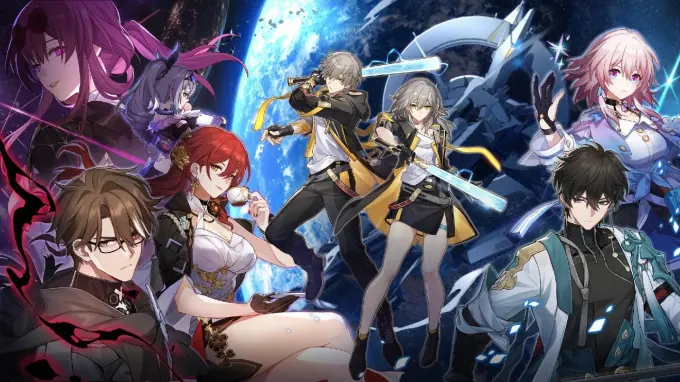 The best way to progress in Honkai Star Rail is to focus on main Story Quests as much as you can. They reward the most EXP and materials. Whenever you unlock a new Side Quest or a Companion Quest in Honkai Star Rail, be sure to check it out and do it as soon as possible in order to get the precious Trailblazer EXP. Focus on leveling up your main four characters as much as you can using EXP books. Whenever you hit a level cap, progress your Trailblazer Rank first. Every ten levels you increase your Equilibrium Rank by one in Honkai Star Rail. Every time you rank up your Equilibrium in Honkai Star Rail, you can ascend your characters using the materials you obtain from Calyx and other repeatable missions and increase your character level. Make sure to upgrade your characters as much as you can. After leveling up your characters in Honkai Star Rail, focus on leveling up your Light Cones (Main Weapon/Card) and level them up as much as you can. Ascend your Light Cones in Honkai Star Rail whenever you can. After leveling up your Light Cones, focus on leveling up your Traces. Level up the skills that would benefit you the most. Then focus on your relics. Make sure to equip the matching Traces in order to get the special Stat boost for your character. Some equipment is more compatible with specific characters. For example, make sure to equip a set of equipment that increases your DEF stats for your Tank and Shield units of the Preservation Path. Make sure to upgrade your equipment in Honkai Star Rail moderately. Do not waste all your upgrade materials on a single piece of equipment. Distribute them equally between different pieces.
How to Get Stellar Jades in Honkai Star Rail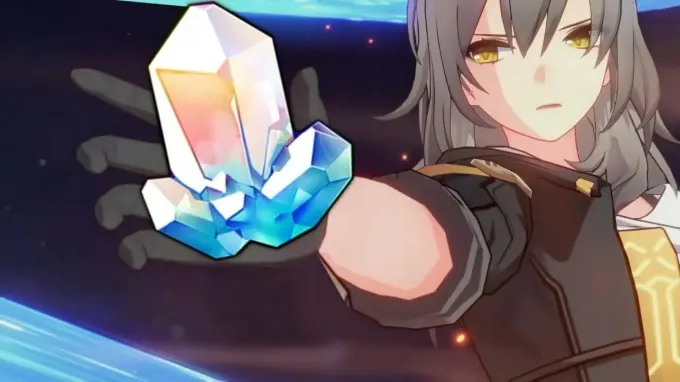 1. Trailblazer Level: Do your main story quests and other side content in order to upgrade your main Trailblazer Level. After each level, check "Pom Pom" in the "Parlor Car" and claim your Stellar Jades. You can also get other materials by doing so. You can also get "Starrail Passes" in order to summon characters.
2. Trailblazing Will: As you progress through your "Trailblazer Level", check up on the Travel Log and you can claim "Stellar Jades" and "Summoning Passes".
3. Simulated Universe: Progress through the simulated universe in order to get a set of Stellar Jade rewards and also the Eidolon required to upgrade the character "Herta".
4. Forgotten Hall: Progress through the forgotten hall and try to defeat the enemies with the least amount of turns possible in order to get the 3-star rewards including Stellar Jades.
5. Daily Training: Complete your daily quests for some Trailblazer EXP and Stellar Jades. You will also get some upgrade materials for your characters.
6. Operation Briefing: By completing specific milestones, you can also claim Stellar Jades and other special rewards.
7. Field Chests: Make sure to look for all the chests when you roam around in the new areas. Sometimes you need to solve a puzzle in order to access a chest. Sometimes these chests are guarded by strong monsters. Check back on them later on when you have enough strength to fight them and claim these chests to get some Stellar Jades.
8. Vendor Loyalty Rewards: There are vendors in each planet/region that sell you items using their planet's own currency. When you purchase from these vendors, you can claim bonus Stellar Jades and other materials from them. On "Herta Space Station" you can buy items from "Wen Shiqi" in the "Master Control Zone" in exchange for "Hertareum".
9. Warring Expeditions: As you progress through the game, you will find NPCs that request you to go through an expedition in return for some rewards. One is the "Fragmentum cleanup duty" on "Herta Space Station" and the other is in the "Frontlines of Belobog". You will find them in the main story and earn some Stellar Jades.
10. Miscellaneous Methods: There are some other ways to earn a few Stellar Jades. These include: Achievements, Character text messages, Simulated Universe perk unlocks, Character ascension rewards, Five-star character trials, Promo codes, and Limited-time events
How to play Honkai Star Rail on PC
Follow the instructions below to download and install Honkai Star Rail on your GameLoop emulator.
1. Install and download GameLoop: Download the emulator from the official GameLoop website (https://www.GameLoop.com/). Follow the instructions on-screen in order to install the program on your computer.
2. After you have finished the installation process, Run the GameLoop emulator on your personal computer.
3. Search for Honkai Star Rail in the GameLoop program. There is a search bar in the program that you can use to search for different games. Type in Honkai Star Rail into the search bar, and then press the search button.
4. Download and install Honkai Star Rail From the search results. The emulator will begin downloading and installing the game onto your computer.
5. Once the download process is complete, the game will run on your computer.
6. Go to Key Mapping settings at the top of the application, there you can actually customize the controls to your liking.
Useful Links
Honkai Star Rail on GameLoop:
https://www.gameloop.com/game/adventure/com.HoYoverse.hkrpgoversea
Honkai Star Rail on Google Play:
https://play.google.com/store/apps/details?id=com.HoYoverse.hkrpgoversea&hl=en&gl=US
Honkai Star Rail Discord:
Cat Mart: Building a Feline Empire, One Meow at a Time

2023-08-02

Gunstars - Battle Arena: Unleash Your Inner Warrior and Dominate the Arena

2023-07-28

Indus Battle Royale: Conquer the Ancient Realm of Warfare

2023-07-28

The Lord of the Rings: Rise to War - A Legendary Journey through Middle-earth

2023-07-27

Merge Mansion: A Magical Blend of Puzzles and Mysteries

2023-07-27