Dive into the Zany World of SpongeBob Adventures: In A Jam
2023-07-26
SpongeBob Adventures: In A Jam takes players on a wild journey into the wacky and unpredictable world of SpongeBob SquarePants. This unique video game experience, created by a passionate team of developers, promises an original and immersive adventure that captures the essence of the beloved animated series.
Players find themselves alongside SpongeBob, his loyal best friend Patrick Star, and the entire cast of memorable characters from Bikini Bottom. The story takes an unexpected twist when the secret formula for the famous Krusty Krab mysteriously disappears, sending the town into a state of frenzy.
The game's visually stunning graphics transport players into the colorful and vibrant world of Bikini Bottom. Each location, from the bustling streets to the underwater wonders, is brought to life with meticulous attention to detail. The animations are fluid and captivating, immersing players in a visually striking environment that feels like a true extension of the beloved TV series.
As players dive deeper into the adventure, they will have the opportunity to step into the shoes of their favorite characters from the show. Whether it's the ever-optimistic Mastering on their abilities is key to navigating the challenges that lie ahead.
Humor is an integral part of the SpongeBob SquarePants experience,The dialogue is filled with hilarious banter and humorous situations, ensuring that players will find themselves laughing out loud throughout the adventure. The game captures the essence of the beloved TV series, bringing its signature humor to life in an interactive and engaging way.
Beyond the main storyline, SpongeBob Adventures: In A Jam offers a wealth of additional content to keep players entertained. Engaging side quests, challenging mini-games, and hidden collectibles provide endless opportunities for exploration and discovery.
Story Line: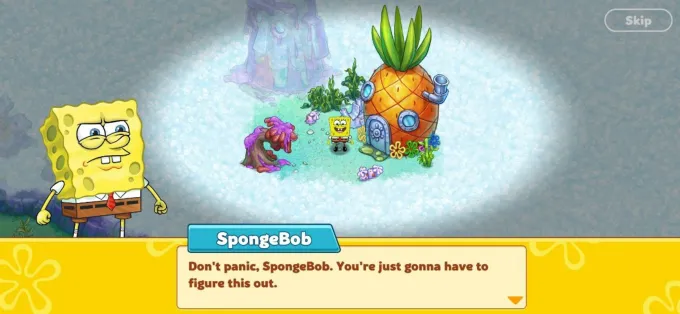 The story of SpongeBob Adventures: In A Jam revolves around the disappearance of the Krusty Krab secret formula, a prized recipe that makes the Krusty Krab's patties so delicious. The game begins when Mr. Krabs, the owner of the Krusty Krab, discovers that the formula has gone missing, sending him into a state of panic. As a result, SpongeBob SquarePants and his best friend Patrick Star embark on an epic quest to unravel the mystery and retrieve the precious formula.
Throughout their adventure, SpongeBob and Patrick explore various locations in the lively town of Bikini Bottom. From the iconic Jellyfish Fields to the quirky interiors of the Chum Bucket and Mrs. Puff's Boating School, they encounter a multitude of challenges and meet colorful characters along the way.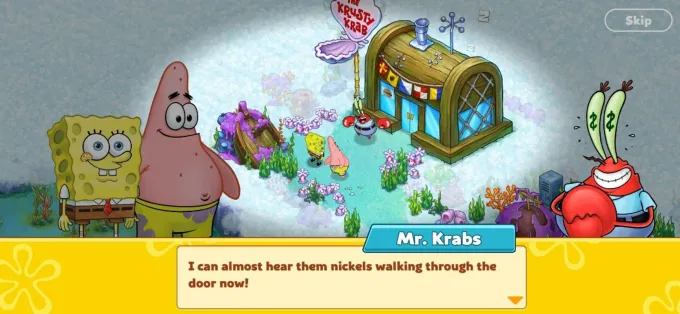 As they progress, SpongeBob and Patrick solve puzzles, complete missions, and overcome obstacles to gather clues and get closer to recovering the secret formula. The journey is filled with humorous dialogue, hilarious situations, and unexpected twists that capture the lighthearted spirit of the SpongeBob SquarePants series.
Alongside their quest, SpongeBob and Patrick also face amusing adversaries who try to hinder their progress. From encounters with mischievous Plankton to humorous run-ins with Squidward Tentacles, the game showcases the familiar and beloved characters from the show.
The light-hearted and comedic adventure that allows players to join SpongeBob and Patrick as they embark on a zany quest to save the Krusty Krab secret formula. The story unfolds with humor, surprises, and the enduring friendship between SpongeBob and Patrick at its core.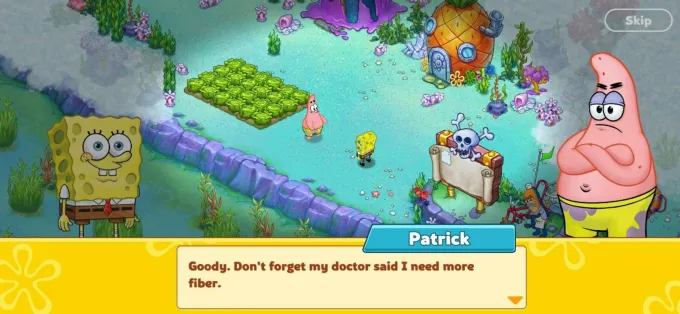 Characters: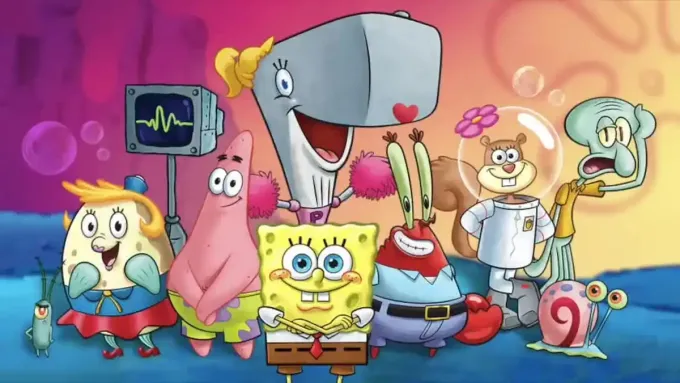 Here are some characters having many other familiar faces from the SpongeBob SquarePants universe, who play key specific roles.Each character brings their unique personality, humor, and abilities to the game.
SpongeBob SquarePants: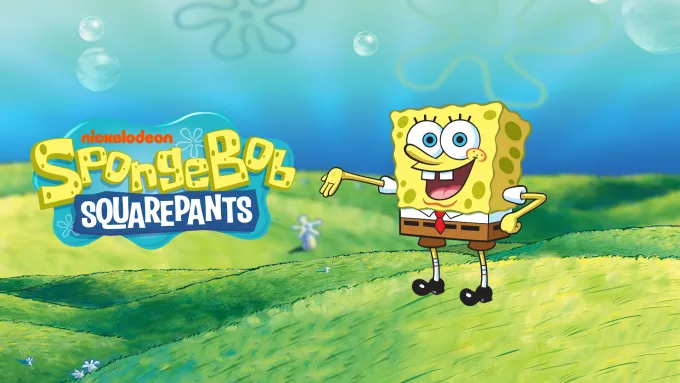 The cheerful and optimistic sea sponge who works as a fry cook at the Krusty Krab.He is always eager to help others and has a knack for finding joy in even the simplest tasks. He is known for his iconic laugh, love of jellyfishing, and exceptional bubble-blowing skills.
Patrick Star: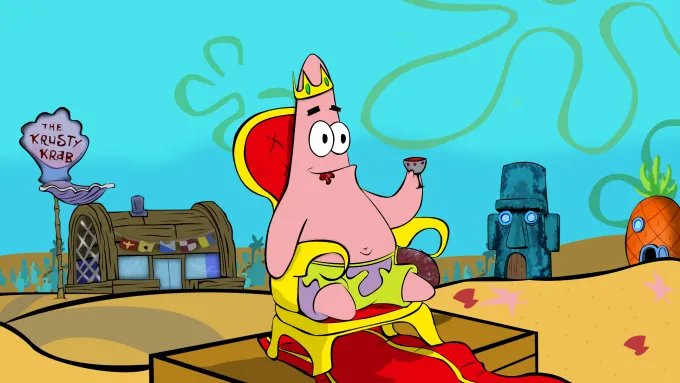 Best friend of SpongeBob SquarePants but somewhat dim-witted starfish. Patrick is always up for an adventure and often provides comic relief with his funny and often silly antics. Despite his lack of intelligence, he remains a loyal friend and is surprisingly strong when the situation calls for it.
Squidward Tentacles: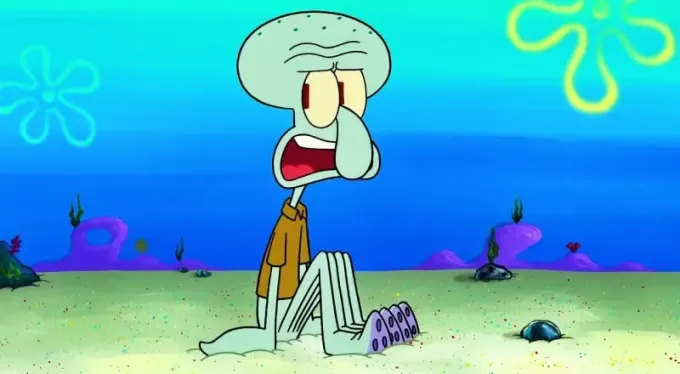 SpongeBob's neighbor who works as a cashier at the Krusty Krab. Squidward dreams of a more sophisticated and peaceful life.
Despite his constant frustration with his neighbors, Squidward possesses a dry wit and a sarcastic sense of humor that adds to his charm.However, beneath his grumpy exterior, Squidward occasionally reveals a softer side. He secretly yearns for recognition and success in his artistic endeavors but often faces setbacks and disappointments,there have been moments when Squidward has shown acts of kindness and even found himself reluctantly enjoying their company.
Squidward's interactions with SpongeBob and Patrick often lead to humorous situations and amusing dialogue, making him a memorable character in the series,players can expect entertaining encounters with Squidward as they navigate the game's storyline and explore the wacky world of Bikini Bottom.
Mr. Krabs: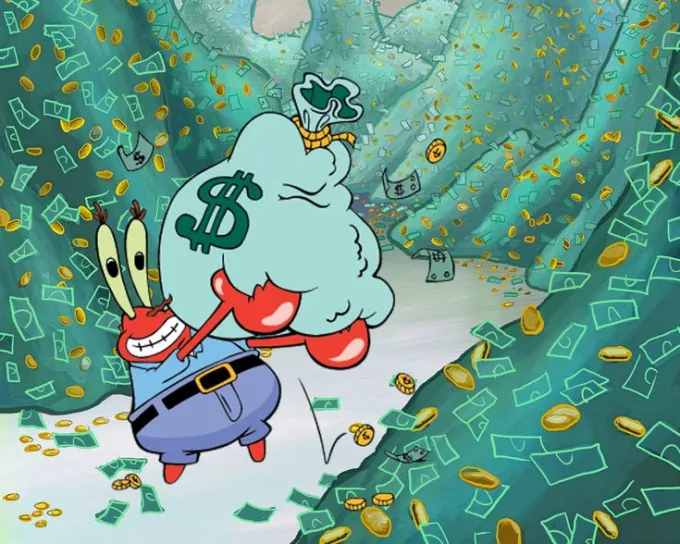 The money-obsessed owner of the Krusty Krab, the fast-food restaurant where SpongeBob works. Mr. Krabs is constantly seeking ways to maximize profits and protect the secret Krabby Patty formula. He is known for his distinctive voice, love of money, and occasional bouts of generosity.Mr. Krabs is a key character in the SquarePants series and plays an important role.He is the money-loving owner of the Krusty Krab,Mr. Krabs is known for his insatiable desire for wealth and his shrewd business sense.
As the owner of the Krusty Krab, Mr. Krabs is constantly on the lookout for ways to maximize profits and protect the secret Krabby Patty formula, which is the mainstay of his business. He is often seen as a stern and tough employer, demanding hard work and efficiency from his employees.
Despite his focus on money, Mr. Krabs occasionally reveals a softer side, especially when it comes to his daughter, Pearl. He cares deeply for her and tries to provide her with the best, although he is often overly frugal in other aspects of his life.
Mr. Krabs' distinctive voice and memorable catchphrases, such as "I love money!" and "Money, money, money!" have made him a beloved and iconic character in the SquarePants series.
Players can expect humorous interactions with Mr. Krabs as they navigate the storyline and face challenges related to the missing secret formula.
His obsession with money and his unique personality traits add a comedic element to the game, making Mr. Krabs a memorable character who contributes to the lighthearted and entertaining atmosphere of the SpongeBob SquarePants universe.
Plankton: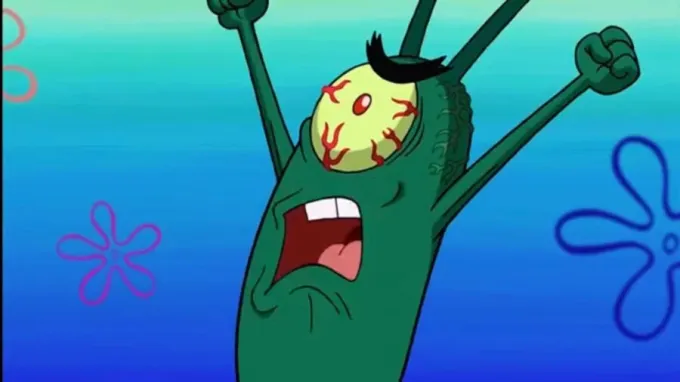 He is the microscopic owner of the Chum Bucket, a rival fast-food restaurant located across the street from the Krusty Krab. Plankton is constantly scheming to steal the secret Krabby Patty formula in an attempt to outdo his competitor, Mr. Krabs.Despite his small size, he is determined and often comes up with elaborate plans, usually foiled by SpongeBob and his friends.In SquarePants series,he plays an important role.Despite his small size, Plankton is ambitious and cunning, often coming up with elaborate plans and inventions to achieve his goals. He is driven by his envy of Mr. Krabs' success and is determined to prove himself as a formidable entrepreneur.
Plankton's main companion and accomplice is his computer wife, Karen. Karen is an artificial intelligence system that assists Plankton in his schemes, providing him with advice and assistance.
Despite his nefarious intentions, Plankton often finds himself foiled by SpongeBob and his friends, unintentionally revealing the underlying themes of friendship and the importance of doing the right thing present in the series.
Players can expect to encounter Plankton as a recurring antagonist. His interactions with the main characters, particularly SpongeBob and Patrick, lead to humorous and entertaining situations. With his clever wordplay and determined nature, Plankton adds an element of comedic rivalry to the game, ensuring an enjoyable experience for players as they navigate the challenges and obstacles in their quest to recover the missing secret formula.
Sandy Cheeks: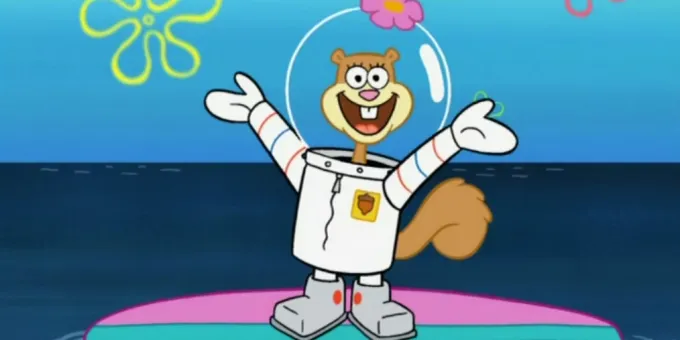 She is a squirrel from Texas who lives in an underwater tree dome in Bikini Bottom. Sandy is known for her scientific knowledge, athletic abilities, and her karate skills.Sandy is a scientist and athlete, known for her karate skills and love of adventure. She often helps SpongeBob and his friends with her scientific knowledge and quick thinking.
Gary is often seen as a quiet and loyal companion to SpongeBob, but he has been known to go on unexpected adventures of his own.
Sandy Cheeks is a notable character in the SpongeBob SquarePants series and plays a significant role in the series.Sandy is portrayed as a strong, independent, and resourceful character. She often acts as a voice of reason and offers logical solutions to the problems faced by SpongeBob and his friends. Her scientific expertise and inventions prove valuable in their quests and adventures.
Aside from her intellect, Sandy is also an accomplished athlete, participating in various sports and physical activities. Her karate skills, in particular, are a prominent aspect of her character. Sandy is often seen engaging in friendly sparring matches and teaching karate to her friends.
Despite being a land-dwelling creature, Sandy adapted to life underwater and maintains a positive and adventurous attitude. She values her friendship with SpongeBob and the others, and her presence adds a unique dynamic to their group.
Players can expect to interact with Sandy as they progress through the game. Her scientific knowledge and athletic abilities.
Sandy's witty remarks, determined nature, and karate prowess make her a memorable and enjoyable character to engage with in the underwater world of Bikini Bottom.
Pre Registration: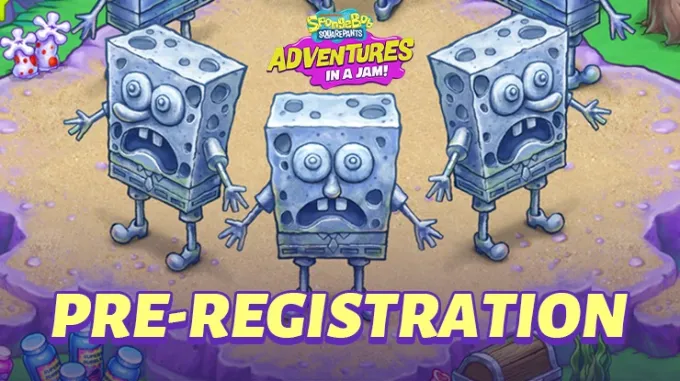 If you are a fan of Spongebob and want to play the game based on it and want to explore their characters abilities.So you must have to play this game.
1. Open Play Store(Android) or App Store(IOS)
2. Search " SpongeBob Adventures in a Jam" or click on it.
3. Now click on "Pre Register".It will register yourself and will give you notification when it will launch.
How to Play The Division Resurgence on PC:
Are you a fan of SquarePants Series and you want to play SpongeBob on PC.So don't worry about it you can play on PC easily by Gameloop.
GameLoop is a global leading free Android emulator to play mobile games on PC and has an unstoppable gaming experience in the gaming world.
Here are the few steps by which you can play mobile games on PC:
1. Download Gameloop from the official site
2. After installing Gameloop properly, Search SpongeBob Squarepants:Adventure in Jam on Search Bar.
3. After game installation you can enjoy your game and make a great customization of characters and be a champion.
Cat Mart: Building a Feline Empire, One Meow at a Time

2023-08-02

Gunstars - Battle Arena: Unleash Your Inner Warrior and Dominate the Arena

2023-07-28

Indus Battle Royale: Conquer the Ancient Realm of Warfare

2023-07-28

The Lord of the Rings: Rise to War - A Legendary Journey through Middle-earth

2023-07-27

Merge Mansion: A Magical Blend of Puzzles and Mysteries

2023-07-27