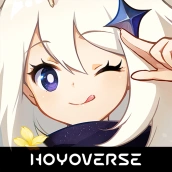 Genshin Impact
PC
4.2
|

Version:

3.2.0_10872902_11078128
COGNOSPHERE PTE. LTD.
Genshin Impact'i GameLoop Emulator ile PC'ye indirin
Genshin Impact | New Generation Action RPG
Genshin Impact is miHoYo's latest action adventure RPG title that has taken the whole mobile gaming world by storm. It is a free-to-play open world title set in the vast fantasy world of Tevyat, where you and your sibling have been separated by an evil god.

Left Stranded on an unknown island, your journey to seek answers from the seven elemental gods begins as you traverse through the beautifully crafted land of Tevyat to harness the powers of each element. Start alone or tag along with friends in this epic journey to reunite with your siblings!
Play Genshin Impact PC with GameLoop
Genshin Impact is considered to be one of the best action-adventure RPG titles ever released for mobile, with visuals that are no less than any console game. Naturally, the game requires a rather decent mobile to experience the breathtaking landmarks and gorgeous character designs that uplifts the whole game.
GameLoop lets you experience Genshin Impact PC to its full potential on a wide screen with stunningly beautiful visuals and fluid gameplay. Turn this epic adventure into an forgettable journey without having to worry about any technological restrictions.
Harness the Power of GODS on PC!
Fight through the hidden dangers of Tevyat and harness the power of elemental gods with ease using GameLoop's smart control and easy-to-customize key mapping. Winning battles against the dark forces has never been so easy before.
Unleash the Full Potential of Gaming
Pull off crazy parkour stunts, climb massive mountains, glide over gorgeous lands and swim through rushing rivers without any hiccups using GameLoop's high performance AOW engine support.

Journey with Friends
Gather up your friends and ride along with them on this epic adventure filled with surprising challenges and insane monsters. Fight together to conquer even the toughest of boss fights!
Daha fazla göster
Ön izleme
Bilgi
geliştirici

COGNOSPHERE PTE. LTD.

En Son Sürüm

3.2.0_10872902_11078128

Son güncelleme

2022-11-10

Kategori

Role-playing
Daha fazla göster
PC'de GameLoop ile Genshin Impact nasıl oynanır
1. Resmi web sitesinden GameLoop'u indirin, ardından GameLoop'u kurmak için exe dosyasını çalıştırın.
2. GameLoop'u açın ve "Genshin Impact"i arayın, arama sonuçlarında Genshin Impact'i bulun ve "Yükle"ye tıklayın.
3. GameLoop'ta Genshin Impact oynamanın keyfini çıkarın.
Minimum requirements
OS
Windows 8.1 64-bit or Windows 10 64-bit
Storage
1GB available space
Recommended requirements
OS
Windows 8.1 64-bit or Windows 10 64-bit
Storage
1GB available space
Shadow Fight 3 - RPG fighting
İndirmek
Wolvesville - Werewolf Online
İndirmek
N0va Desktop - Live Wallpapers
İndirmek