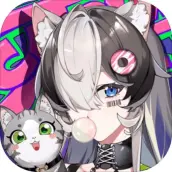 Cat Planet'i GameLoop Emulator ile PC'ye indirin
PC'de Cat Planet
番糖游戏 geliştiricisinden gelen Cat Planet, geçmişte Android systerm üzerinde çalışıyor.
Artık Cat Planet'i PC'de GameLoop ile sorunsuz bir şekilde oynayabilirsiniz.
GameLoop kitaplığından veya arama sonuçlarından indirin. Artık yanlış zamanda pile bakmak veya sinir bozucu aramalar yapmak yok.
Cat Planet bilgisayarın keyfini büyük ekranda ücretsiz olarak çıkarın!
Cat Planet Tanıtım
"Cat Planet" is a cat anthropomorphic urban trendy cool strategy RPG independently developed by Fantang Games. In this world, "emotion" becomes a visual substance. The mysterious cat family transforms "emotions" into new energies, substances, and even "emotional weapons" that can be used in combat. Players will conduct investigations as investigators in the game to explore those hidden truths...
In the future city, the emotions are rampant, and the dark tide is surging and foggy
In the near-future technology city, 3D next-generation cartoon rendering, the light cyber storm is coming.
Mysterious cat family, armed attack, explore the secret behind the mutation
The cat family hidden in the city, the form switches to resist the runaway, and the 3D cool big move is performed.
Flexible decks, unique battles, strategizing and working together
Free combination of skill cards, combined vertical and horizontal strategic operations, breaking the single possibility of gameplay.
Chatting with cats, sucking cats online, soothing anxious and violent emotions
Raising cats in the cloud, spending leisure time with cats and cats, and feeling the emotional energy of companionship and healing.
Daha fazla göster
Ön izleme
Bilgi
geliştirici

番糖游戏

Kategori

Role-playing
Daha fazla göster
PC'de GameLoop ile Cat Planet nasıl oynanır
1. Resmi web sitesinden GameLoop'u indirin, ardından GameLoop'u kurmak için exe dosyasını çalıştırın.
2. GameLoop'u açın ve "Cat Planet"i arayın, arama sonuçlarında Cat Planet'i bulun ve "Yükle"ye tıklayın.
3. GameLoop'ta Cat Planet oynamanın keyfini çıkarın.
Minimum requirements
OS
Windows 8.1 64-bit or Windows 10 64-bit
Storage
1GB available space
Recommended requirements
OS
Windows 8.1 64-bit or Windows 10 64-bit
Storage
1GB available space
Offroad Car Games Racing 4x4
İndirmek
Wolvesville - Werewolf Online
İndirmek
Wedding Stylist: Bridal Makeup
İndirmek
Avakin Life - 3D Virtual World
İndirmek