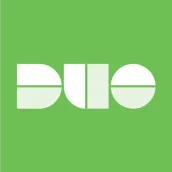 Duo Mobile
PC
Duo Security LLC
Duo Mobile'i GameLoop Emulator ile PC'ye indirin
PC'de Duo Mobile
Duo Security LLC geliştiricisinden gelen Duo Mobile, geçmişte Android systerm üzerinde çalışıyor.
Artık Duo Mobile'i PC'de GameLoop ile sorunsuz bir şekilde oynayabilirsiniz.
GameLoop kitaplığından veya arama sonuçlarından indirin. Artık yanlış zamanda pile bakmak veya sinir bozucu aramalar yapmak yok.
Duo Mobile bilgisayarın keyfini büyük ekranda ücretsiz olarak çıkarın!
Duo Mobile Tanıtım
Duo Mobile works with Duo Security's two-factor authentication service to make logins more secure. The application generates passcodes for login and can receive push notifications for easy, one-tap authentication.
Additionally, you can use Duo Mobile to manage two-factor authentication for other application and web services that make use of passcodes.
Note: For Duo accounts, Duo Mobile needs to be activated and linked to your account before it will work. You will receive an activation link as part of Duo's enrollment process. You may add third-party accounts at any time.
Additionally, we will request access to use your camera for the sole purpose of scanning QR codes when activating accounts. Accounts can be activated by other methods if you choose not to do so.
License agreements for third-party Open Source libraries used in Duo Mobile can be found at https://www.duosecurity.com/legal/open-source-licenses.
For the latest Terms and Conditions see https://duo.com/legal/terms
Daha fazla göster
Ön izleme
Bilgi
geliştirici

Duo Security LLC

En Son Sürüm

4.34.0

Son güncelleme

2023-02-13

Kategori

İş Dünyası

üzerinde mevcut
Daha fazla göster
PC'de GameLoop ile Duo Mobile nasıl oynanır
1. Resmi web sitesinden GameLoop'u indirin, ardından GameLoop'u kurmak için exe dosyasını çalıştırın.
2. GameLoop'u açın ve "Duo Mobile"i arayın, arama sonuçlarında Duo Mobile'i bulun ve "Yükle"ye tıklayın.
3. GameLoop'ta Duo Mobile oynamanın keyfini çıkarın.
Minimum requirements
OS
Windows 8.1 64-bit or Windows 10 64-bit
Storage
1GB available space
Recommended requirements
OS
Windows 8.1 64-bit or Windows 10 64-bit
Storage
1GB available space
Fiverr - Freelance Service
İndirmek
Hide Pictures & Videos - FotoX
İndirmek
Wabi - Virtual Phone Number
İndirmek