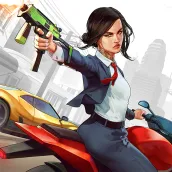 Vice Online - Open World Games
PC
Jarvi Games Ltd
Vice Online - Open World Games'i GameLoop Emulator ile PC'ye indirin
PC'de Vice Online - Open World Games
Jarvi Games Ltd geliştiricisinden gelen Vice Online - Open World Games, geçmişte Android systerm üzerinde çalışıyor.
Artık Vice Online - Open World Games'i PC'de GameLoop ile sorunsuz bir şekilde oynayabilirsiniz.
GameLoop kitaplığından veya arama sonuçlarından indirin. Artık yanlış zamanda pile bakmak veya sinir bozucu aramalar yapmak yok.
Vice Online - Open World Games bilgisayarın keyfini büyük ekranda ücretsiz olarak çıkarın!
Vice Online - Open World Games Tanıtım
Vice Online is one of innovative roleplaying games and online open world games. If you like to play stealing car games and open world games online, you will be captivated by this game. By immersing you in the world of a big city like Los Angeles or Miami crime simulator Vice Online encourages you to dare more! So, grab the auto you like and take a cool ride! Invite your friends in one of the newest online multiplayer games, cooperate, and achieve more!
UNIQUE ROLEPLAYING OPEN WORLD GAME
Vice Online is not just a copy of GTA Vice City massively multiplayer games, San Andreas roleplaying games, Miami crime simulator, and many other online open world games, or stealing car games. This is a NEW UNIQUE GAME about the open world and real life. This is a unique virtual world! So, try all the innovative benefits yourself!
MASSIVELY MULTIPLAYER GAME
Earn money and arrange sit-downs with your friends and other players around the world. Find out which of you is a real gangster, businessman, racer, taxi driver, collector, bandit, or policeman! With Vice Online, you can take all the advantages you would enjoy while playing open world games online!
ONLINE GAME WITH FRIENDS IN THE OPEN WORLD
Vice Online action game offers online multiplayer games and is all about living and growing in an open world full of gunplay, racing, drifting, and PVP! The open world of Vice Online, similar to real US cities, such as Miami, Los Angeles, or New York, will not have you indifferent.
Explore numerous game locations: metropolis, desert, beaches, airports, ports, drift tracks, ghettos and high-end areas, construction sites, and much more. Here, you will find jumps and stunt zones, high-speed radars, gunplays, chases and the police escapes. Drift and PVP modes are available!
THRILLING ROLEPLAYING EXPERIENCE
Get the most thrilling gangster experience, just like you are in gangster Miami or cruel Los Angeles! Create your own gang. If you want, you can even try to repeat the most violent Los Angeles crimes online! Or lead Miami crime city life! Or grab the auto whenever you find something that suits you. Want melees or fisticuffs? You can fight these here as well!
Or just open your business with your friends and like-minded people.
Do all you think proper to conquer the Vice Online world!
PLAY IN YOUR OWN STYLE
This is a massively multiplayer game with many other players. So, practice the emotions and dancing skills to keep a high profile and stand out from the crowd of other players! Use taunts, animations, hip-hop dancing, and even moonwalk. Play your game role with your own personality!
So, play your best Vice Online open world games right now! Exploit the best of stealing car games and online multiplayer games! Follow your favorite Los Angeles crimes online. Or be a nice citizen (which can be hard in, for example, such a city as a gangster Miami crime city) and try to live peacefully! And, of course, invite your friends to play with you!
Daha fazla göster
Ön izleme
Bilgi
geliştirici

Jarvi Games Ltd

En Son Sürüm

0.5.2

Son güncelleme

2022-08-07

Kategori

Aksiyon
Daha fazla göster
PC'de GameLoop ile Vice Online - Open World Games nasıl oynanır
1. Resmi web sitesinden GameLoop'u indirin, ardından GameLoop'u kurmak için exe dosyasını çalıştırın.
2. GameLoop'u açın ve "Vice Online - Open World Games"i arayın, arama sonuçlarında Vice Online - Open World Games'i bulun ve "Yükle"ye tıklayın.
3. GameLoop'ta Vice Online - Open World Games oynamanın keyfini çıkarın.
Minimum requirements
OS
Windows 8.1 64-bit or Windows 10 64-bit
Storage
1GB available space
Recommended requirements
OS
Windows 8.1 64-bit or Windows 10 64-bit
Storage
1GB available space
Worms Zone .io - Hungry Snake
İndirmek