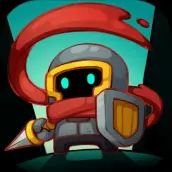 Soul Knight New Game
PC
ChillyRoom
Soul Knight New Game'i GameLoop Emulator ile PC'ye indirin
PC'de Soul Knight New Game
ChillyRoom geliştiricisinden gelen Soul Knight New Game, geçmişte Android systerm üzerinde çalışıyor.
Artık Soul Knight New Game'i PC'de GameLoop ile sorunsuz bir şekilde oynayabilirsiniz.
GameLoop kitaplığından veya arama sonuçlarından indirin. Artık yanlış zamanda pile bakmak veya sinir bozucu aramalar yapmak yok.
Soul Knight New Game bilgisayarın keyfini büyük ekranda ücretsiz olarak çıkarın!
Soul Knight New Game Tanıtım
Soul Knight's new work is a pixel-style RPG game. The story is based on the world before Soul Knight as the stage background. At that time, mechanical technology was not popular, and the world was still in the era of sword and magic. Players will work with the little knights to form their own knights, and start a unique and exclusive adventure with saving the world as the starting point. In this adventure, you can also meet new partners, fight the enemy together, and save the world of vitality!
Unlike Soul Knight's top-view shooting Roguelike, this game is a role-playing game with monsters, upgrades, and equipment as the core gameplay. Choose different professions, defeat the mobs, upgrade your character level and get massive equipment! With different skills and choosing the equipment combination of your choice, each player can have his own powerful genre.
Features:
-Vitality Knight has a plot! Isn't this still a grandfather?
-Exquisite and delicate pixel art, unique in the world of vitality
-Multi-professional mix and match to grow, and match a unique fighting genre!
-Powerful equipment brush! brush! brush! Perfect match sparks sparks
-Fantasy adventure on the magic continent, don't forget the challenge missions along the way
What is the secret of the fantasy magic continent? Come and discover the secret!
Daha fazla göster
Ön izleme
Bilgi
geliştirici

ChillyRoom

Kategori

Aksiyon
Daha fazla göster
PC'de GameLoop ile Soul Knight New Game nasıl oynanır
1. Resmi web sitesinden GameLoop'u indirin, ardından GameLoop'u kurmak için exe dosyasını çalıştırın.
2. GameLoop'u açın ve "Soul Knight New Game"i arayın, arama sonuçlarında Soul Knight New Game'i bulun ve "Yükle"ye tıklayın.
3. GameLoop'ta Soul Knight New Game oynamanın keyfini çıkarın.
Minimum requirements
OS
Windows 8.1 64-bit or Windows 10 64-bit
Storage
1GB available space
Recommended requirements
OS
Windows 8.1 64-bit or Windows 10 64-bit
Storage
1GB available space