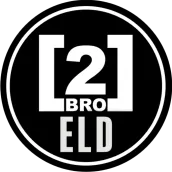 2BRO ELD
para PC
2BRO SECURITY & IT SOLUTIONS
Descarga 2BRO ELD en PC con GameLoop Emulator
2BRO ELD, proveniente del desarrollador 2BRO SECURITY & IT SOLUTIONS, se ejecuta en el sistema Android en el pasado.
Ahora, puedes jugar 2BRO ELD en PC con GameLoop sin problemas.
Descárgalo en la biblioteca de GameLoop o en los resultados de búsqueda. No más mirar la batería o llamadas frustrantes en el momento equivocado nunca más.
Simplemente disfrute de 2BRO ELD PC en la pantalla grande de forma gratuita!
2BRO ELD Introducción
Compliant app to record driver duty status and meet the following regulations:
-60h/7days or 70h/8days Rules
-34 week restart with latest suspension of two periods 1-5am
-11h daily
-14h onduty (daily)
-Sleeper Berth
-Passenger Seat provision
-Personal Conveyance
-30 minutes break
-Location recording for engine on and off, and every 60 minutes if moving
-Mobile device permits duty status changes only when the vehicle is at rest
-Warns driver,visually and/or audibly of any malfunction
-When the truck is stationary for 5 minutes or more, it will default to on-duty not driving and the driver must enter the proper status
-The device (ELD) performs self-test, as well as a self-test at any point upon request of an authorized safety assurance official.
Allows for driver and carrier record edits as well as unauthenticated operation.
Mostrar más
Avance
Información
Desarrollador

2BRO SECURITY & IT SOLUTIONS

La última versión

1.210

Última actualización

2022-08-20

Categoría

productivity

Disponible en
Mostrar más
Cómo jugar 2BRO ELD con GameLoop en PC
1. Descargue GameLoop desde el sitio web oficial, luego ejecute el archivo exe para instalar GameLoop.
2. Abra GameLoop y busque "2BRO ELD", busque 2BRO ELD en los resultados de búsqueda y haga clic en "Instalar".
3. Disfruta jugando 2BRO ELD en GameLoop.
Minimum requirements
OS
Windows 8.1 64-bit or Windows 10 64-bit
Storage
1GB available space
Recommended requirements
OS
Windows 8.1 64-bit or Windows 10 64-bit
Storage
1GB available space