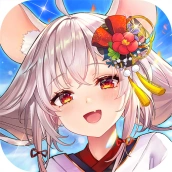 Attack on Time:Kaisen of girls
para PC
ONEMT
Descarga Attack on Time:Kaisen of girls en PC con GameLoop Emulator
Attack on Time:Kaisen of girls en PC
Attack on Time:Kaisen of girls, proveniente del desarrollador ONEMT, se ejecuta en el sistema Android en el pasado.
Ahora, puedes jugar Attack on Time:Kaisen of girls en PC con GameLoop sin problemas.
Descárgalo en la biblioteca de GameLoop o en los resultados de búsqueda. No más mirar la batería o llamadas frustrantes en el momento equivocado nunca más.
Simplemente disfrute de Attack on Time:Kaisen of girls PC en la pantalla grande de forma gratuita!
Attack on Time:Kaisen of girls Introducción
"Attack on Time" is an idle RPG full of beautiful girls, developed by an original Japanese company. The game's specialty is cute young girls dressed in different outfits, from office ladies, students in uniform, big sisters undressing, cool beach girls... Your imagination will definitely be thoroughly penetrated!
【True Love Makes You Stronger!】
Not only will the beautiful girls follow you into battle, but you can also touch them, give them gifts, date them, and even interact with them on a "deep" and meaningful level. Experience the ambiguous sweetness that is more than friends but not quite lovers. Immerse in the passion of each other's undying vows! (But do be careful to avoid them fighting over you~)
【Starring Japan's A-List CV Lineup!】
Featuring Inori Minase, Yuki Aoi, Akari Kitou, and many other top Japanese voice actors. Using their voices to bring an extravaganza of girls to life! Creating an auditory feast full of pure and sexy Japanese-style beautiful girls!
【Idle Game - Play and Chill!】
In addition to all that dating, you can also experience easy and interesting battles, making you the strongest "time management master"! 30 minutes online every day gets you rich resources and rare items. Smash through those stages like a boss!
【Sweet, or Spicy? Have It All!】
Pure first love, domineering big sister, cute beast girl, curvy and passionate... Over 100 beautiful girls with diverse personalities to keep you company! They are your partners and your sword, they can banish your lonely nights, and help you win glory on the
battlefield!
【For Gentlemen with Similar Interests】
Gentlemen assemble in Attack on Time! Thanks to the powerful chat functions in-game, share your likes and interests, and release the other side of you under the daily mask! Heh heh ε٩(๑> ₃ <)۶з
Mostrar más
Avance
Información
Desarrollador

ONEMT

La última versión

1.9.9

Última actualización

2022-08-03

Categoría

Aventura

Disponible en
Mostrar más
Cómo jugar Attack on Time:Kaisen of girls con GameLoop en PC
1. Descargue GameLoop desde el sitio web oficial, luego ejecute el archivo exe para instalar GameLoop.
2. Abra GameLoop y busque "Attack on Time:Kaisen of girls", busque Attack on Time:Kaisen of girls en los resultados de búsqueda y haga clic en "Instalar".
3. Disfruta jugando Attack on Time:Kaisen of girls en GameLoop.
Minimum requirements
OS
Windows 8.1 64-bit or Windows 10 64-bit
Storage
1GB available space
Recommended requirements
OS
Windows 8.1 64-bit or Windows 10 64-bit
Storage
1GB available space
Ice Scream 6 Friends: Charlie
Descargar
Super Go - Adventure 1985
Descargar
Palace & Puzzles - Dog Rescue
Descargar
War Eternal-Divine Battlefield
Descargar