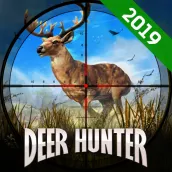 Deer Hunter 2018
para PC
Glu
Descarga Deer Hunter 2018 en PC con GameLoop Emulator
Deer Hunter 2018 en PC
Deer Hunter 2018, proveniente del desarrollador Glu, se ejecuta en el sistema Android en el pasado.
Ahora, puedes jugar Deer Hunter 2018 en PC con GameLoop sin problemas.
Descárgalo en la biblioteca de GameLoop o en los resultados de búsqueda. No más mirar la batería o llamadas frustrantes en el momento equivocado nunca más.
Simplemente disfrute de Deer Hunter 2018 PC en la pantalla grande de forma gratuita!
Deer Hunter 2018 Introducción
From the creators of Deer Hunter 2014 comes the world's greatest hunting experience in 2020 that targets your heart and mind:
Return to the Wild. PURSUE, HUNT, REPEAT.
SHOOT LIKE A PRO
In this hunting simulator, we take you straight to the action. Line up your sights, aim for vital organs & hone your skills for the perfect hunt. A Trophy Hunt.
HUNT ACROSS THE GLOBE
Pursue trophies & survive while you hunt in breathtaking new locations every month, across the globe, from Alaska to Zimbabwe
SEASONAL EVENTS
3 Weeks of all you can HUNT. It's Hunting Season - Get Huntin' !
MULTIPLE GAME MODES
Go back in time with Historical Hunts, go underwater with Spear Fishing, Hunt with Man's best friend and or get fiercely competitive with Target Shooting Events!
BAG BIG GAME ANIMALS
Hunt animals so real they nearly jump off the screen! Track down and hunt the world's most exotic and elusive animals.
THE HUNTER BECOMES THE HUNTED
Hunt predators before they hunt you.
COLLECT HUNTING TROPHIES
Compete to brag and hunt the biggest trophy animals with Google Play achievements and leaderboards!
AUGMENT YOUR ARSENAL
Collect firearms, add scopes, magazines, barrels, and stocks as you perfect your weapons before each hunt.
Deer Hunter 2018 includes auto-renewable subscriptions.
• Silver Subscription: $0.99USD / week (or local equivalent) or $1.99USD / month (or local equivalent)
• Gold Subscription: $1.99USD / week (or local equivalent) or $4.99USD / month (or local equivalent) including a 7 day free trial or $12.99USD / 3 months (or local equivalent) or $19.99USD / 6 months (or local equivalent)
All benefits are described in game.
Subscriptions are available via in app purchase. Subscriptions will automatically renew at the applicable subscription price at the end of the subscription period until you cancel your subscription. Payment for the subscription period you selected will be charged to your Google account within 24-hours prior to the end of the current subscription period. You can cancel your subscription at any time by accessing your Google Account Settings and selecting to cancel your subscription. After canceling, you will be responsible for paying the subscription fee for the current active applicable subscription period.
Here are the links to our privacy policy and terms of service:
Privacy Policy: http://www.glu.com/privacy
Terms of use: http://www.glu.com/terms
---------------------------------------------
PLEASE NOTE:
- This game is free to play, but you can choose to pay real money for some extra items, which will charge your Google account. You can disable in-app purchasing by adjusting your device settings.
-This game is not intended for children.
- Please buy carefully.
- Advertising appears in this game.
- This game may permit users to interact with one another (e.g., chat rooms, player to player chat, messaging) depending on the availability of these features. Linking to social networking sites are not intended for persons in violation of the applicable rules of such social networking sites.
- A network connection is required to play.
- For information about how Glu collects and uses your data, please read our privacy policy at: www.Glu.com/privacy
- If you have a problem with this game, please use the game's "Help" feature.
Use of this application is governed by Glu Mobile's Terms of Use. Collection and use of personal data are subject to Glu Mobile's Privacy Policy. Both policies are available at www.glu.com. Additional terms may also apply.
FOLLOW US at
Twitter @glumobile
facebook.com/glumobile
Mostrar más
Avance
Información
Desarrollador

Glu

La última versión

5.2.4

Última actualización

2021-03-02

Categoría

Acción

Disponible en
Mostrar más
Cómo jugar Deer Hunter 2018 con GameLoop en PC
1. Descargue GameLoop desde el sitio web oficial, luego ejecute el archivo exe para instalar GameLoop.
2. Abra GameLoop y busque "Deer Hunter 2018", busque Deer Hunter 2018 en los resultados de búsqueda y haga clic en "Instalar".
3. Disfruta jugando Deer Hunter 2018 en GameLoop.
Minimum requirements
OS
Windows 8.1 64-bit or Windows 10 64-bit
Storage
1GB available space
Recommended requirements
OS
Windows 8.1 64-bit or Windows 10 64-bit
Storage
1GB available space
Dude Theft Wars: Offline games
Descargar
Hide Online - Hunters vs Props
Descargar
DINO HUNTER: DEADLY SHORES
Descargar
Kim Kardashian: Hollywood
Descargar