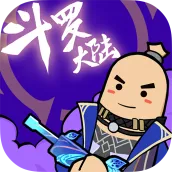 Sausage Man
para PC
XD Entertainment Pte Ltd
Descarga Sausage Man en PC con GameLoop Emulator
Sausage Man en PC
Sausage Man, proveniente del desarrollador XD Entertainment Pte Ltd, se ejecuta en el sistema Android en el pasado.
Ahora, puedes jugar Sausage Man en PC con GameLoop sin problemas.
Descárgalo en la biblioteca de GameLoop o en los resultados de búsqueda. No más mirar la batería o llamadas frustrantes en el momento equivocado nunca más.
Simplemente disfrute de Sausage Man PC en la pantalla grande de forma gratuita!
Sausage Man Introducción
Sausage Man is a cartoon-styled, competitive shooting, battle royale game featuring sausages as protagonists. It is a game that you can get started with effortlessly and play anytime, anywhere. You will roleplay as funny and adorable sausages and fight in high-octane, imagination-filled battles.
[Exhilarating Battles, Item Buffs with Unique Powers]
You will be greeted with a fluid and hardcore battle system, with realistic ballistic trajectories and even a breath-holding feature in the game. Meanwhile, the game provides you with Flare Guns, Resurrection Machines, Tactical Covers, and ID Card Systems, which could test the camaraderie and mutual understanding between you and your teammates.
[Fresh Gameplay, Free Your Imagination and Enjoy Messing Around]
There are more than just combats on your battlefield – you will find cuteness and joy all around. Here, you can sing, jump, and fire your guns on a Rubber Ball, or use a Double Jump to avoid precision shots from your enemies. You can also put on a Life Buoy and do a face-to-face gun battle in the water with others. When you are down, you will turn into a crying little sausage. You can pick up your teammates who have been downed with a "Come On" action.
[Adorably Crude Appearances, Be the Star of this Joyous Party]
The game's crude-but-cute appearance system will help you become the most popular sausage there ever was. The unique Party Card system records your data, appearances, and achievements, showing other sausages just how lovable you are. It also provides you with various quirky costume sets including Koi, Cyberpunk, and Maid, as well as shamelessly cute poses such as blowing kisses, magical girl transformations etc. In addition, you can also use Bubble Emojis such as "Raise White Underwear-Flag" and "Whine About Injustice" to interact with other sausages.
Here, you will rely on your "naughtiness" and "cuteness" to slay hundreds of enemies on the battlefield, and become the king of the party!
Mostrar más
Avance
Información
Desarrollador

XD Entertainment Pte Ltd

La última versión

16.22

Última actualización

2023-09-19

Categoría

Acción
Mostrar más
Cómo jugar Sausage Man con GameLoop en PC
1. Descargue GameLoop desde el sitio web oficial, luego ejecute el archivo exe para instalar GameLoop.
2. Abra GameLoop y busque "Sausage Man", busque Sausage Man en los resultados de búsqueda y haga clic en "Instalar".
3. Disfruta jugando Sausage Man en GameLoop.
Minimum requirements
OS
Windows 8.1 64-bit or Windows 10 64-bit
Storage
1GB available space
Recommended requirements
OS
Windows 8.1 64-bit or Windows 10 64-bit
Storage
1GB available space
Snake.io - Fun Snake .io Games
Descargar
Hide Online - Hunters vs Props
Descargar
Gangstar Vegas: World of Crime
Descargar
Más aplicaciones de XD Entertainment Pte Ltd
Ver todo
Más aplicaciones de XD Entertainment Pte Ltd
Ver todo