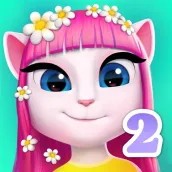 My Talking Angela 2
PC
Outfit7 Limited
GameLoopエミュレーターを使用してPCにMy Talking Angela 2をダウンロードします
My Talking Angela 2 PC版
開発者Outfit7 LimitedからのMy Talking Angela 2は、過去にAndroidsystermで実行されています。
これで、GameLoopを搭載したPCでMy Talking Angela 2をスムーズにプレイできます。
GameLoopライブラリまたは検索結果にダウンロードしてください。 バッテリーに目を向けたり、間違った時間にイライラしたりすることはもうありません。
大画面でMy Talking Angela 2PCを無料でお楽しみください!
My Talking Angela 2 序章
My Talking Angela 2 is the virtual pet game that makes every day more stylish and fun. Players help this fashionable cat stay busy in her big-city home.
- Awesome hair, makeup and fashion choices
- Epic activities, like dancing, baking, and martial arts
- Delicious food and snacks
- Jet-setting travel options
- Mini-games and puzzles test skills and reflexes
- All-new sticker collections
From Outfit7, creators of the hit games My Talking Tom, My Talking Tom 2 and My Talking Tom Friends.
This app contains:
- Promotion of Outfit7's products and advertising;
- Links that direct customers to Outfit7's websites and other apps;
- Personalization of content to encourage users to play the app again;
- YouTube integration to allow users to watch videos of Outfit7's animated characters;
- The option to make in-app purchases;
- Subscriptions which automatically renew at the end of a subscription period unless cancelled. You can manage and cancel your subscription any time via Settings in your Google Play account;
- Items to purchase (available in different prices) using virtual currency, depending on the player's progress;
- Alternative options to access all functionalities of the app without making any in-app purchases using real money.
Terms of use: http://outfit7.com/eula/
EEA privacy policy: https://outfit7.com/privacy/eea/
US privacy policy: https://outfit7.com/privacy/
Brazil privacy policy: https://outfit7.com/privacy-brazil
Rest of the world privacy policy: https://outfit7.com/privacy/
Customer support: support@outfit7.com
もっと見せる
プレビュー
情報
デベロッパー

Outfit7 Limited

最新バージョン

2.5.0.24189

最終更新

2023-12-05

カテゴリー

カジュアル
もっと見せる
PCでGameLoopを使用してMy Talking Angela 2をプレイする方法
1. 公式WebサイトからGameLoopをダウンロードし、exeファイルを実行してGameLoopをインストールします
2. GameLoopを開いて「My Talking Angela 2」を検索し、検索結果でMy Talking Angela 2を見つけて、「インストール」をクリックします。
3. GameLoopでMy Talking Angela 2を楽しんでください
Minimum requirements
OS
Windows 8.1 64-bit or Windows 10 64-bit
Storage
1GB available space
Recommended requirements
OS
Windows 8.1 64-bit or Windows 10 64-bit
Storage
1GB available space
Outfit7 Limitedからのその他のアプリ
すべてを見る
Outfit7 Limitedからのその他のアプリ
すべてを見る