Garena Free Fire Game Modes
2022-02-27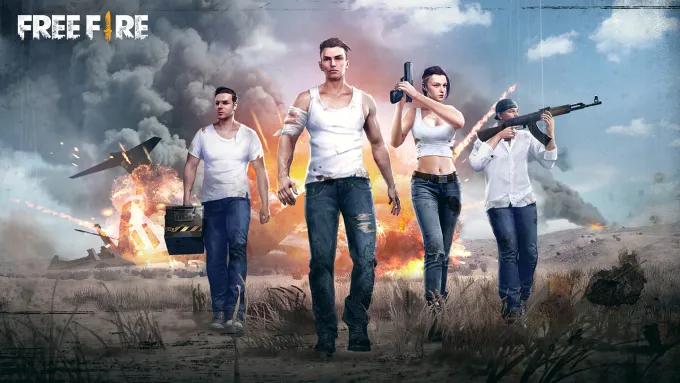 Garena Free Fire, which has reached millions of players worldwide, is increasing its in-game innovations day by day. Free Fire stands out among battle royale games thanks to its ability to be played on lower hardware.
The game includes many characters, pets, maps, and game mode options that players can enjoy according to their current situation.
The battle royale mode in Garena Free Fire, as we know, is the game mode where the last surviving team or person out of 50 wins by landing on the island by plane and collecting inventory.
However, Garena Free Fire offers us innovative game modes. So what are the Garena Free Fire game modes? How many game modes does Garena Free Fire have? Which game mode is played the most? For answers to these and more questions, just read our article.
What are Free Fire Game Modes?
Garena Free Fire is a game that stands out with its new features. For this reason, there are constant updates on the game mode. However, when you want to play this game on PC with GameLoop, you will see 5 game modes.
These are;
Battle Royale

Clash Squad

Creative Mode

Lone Wolf

Ranked Modes (BR and CS Ranked)
Free Fire Game Modes: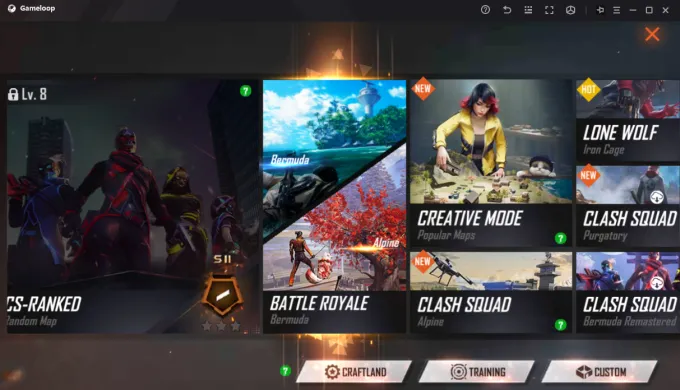 The battle royale game mode can be annoying when you get penalty points if you leave the game early. Also, playing the same mode is another factor that bores the players.
That's why game developers fix such problems by suggesting different game modes. For Free Fire, we can say that this has been fixed well.
Battle Royale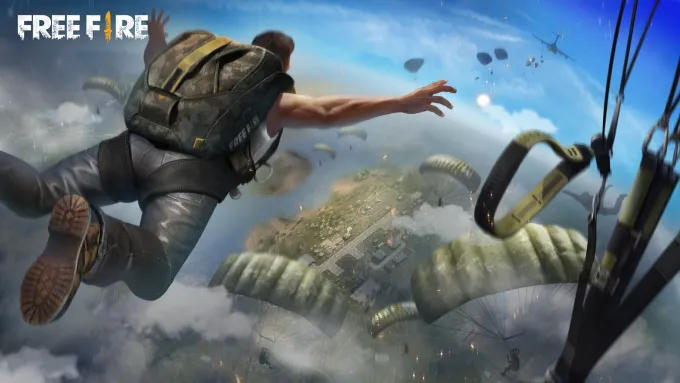 The first of the game modes described in our guide is the classic mode, which is selected by default when the game starts. In this mode, there is no player level lock. You can play this mode on Alpine and Bermuda maps if you want. The game is for 50 players.
In addition, the battle royale game mode for Purgatory and Kalahari maps is opened between 18:00 and 22:00, and for Bermuda Remastered, between 10:00 and 23:59. It opens daily and can be played at relevant times. The developer can change the period.
Ranked
The ranked game mode is not much different from the classic mode in terms of gameplay. There are 50 players fighting on the map just like in classic mode. This time, however, the map is randomly selected for CS-Ranked. Bermuda map is also available for BR-Ranked.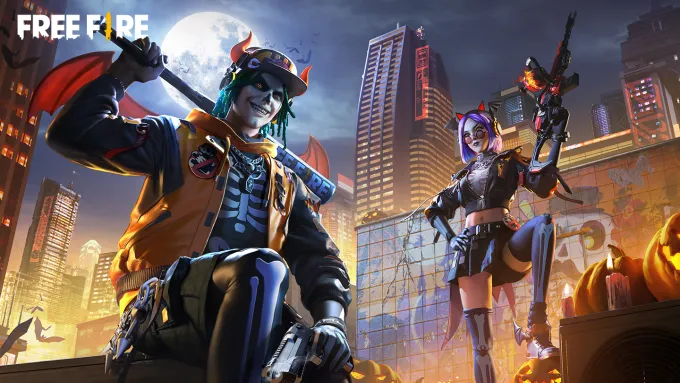 The most significant difference is the ranking system itself. Players earn ranking points for participating in matches, which allows them to progress to the following groups such as Bronze, Silver or Gold. The higher the rank, the higher the challenge can be as there will be more experienced players fighting there.
There are two other important things about the Ranked Game mode. First, matches played in this mode of Free Fire are rewarded with a 20% bonus on cash and experience points earned.
Secondly, this mode can only be played by players with character experience level 8 and above. Also, if you are playing with a Guest account, your player experience level must be 12.
Clash Squad
For people who are new to Garena Free Fire or have not experienced the Clash Squad game mode before, the game may feel a little different from the battle royale genre. While giving some information about the Clash Squad mode, we will also talk about how you can play this game mode and some points that you should pay attention to in this game mode.
While the primary goal in a classic Garena Free Fire match is to be the last player standing, the goal in Clash Squad mode is to achieve victory by getting four wins.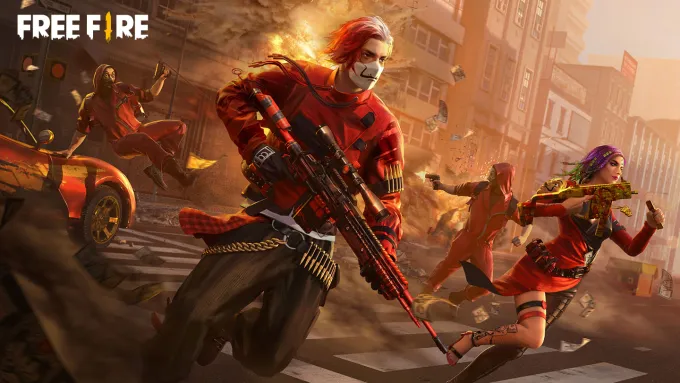 In this four-on-four game mode, players are divided into two teams. The two teams face off on smaller sections of the Kalahari, Bermuda, Purgatory, and Alpine maps, making seven matches. The first team to achieve four wins is the winner of the challenge.
This game mode has a different rating system from the classic game mode. Players can get some rewards by skipping levels in team clash mode.
Before each of the 7 rounds included in the game, players go through a purchasing phase where they can purchase inventory (weapons, armour, and more). Since the game is a team game, there should be good coordination between the team in the inventory selection.
Lone Wolf
Players will share their trump cards in this game mode, which is designed as 1vs1 on a new map called Iron Cage. This new map is a small warehouse with many crates and containers. Players will spawn on both sides of the warehouse.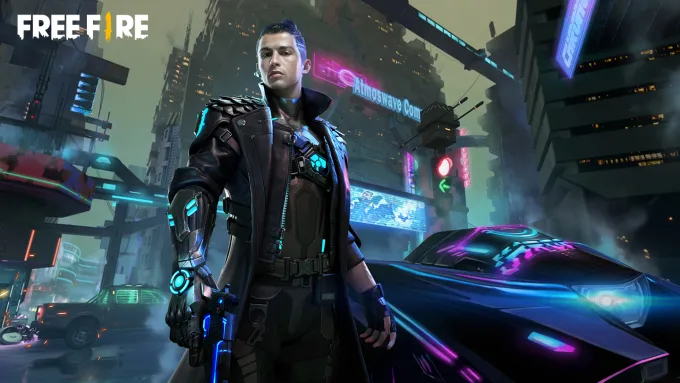 At the start of each round, both players will start the game with a pair of Gloo Walls, a grenade and 2 medKit. Both players will be given 10 seconds to choose the weapon they want.
In Free Fire, players will be able to take advantage of the passive abilities of the characters, just like in the Clash Squad and Battle Royale modes. A total of 9 rounds will be played for this mode. Whoever wins more matches or wins 5 rounds first will win the game. The Lone Wolf map is small, although it contains many obstacles.
With the game won here, a slight deviation improvement is made in the battle royale mode.
Creative Mode
The primary purpose of this game mode is that the developer team wants to see it through your eyes. As you can understand from this sentence, you can set up item sequences and rules with your imagination in this section.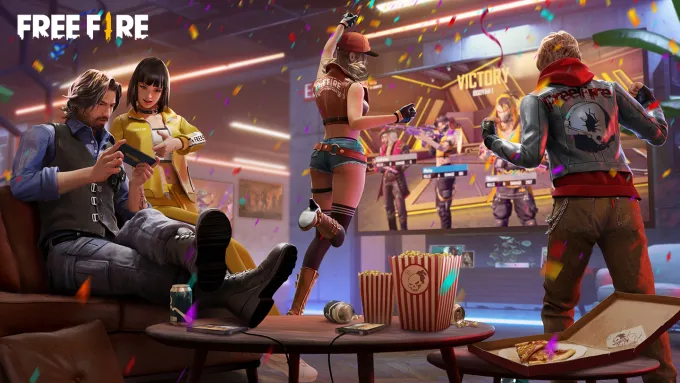 Some items you can use during customization;
∙ Square box
∙ Hut
∙ Guard tower
∙ Advanced post
∙ House A
∙ House B
∙ House C
∙ Sand Structure
∙ Source
∙ Cherry Blossom
∙ Banana tree
∙ Long Box
∙ Toilet
∙ Fence
∙ Bush
∙ Flowers
With Craftland, you can design your map and set your own rules. You can use your imagination to the fullest with creative mode, which is perfect for playing with your friends.
The most played Free Fire game mode
The answer to this question is undoubtedly the Battle Royale game mode. If you have enough time, this game mode is delightful. Already all the dynamics of the game have developed around this game mode.
Ranked modes are shown for the most played post-battle royale.
Is It Possible to Play Free Fire on PC?
If you want to play the Garena Free Fire game from the comfort of your PC, you can download the GameLoop android emulator and get the perfect keyboard and mouse optimization.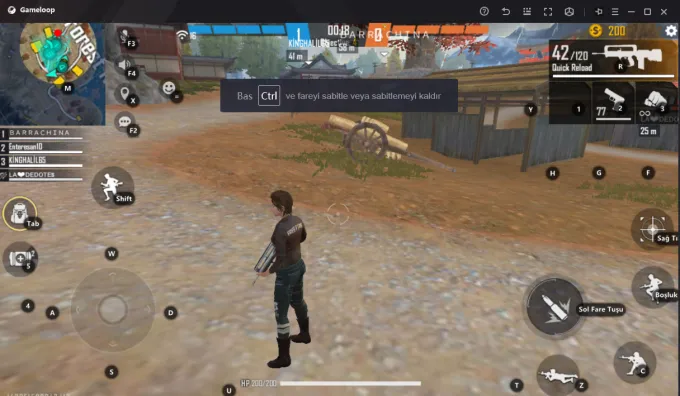 Important Note: To get the best performance and protect your PC from malware, you need to download the GameLoop android emulator from its official site.
There is no doubt that you will also get the best performance with GameLoop, where you can best overcome the difficulties of playing on a hot phone and small screen while playing mobile games.
You can visit the Free Fire official website for the most up-to-date information about the game.